I'm a Florida newbie, or well, I was before we took our latest vacation there a couple weeks ago. Crazy right? 37 years old and finally crossed Florida off the old travel bucket list, but I still want to go back! When I first started looking into our family road trip to the Kissimmee area, I was in for a big surprise! There was way more to do there than I ever imaged!! Way way more!! To be honest, it was a little overwhelming. I really didn't know where to start, until I found Kissimmee Guest Services!
"Kissimmee Guest Services is the most trusted name in tickets since 1997 and we serve over 200 property management and travel related companies who recommend us to thousands of families each year."
Yup, that's exactly how we found Tim at Kissimmee Guest Services, through Global Resort Homes, who completely recommended them when I mentioned that we were looking for a Dinner Theatre to take the family too. Looking on their website you can quickly narrow down your selections based on what you want to do. Once I clicked on Dinner Theatre, a number of selections come up including: Arabian Nights, Sleuth's Mystery Dinner, Outta Control Magic Comedy and Pirate's Adventure Dinner Theater. 
Hold the press! Pirates?? That's right up my boy's alley! We decided this would be the one for our family to take in!
Set aboard an authentically replicated 18th-century Spanish galleon measuring 46 feet long, 18 feet wide with 40-foot masts, the ship is anchored in a 300,000-gallon indoor lagoon with night sky lighting. Surrounding the lagoon is a six-sided showroom of six additional ships where the audience is seated.

Voyagers on each of the six ships have their own fearless pirate mascot whom they cheer on as the adventure unfolds with a cast a dozen actors, singers and stunt performers engaging in a bounty of action-packed exploits, accompanied by cannon blasts, pyrotechnics and plenty of laughs.

In addition, more than 150 guests have the chance to play an actual role in each show as the evil Captain Sebastian the Black leads his crews of renegades on a swashbuckling adventure before your very eyes!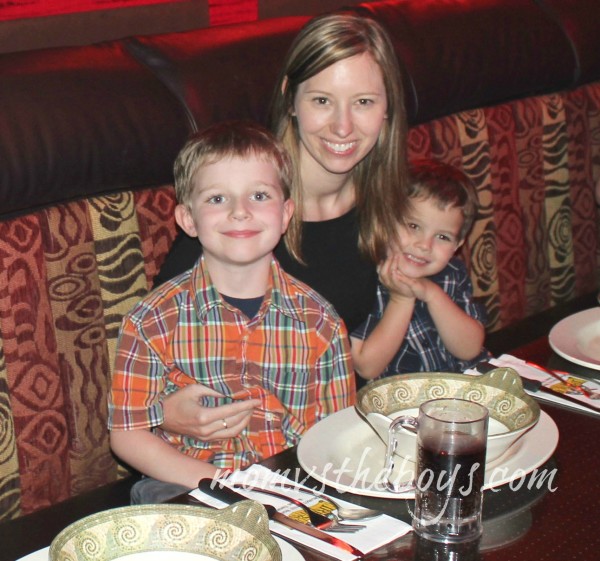 It's recommended on the Pirate Dinner Adventure website to get there early, as seats are first come first served as far as the best seats in the house goes. We did indeed have great seats, but found that the wait was very long before the show started. Two choices of Appetizers were served and finally a pre -show act began. Cue the crying!! My middle son, who was 4 was clearly not a fan of what was happening! lol He loves pirates but became really scared when they burst on scene. It all looked very real and it was very loud and he was pretty sure the fighting pirates were going to get us all.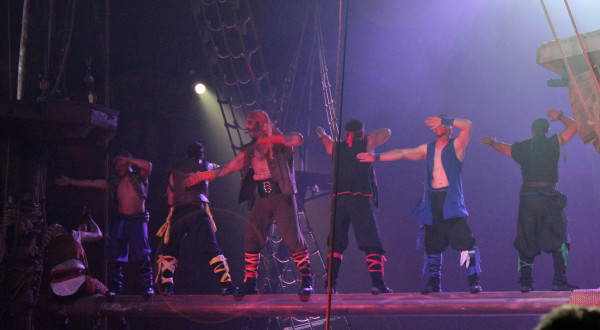 We were set to cheer for the Red Pirate and when we walked aboard the dining room ship, we got our first look at the grand stage! It was amazing and nothing short of something you would see on Broadway! We took our seats along long benches in the red section and waited for dinner. 
Dinner Menu:
Soup or Garden Salad Starter
Choice of Chicken or Beef Tenderloin with vegetables
Apple Pie a la Mode
Children's Menu:
Chicken Nuggets and Mac n' Cheese
Rounds of beer and soda are served during the meal
I choose the chicken and my husband had the beef, both were fantastic meals! The children's menu was a bit of a disappointment. There are no options, just the two items slapped on the plate in the dark so they were almost on top of each other and none of my kids ate a thing. I couldn't blame them, it did not look appealing at all and at almost $40 a child that is not okay. If your kids are meat and potato lovers, ask for one of the adult menu selections for them.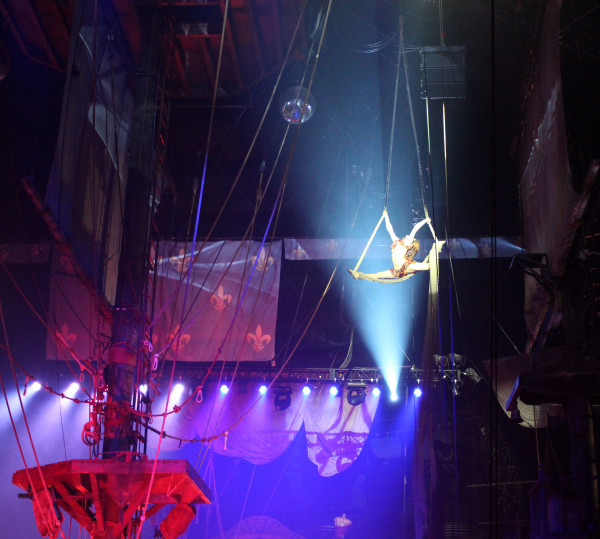 The show itself was okay, it didn't blow us away but it was entertaining. It was extremely loud and my kids had their fingers in their ears for a good part of the show. The pirates do some fun acrobat stunts and one of the girls does some very cool rope tricks. The pirates were quite 'rough' for a kids show, I did cringe a few times knowing my kids were watching. I think the show tries to walk a very fine line between catering to adults and catering to children and probably would have been much better if they went one way or the other. My oldest loved having a pirate to cheer for and yelled and screamed to cheer on the red pirate! Members of the audience did indeed get to be part of the show briefly. I was lured out of my seat for one part, but I wasn't really interested in taking part and it created quite a bit of havoc for the family as Hubs was stuck with three boys, one who was scared of the show, one who slipped under the table to be silly and one who had to go potty, which resulted in him leaving with all three boys because no one was there to help. My timid middle guy refused to go back into the theatre and they all missed the end of the show and didn't get to take part when the kids got to take part. My oldest would have loved to do that!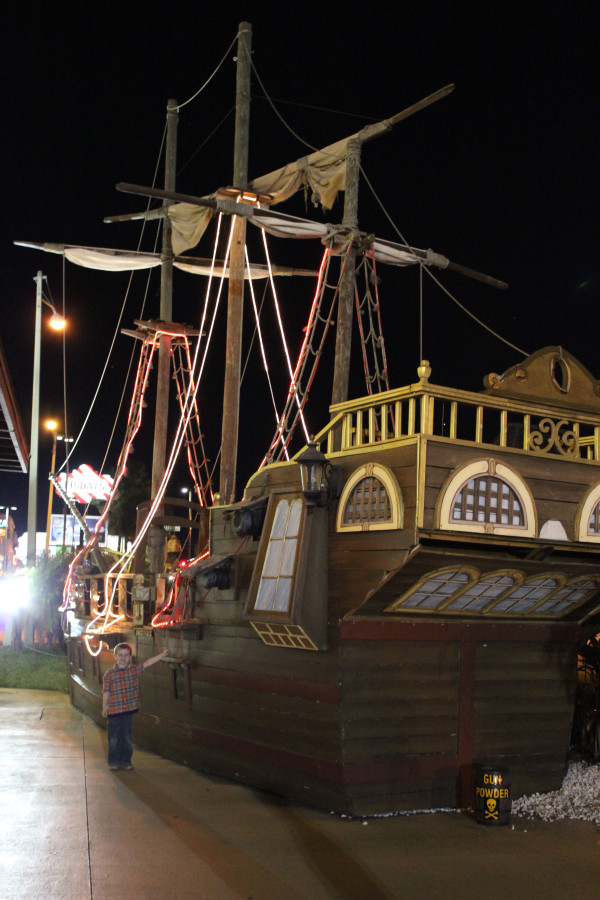 Outside the theatre they have this amazing ship all lit up!
Our time at the Pirate Dinner was certainly an adventure!! Next time we are in Florida, we will be checking in with Kissimmee Guest Services to see something else new and exciting! I have my eye on Cirque du Soleil and Blue Man Group! 
Visit Kissimmee Guest Services on their website for the best deals on tickets and be sure to follow along on Twitter and Facebook for updates!
 disclosure: We received a complimentary tickets, however, all opinions expressed are honest and my own.