I had heard a lot of good things about Sea World before heading to Florida, like really really good things, so needless to say, we were expecting greatness before we even stepped foot onto Sea World grounds. We probably picked the worst day to go, the hottest day of the week and a Friday, so every school group and cheer squad in the area seemed to be in attendance. Nevertheless, we had a good time.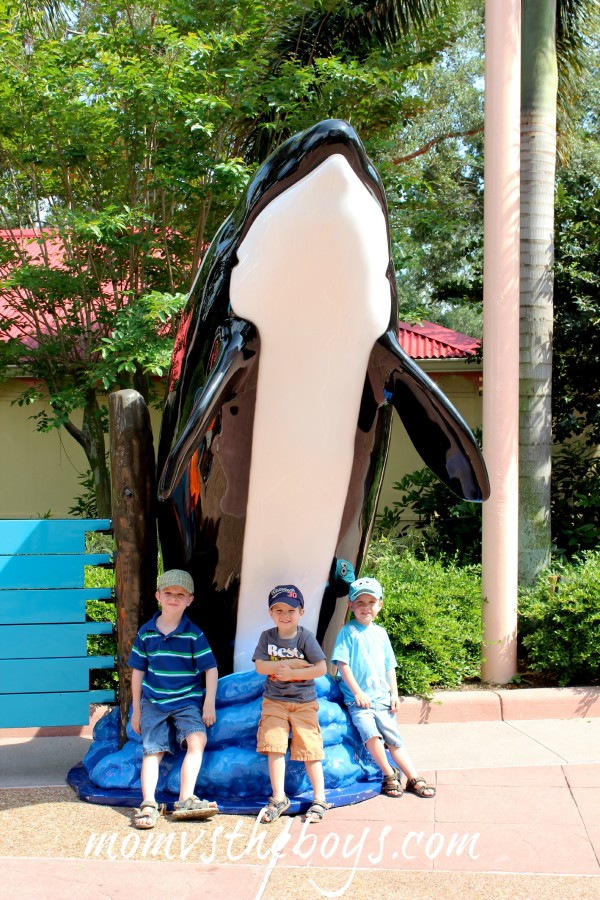 Here's what our day had in store for us
Dolphin Whisperer
We started our day with the dolphins, my new friend Tara from Global Resort Homes has quite a knack for talking to the dolphins! She met our family at the park and brought us down to the underground viewing area. It was quiet down there so we had the dolphins full attention and Tara worked her magic playing with the dolphins with a few tricks she's learned over the years. I found this to be nothing short of amazing! I've always wondered if the animals swimming could even see the people on the other side of the glass, but I definitely got my answer when the dolphins swam right up to Tara to play. The boys got quite an education in just the first few minutes we were there, dolphins playing, pooping and even sharing the 'love' with one another! Our favourite part was seeing how the dolphins would blow an air bubble through their blow hole, turn it into a ring and continue to bump it with their nose to make the rings smaller and smaller until it's so tiny they bite it! I wish I had caught it on video, it was amazing!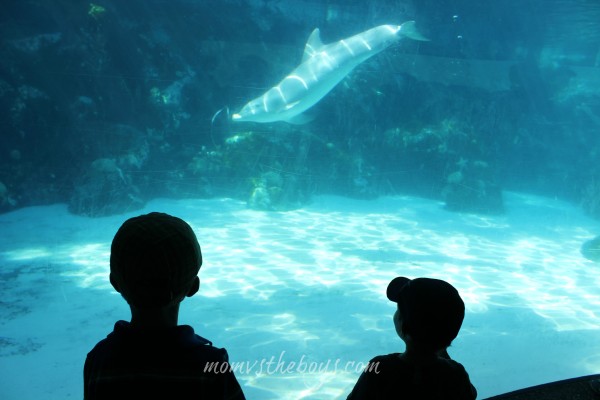 The Shows of Sea World
 We caught three shows at Sea World and each one just got better and better! We were super impressed with each one!
Blue Horizons – This was over stimulation at it's finest! There was awesomeness happening all around us! From dolphin tricks, to acrobatic divers, to brightly coloured birds, there was so much to see and take in! 
One Ocean – This show features killer whales and dancing fountains of water. There was even a small baby whale that followed her mama and did the tricks with her! I really liked that Sea World took a moment to recognize the service men and women from around the world (even Canada) before the start of the show. They asked each in attendance to stand and showed their faces on the big screens so we could clap for them in thanks. It was a nice moment. We sat on the edge of the splash zone for this show and were lucky enough to not get wet, but we saw others drenched to the bone sitting just seats in front of us! My oldest really wanted to feel the spray, but Mom and Dad were quite happy to stay dry!
Clyde and Seamore Take Pirate Island – I thought this one might be fun for the kids, but to my surprise it was really fun for adults too. We had a good laugh at all the crazy antics of Clyde and Seamour during the Sea Lion and Otter show. Be sure to arrive a little early to catch the Pirate Mime keep the audience entertained! He was hilarious! lol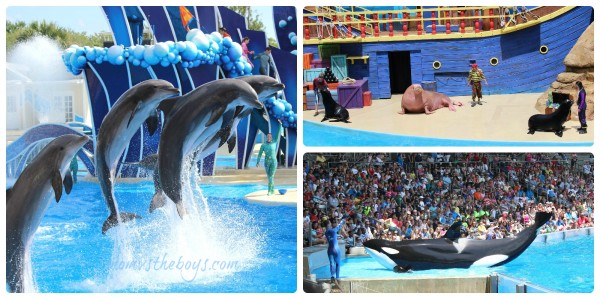 Riding and Dining
One good thing to know before you go, is that no outside food or drink is permitted in the park. Traveling with a family of five, this was a little disappointing and we knew it would be an expensive day. One way to cut costs is to purchase a souvenir cup that can be refilled as you make your way through the park. It was a very hot day and Sea World does not have a lot of shade so keeping hydrated was a priority. Restaurants can have very long lines around traditional meal times. Plan to eat around those times if you can. Our kids were already having melt downs and needed to eat and we found it tricky to get something into them fast. Line ups were formed well outside the restaurant doors. We ended up eating at Spice Mill which was a cafeteria style restaurant and offered healthy sides like fresh fruit cups. Once we finally got everyone refueled and cooled off, we were ready to go explore again. 
The roller coaster and adult rides looked like a blast, but being there with three small boys we had to forgo those and stuck to the kids area. The kids rides were just okay, none of them really stood out to be excellent. I took my roller coaster loving 7 year old on the Shamu Express, but it was not a hit with him. It was too  rough and jerky. We tried a few different ones, including Swishy Fishies (do not attempt to squeeze yourself in there with more than one kid, it is literally designed for preschoolers and it was an extremely tight fit even for me and I'm quite small) and Ocean Commotion. In reality though, you don't go to Sea World for the kids rides, you go for the animal shows and those were excellent!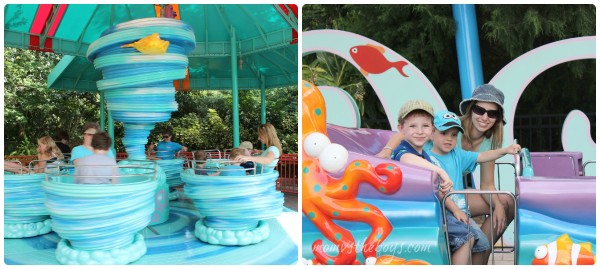 From Dolphins, to Whales and even petting the Sting Rays, Sea World is a full day of FUN for the whole family!
It sure tired this guy out! lol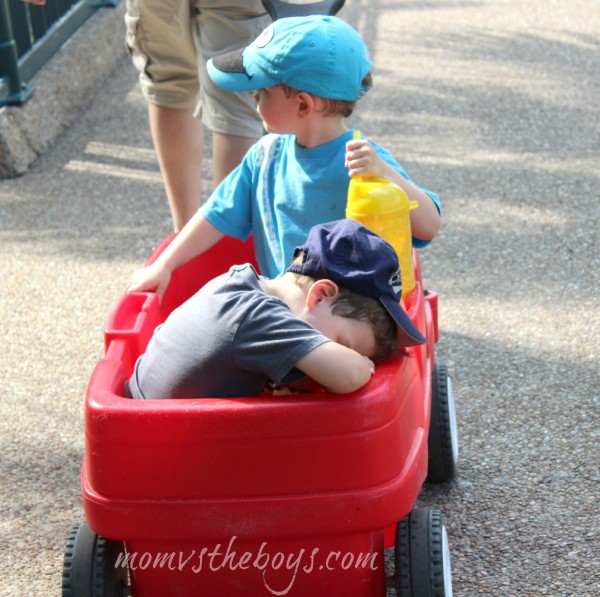 disclosure: We received complimentary tickets to visit Sea World, however, all opinions expressed are honest and my own.