Back before the days of Pinterest, I clipped this tasty little recipe for a peach and spinach salad out of a magazine. The name of the magazine didn't make the cut unfortunately but it was a hit with our family and I love to make it each Summer when peaches are in season.
No ripe peaches on hand? no worries, this tastes delicious anytime of the year with canned peaches! I've altered the original recipe a little to better suit our liking and this is the one I'm sharing below. With those juicy peaches and crunchy nuts, this is such a lovely fresh tasting salad and you will love the maple balsamic dressing!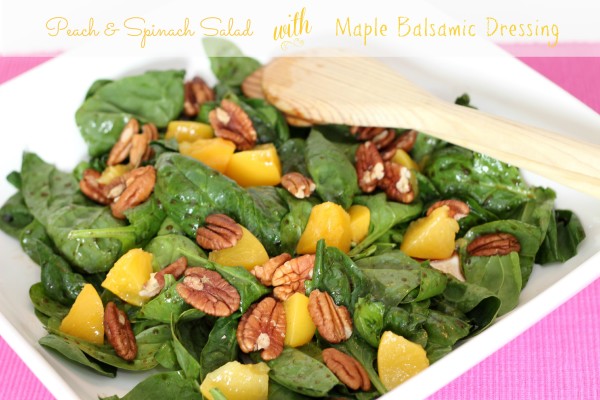 Peach and Spinach Salad with Maple Balsamic Dressing
Peach & Spinach Salad with Maple Balsamic Dressing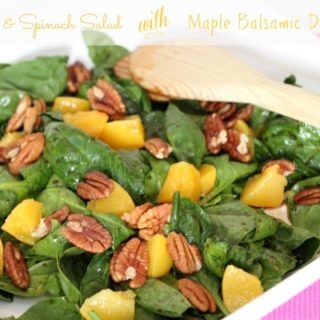 Ingredients
½ cup coarsely chopped pecans
6 cups baby spinach leaves, rinsed and dried
2 peaches, peeled and sliced (or one large can of peaches, cubed)
1 tbsp olive oil
2 tbsp balsamic vinegar
2 tbsp maple syrup
Instructions
Measure pecans into a small skillet and place over medium heat. Toast, stirring almost constantly, until nuts darken, but don't let them burn.
Remove from heat and cool
In a large bowl, combine the spinach and peaches
In a small bowl, whisk together the olive oil, balsamic vinegar and maple syrup.
Drizzle over spinach salad, toss, the sprinkle in the toasted pecans.
I like to make this recipe to go with something on the grill like steak or pork chops, if you are doing the same, go ahead and toast the nuts right on the bbq in a tinfoil plate. Keep a close eye on them, though it doesn't take long to burn nuts.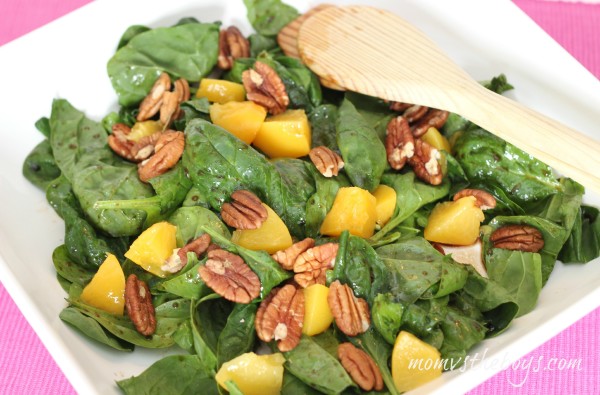 Have a Peachy Summer!
Love salads? This Taco Salad recipe is another summer favourite of ours and this Sweet Chili Vinaigrette is really unique!