Back before the days of Pinterest, I clipped this tasty little recipe for a peach and spinach salad out of a magazine. The name of the magazine didn't make the cut unfortunately but it was a hit with our family and I love to make it each Summer when peaches are in season. No ripe peaches on hand? no worries, this tastes delicious anytime of the year with canned peaches! I altered the recipe a little so I'm giving you my recipe below, because it's better 😉 But seriously, this is a such a lovely fresh tasting salad and you will love the dressing!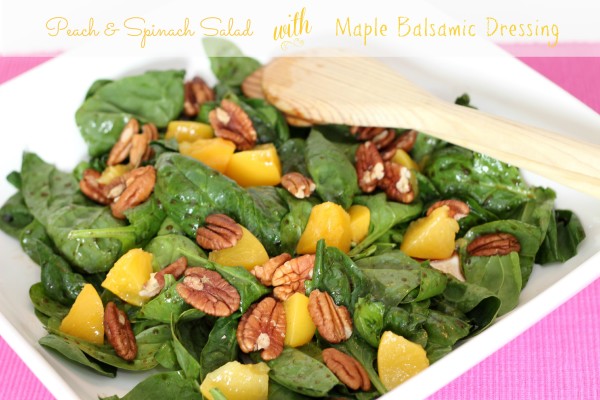 Peach & Spinach Salad with Maple Balsamic Dressing
Ingredients
½ cup coarsely chopped pecans
6 cups baby spinach leaves, rinsed and dried
2 peaches, peeled and sliced (or one large can of peaches, cubed)
1 tbsp olive oil
2 tbsp balsamic vinegar
2 tbsp maple syrup
Instructions
Measure pecans into a small skillet and place over medium heat. Toast, stirring almost constantly, until nuts darken, but don't let them burn.
Remove from heat and cool
In a large bowl, combine the spinach and peaches
In a small bowl, whisk together the olive oil, balsamic vinegar and maple syrup.
Drizzle over spinach salad, toss, the sprinkle in the toasted pecans.
I like to make this recipe to go with something on the grill, if you are doing the same, go ahead and toast the nuts right on the bbq in a tinfoil plate.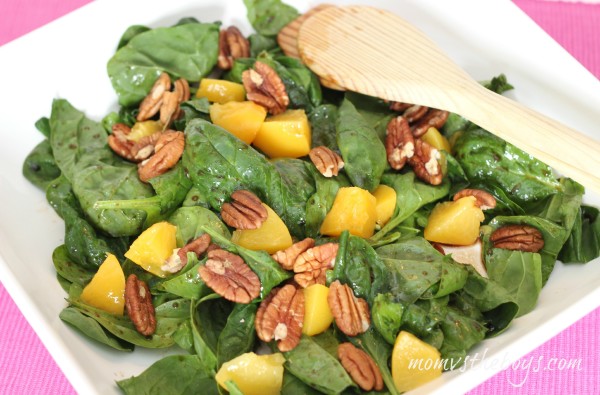 Have a Peachy Summer!