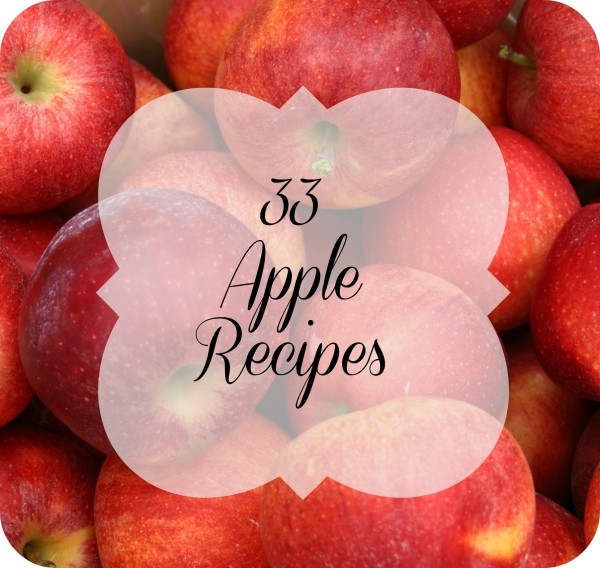 Because I still have WAY too many apples in my cellar and I'm afraid they are going to go bad before we eat them, I sent the word out to some friends who know their way around the kitchen!  Here's a Round Up of 33 different and creative Apple recipes in case you are in the same boat as me! 
Pies
Apple, Pear & Ginger Pie – Mmm is for Mommy
Apple Raspberry Pie – Mmm is for Mommy
Rustic Apple Tart – Suburbia Unwrapped
Apple and Peach Crisp – Family, Food and Travel
Caramel Apple Bacon Mini Pies – Sweeties Freebies
Cakes and Other Desserts
Apple Cake – Mom Endeavours
Apple Fritter Cake – Women in Real Life
Apple Cheesecake Stuffed Cinnamon Rolls – A Million Moments
Caramel Apples – A Million Moments
Spiced Apple Pie Crock Pot Crumble – Farmer's Wife Rambles
Caramel Apple Cupcakes – Sassy Girlz
Cranberry Apple Casserole – Life with Captain FussyBuckets
Bavarian Apple Cheesecake – Mommy Moment
Stuffed and Wrapped Baked Apples – Baby Giveaways Galore
Apple Chips – This West Coast Mommy
Apple Crisp with a Twist – Woman in Real Life
Baked Apple from the Microwave – Thrifty Jinxy
Caramel Apple Dessert Nachos – Mom Endeavors 
Apple Crumble – Homeschooling Mom 4 Two

Muffins
Applesauce Oatmeal Muffins – Canadian Moms Cook
Apple Strudel Muffins – The Knit Wit by Shair
Sauces and Dips
Slow Cooker Applesauce for Freezing – Create Celebrate Explore
Apple Salsa – The Home and Garden Cafe
Crock Pot Apple Butter – Merry About Town
Apple Pie Salsa – Frugal Edmonton Mama
Candy Caramel Apple Dip – Two Kids and  Coupon

Dishes
Pulled Pork Sliders – Mom Endeavours
Spiced Roasted Chicken with Apple Stuffing – The West Coast Mommy
Chicken Pesto Pizza – Family Food and Travel
Stuffed Pork Chops with Balsamic Onions – Let's go on a Picnic
Warm Spinach and Apple Salad – Mmm is for Mommy
Bevvies
Apple Cider – City Mom
Caramel Apple Spice – Practically Functional

Get Cookin!