It was just before our trip to Florida that my oldest son declared that he wanted to move out of the room he shared with his two younger brothers and have his own big boy room. It was the boys' idea to bunk three to a room, so we were happy to accommodate his request and move him on out and into his own space. On our trip to Florida, we stayed in a vacation home where he got to test out having his own room and it pretty much sealed the deal. He loved it! The sand and surf of Florida also inspired his new bedroom decor, we all agreed that a Surfer Boy bedroom would be the perfect theme to work from!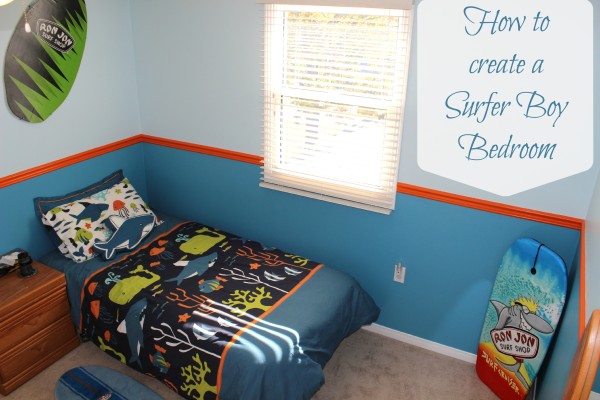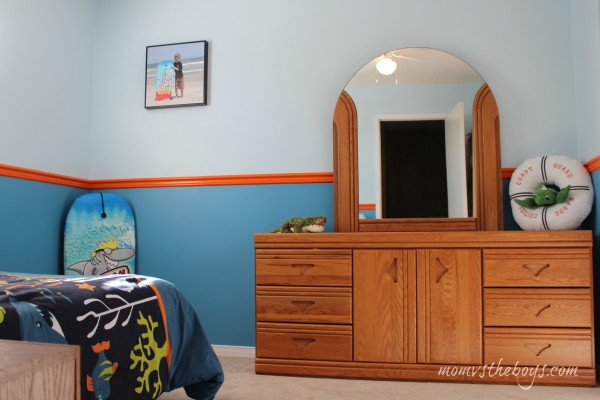 Make the Bed
Normally, I would start with the bedding when decorating a room, because it's often the hardest part to find. This time though, we decided on the theme while we were in Florida and started to pick out a few fun items for the room on our travels -we hit Gold at the Ron Jon Surf Shop in Cocoa Beach! Luckily, once we were home, the bedding wasn't too hard to find. Hubs and I found a few simple blue patterns we liked but the big boy picked out this Whole Home Kids 'Sea Creatures' bedding from the Sears Canada website. It seemed to fit the theme really well and had the same blue and orange combo that the body board had, while also tying in the lime green from the wake board. It was perfect!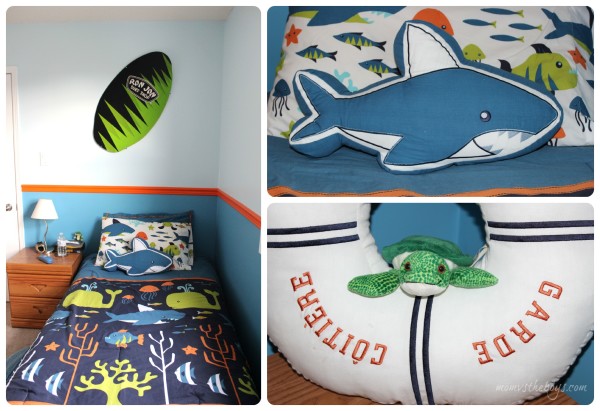 Whole Home Kids 'Sea Creatures' Bedding
We picked up the Comforter set, the adorable sheet set and also the two accent pillows for my stuffie loving boy. One shark pillow and one ring bouy coast guard pillow. 
Tropical Walls
Next up, was the paint colour. The room already had a chair rail, so we picked out two sea worthy blues and punched it up with a bright orange stripe. After working with Behr paint on our bathroom remodel, we immediately went to the Behr swatches again. This time we ended up with these two shades of blue:  Coastal Mist, a nice light colour for the top and Tropical Splash, a medium blue for the bottom. A small can of Electric Orange made for a perfect accent colour and brightened up the chair rail.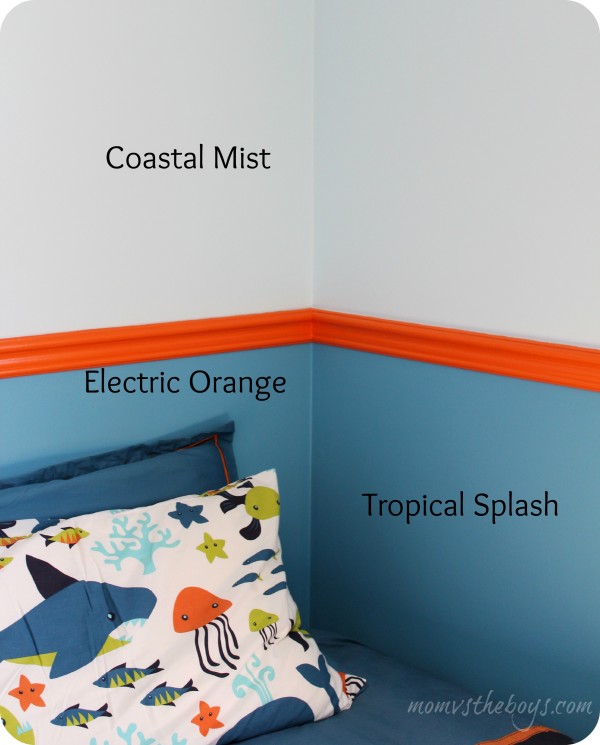 Let's Decorate!
If the budget allowed, I would have totally went all out and bought a full sized surf board to hang! That would have been fun to drive with from Florida all the way back up to Canada and across the border on top of our van huh? lol Reality and practically took hold and we picked out two boards the boys could actually use while we were there, we were staying right at the beach after all! Once the summer was over we cleaned them off and added them to the room as some cool art work.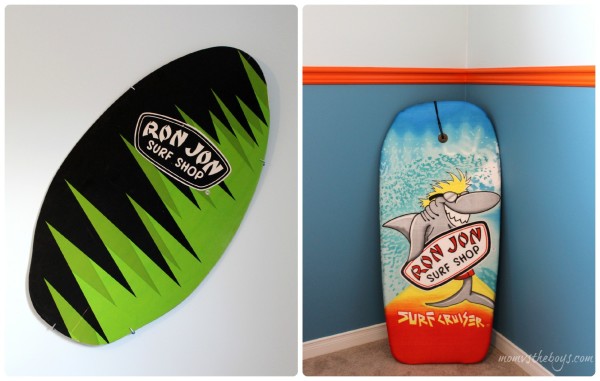 Our trip was all about making memories and the surf bedroom should serve to bring back all those fun times! We definitely wanted to add some photos of our time in the surf and sand. I took one of my favourite photos of my son on the beach and sent it off to Posterjack.ca to create a gorgeous 16×16 Gallery Box. This turned out better than I could have ever imagined and looks 100 times better than a standard 8×10 print out on the wall. The Gallery Box was able to turn a regular photo into a work of art with a designer look. It was a toss up between the white box frame and the black but I ended up choosing the black (other colour options are espresso and silver). Posterjack is super easy to order online, delivers quick and has excellent customer service. The picture is one of my son's favourite parts of the room!
I have a couple more photos of our day trip on a Boggy Creek Airboat ride where we spotted lots of gators and even got to hold some babies, but now that Posterjack did such a good job on the surf gallery box, I'm still debating on how to display the gator pics.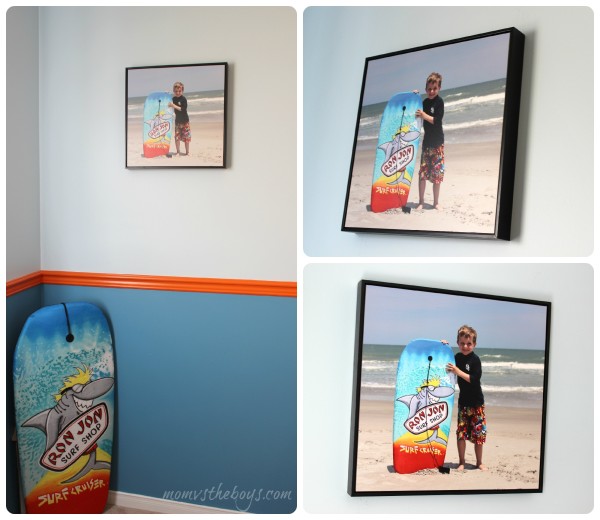 Do I detect an Accent?
Now that all the basics are covered all you need to do is tie the room together with some fun accent pieces. For a kids room, stuffies are an easy way to go to add to the theme. With an Australian Uncle in the family, the boys actually have all kinds of stuffed sea creatures! We used a couple of sea turtles to add to the ring buoy and placed it in the corner of his dresser. We purchased a surf board bedside rug at Ron Jon Surf Shop and while we were playing with the gators at Boggy Creek Airboats we picked up a little gator head that sits on the base of his bed side lamp. Creepy right? Watch your fingers when you turn out the light!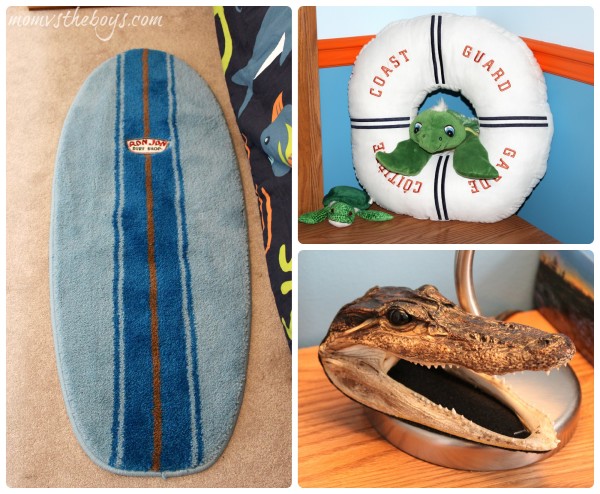 So what do you think? Our lil' Surfer Dude gives his Surf Bedroom two thumbs up!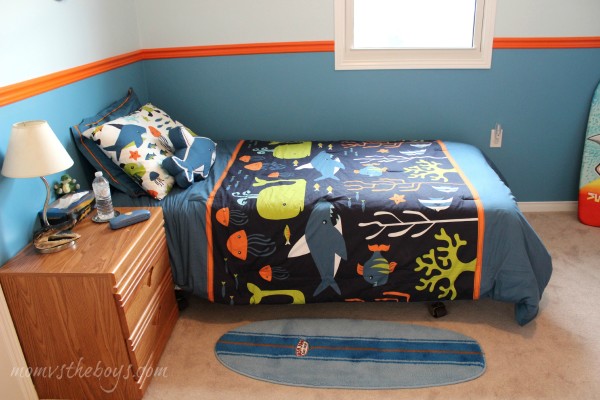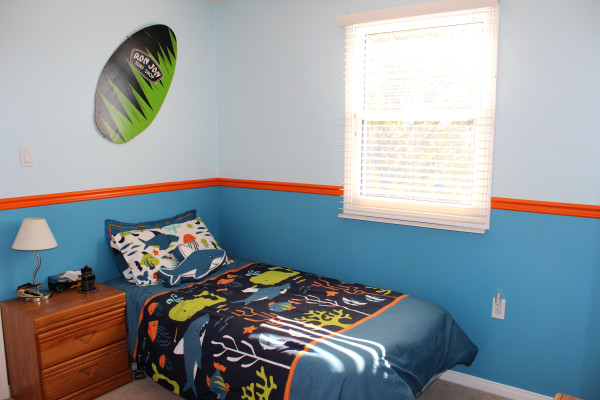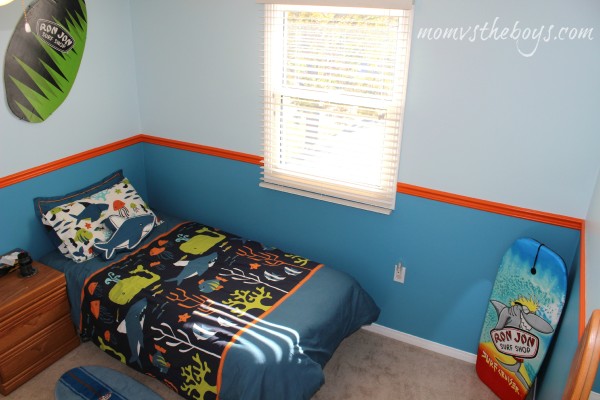 Hang Ten Dudes!
Disclaimer: I received the Gallery Frame from Posterjack.ca free of charge for reviewing purposes. Regardless, I was not obligated to feature this item and all opinions expressed belong to Mom vs the Boys and are not influenced in any way.