I have kind of a love/hate with kids movies sometimes, I've been a fan of animated films my whole life, but since having kids I'm a bit more critical you could say. It takes a lot to earn a place on my top movie list, but this summer Turbo won his way into the top 5! Yup, this is for realz kids! We took the boys and the Aussie Uncles to see Turbo to beat the heat on a scorching day last July, and I was completely impressed! Everyone from age 4 -38 loved the movie in our little group! For no violence, guns, fighting, scary scenes, or pushing the line on language or appropriateness, Turbo raced his way to the top of my list to nestle in among favourites like How to Train Your Dragon, Tangled and Cars (the first one before the ruined the franchise with the guns). Turbo is good family fun and lots of laughs with an awesome message to dream big and chase after it!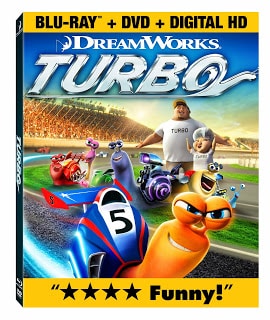 Buckle up for Turbo, coming to DVD and Blu-ray November 12!
Start your November engines with this hilarious, heartfelt comedy-adventure! Turbo, a four-star family film, tells the courageous story of a little snail with the big dreams of becoming a racecar. Despite the discouragement he receives from his peers, Turbo knows what he is capable of. With amazingly creative celebrity performances by Ryan Reynolds, Snoop Dog, Samuel L. Jackson and Maya Rudolph, this film is nothing short of incredible! Zoom into stores on November 12 to pick up your copy for the holiday season!
A few fun snail facts, you may not know! 
1. Salt is a snail's biggest enemy! In the film, Chet falls down in the stadium and just barely makes it through the center of a pretzel! He was so relieved he didn't touch it, because salt can kill a snail, so they have to be careful!
2. It would take a snail 2 hours to move from one side of a football field to the other. That's 50 yards per hour. If you ran your fastest, it would only take about 20 seconds!
3. Some snails can be as big as 12 inches. Can you imagine a snail the size of a ruler?
4. Garden snails have thousands of teeth, located on their tongue!
5. Snails do not have ears, but they sure can smell! That is how they find their fruits and veggies to eat.
6. Snails can live to be up to 20 years old!
7. Snails are nocturnal, that means they sleep during the day and get their work done at night and in the morning. No wonder Turbo could stay up all night watching Racecar videos!
8. A garden snail can have as many as 430 baby snails in a year!
9. Garden snails hibernate in their shells during the winter, and some hibernate during the summer too.
10. When a snail moves, it leaves behind a trail of liquid slime. This mucus protects them from the hard surfaces underneath them. Snails are able to hang onto walls and move upside down thanks to this slime!
Turbo, wins high praise from my family and will make a perfect edition to the gifts under your tree this Christmas! 
Enter below to win yourself a copy!
US/CAN