I was intriqued with smartphones when they first hit the market, but at the time I wasn't ready for a new phone. Friends raved about being connected allllll the time. But, did I want to be connected all the time? I kind of liked being able to unplug and walk away from the computer. Friends swore that when I got my hands on one, I would never ever want to part with it, I would be carting it off to the bathroom with me. But did I really want to use my phone in the bathroom? hmmm….I just couldn't see it happening.
In the last couple years, I've owned a couple of smart phones. They were great and all, but I didn't want to marry it or anything. I truly didn't understand why it seemed everyone had their phones surgically attached to their hands. 
All that changed when I lost my phone (I say that loosely, the blame falls on the kids) and I was stranded without one.  LG came to my rescue like a knight in shining armour! They rode in on their white horse with the pretty ribbons and saved the day in a big, BIG way with the LG G2 lifesaver.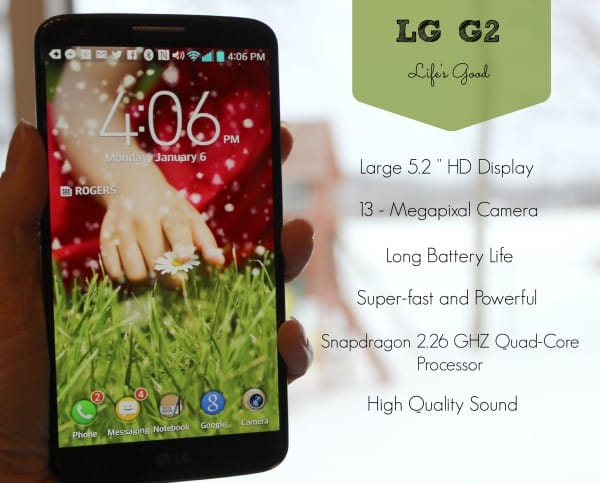 The LG G2 changed my life
I wish I could say I was kidding, but I'm not. The G2 is a beaut with all the bells and whistles that has me more than a little addicted to my phone. The 5.2-inch screen has a full HD resolution of 1080 x 1920 and a pixel density of 424 pp making it a decent size and super clear and bright.
Favourite Features of the G2
KnockON – Simply tap twice on the display to 'wake' the phone from rest instead of pressing the power button, though that's an option too. Tap twice again to put the phone back to sleep. It's quick and easy and you don't even need to pick the phone up.
Answer Me – Automatically answers calls when you put the phone to your ear. No need to swipe or push a button.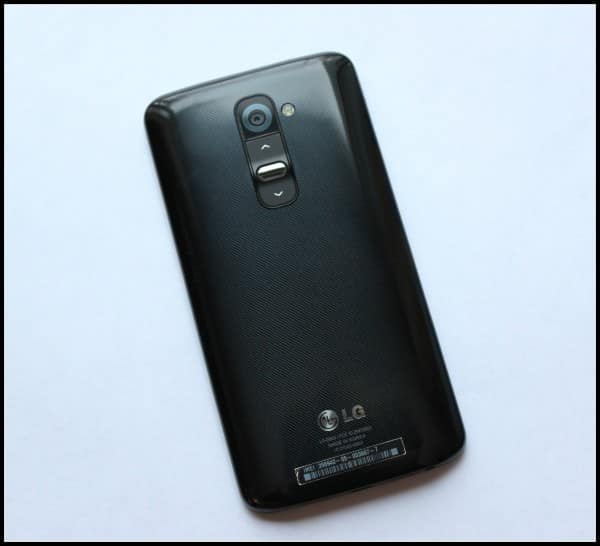 Intuitive Rear Key Placement – The 3 uniquely placed keys serve as the on/off button, camera shutter button, and volume controls.
Guest Mode – This is similar to the kid centre I had on my previous phone and I'm so glad it's available on the G2. Guest Mode is a genius little feature that allows your child (or anyone else for that matter) to handle your phone and only have access to what you have set up for them. It keeps their little fingers flinging angry birds instead of dialing calls to china or accidentally deleting your emails! The pattern locks are simple and easy to remember, the last thing I need is another password to keep track of.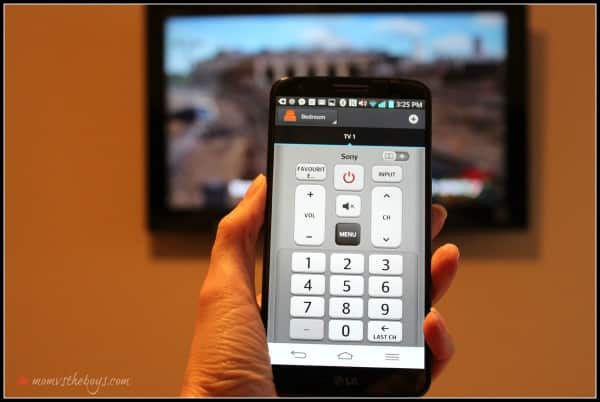 Remote – Can't find the remote for the tv? No problem! Your G2 can do it for you! 
Voice Mate – This little feature makes me feel like James Bond and my boys think it's pretty impressive to have a 'spy gadget'. By speaking to my new best friend…err the G2 phone, I can easily ask for weather conditions, send an email, update my facebook or twitter status etc etc etc all without having to type. 
13 MP camera with optical image stabilization technology – My 'everyday' camera is a DSLR so it's safe to say that I am pretty picky about my photos. I thought the LG G2 did a pretty good job and even left my big camera behind on a recent snowy walk over the holidays and loved that I could just slip it in and out of my pocket for a quick pic on the move without sacrifices too much quality.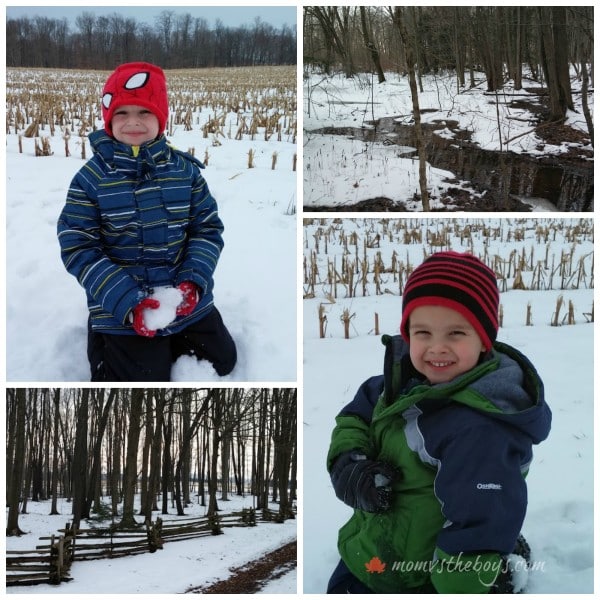 I haven't played around with it yet, but the LG G2 comes with a dual camera, or dual record mode where you can put yourself in the picture, even if you're the one behind the camera. Dual Recording/Dual Camera lets you activate the front and rear cameras simultaneously, so you can record yourself and your subject at the same time using picture – inpicture technology to put your face in any photo or video you're shooting. Pretty fancy right? It also has Audio Zooming capability that lets you zero in on a specific audio source by zooming in on your subject while recording video. Afterwards, you can hear it more clearly during playback.This unique feature uses three stereo mikes, which amplify sound from the specified angle and deemphasize the surrounding noise, so you can zoom in on the sounds you want to hear, and tune out those you don't.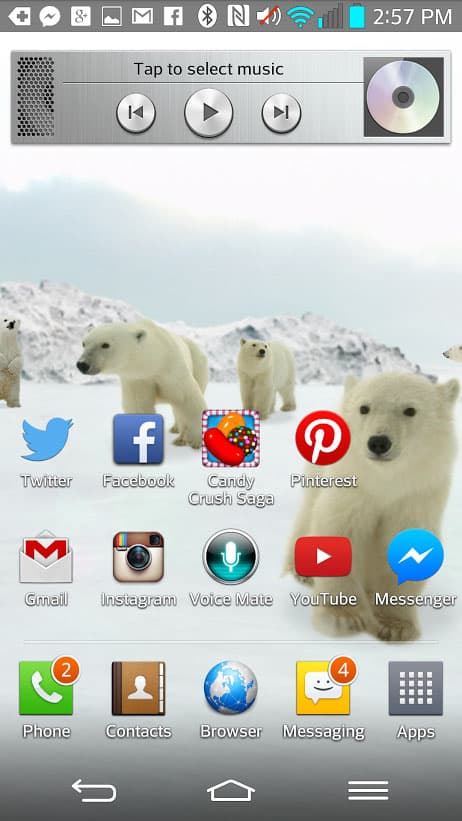 Packed with features, an amazing display and a long battery life and I've got myself a new best friend. Soooo….do I take it to the bathroom with me? I'll never tell! 
Learn more about the LG G2 including all the specs at lg.com
Connect with LG on Twitter – @LGCanada  and Facebook
 Seriously cool stuff is coming out from LG that you definitely want to know about! Pop over to facebook right now to catch their latest news just released today on how LG is going to make your life smarter! Do I want my phone to alert me that my laundry just finished up or be able to check what's in my fridge when I'm at the grocery store? Yes, yes I do! See how far I've come? One Touch Connection – Life is Good!