* My baby reviewer Diane tested out the Angelcare Bath Support*
I remember those first few baths with a new baby… I remember feeling like I needed two extra sets of hands. I would always wait for my husband to get home so he could help me. I didn't bathe my first baby by myself until she was several months old! The main reason for this was because the little baby bath I had for her was not at all comfortable, and I couldn't use it myself. I needed someone to hold her while she was in it. We stopped using it after only a few tries. I was given another baby bath and found the same thing – it was a pain to dry and it was always in the way. We actually found some sort of mold growing in it after we hadn't used it for over a month. Gross! We pretty much gave up on baby baths altogether.
Then we had the chance to try the Angelcare Bath Support – I'll be honest, I was skeptical. Very skeptical. I don't have a good track record with these things! But I was willing to give it a try after reading that it was made of a mold resistant soft mesh material and had a hygienic surface.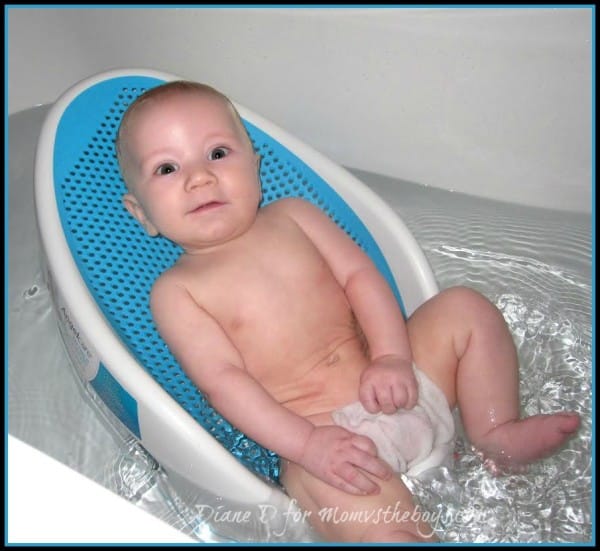 I was VERY surprised! I loved that it just sat in my bathtub, and I can fill my tub up with water. Ones I've had in the past we had to fill the baby bath itself, not something I was fan of. I like that it has a "fill to here" mark, makes things quick and easy. The holes make is easy for rinsing too. It seemed very comfortable for my little man and he loved it, which was an obvious bonus. It was easy to bathe him by myself. He was snug and not slip-sliding around which made things much easier for me. I like that it's light… I mean very light – but sturdy. It makes it easy to bring along with us when we go away for the weekend. But by far my favourite feature is how quickly it dries! I literally gave it a wipe with the towel and left it to dry. I went and changed my baby, came back about 10 minutes later, and it was ready to put away. I was impressed. The less work for me the better… I have more important things to do, like reading bedtime stories!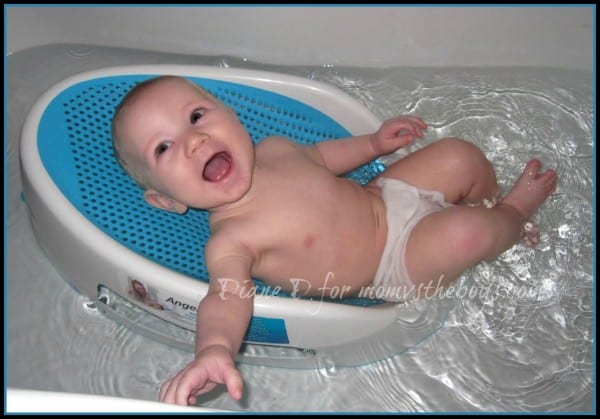 The only thing to watch for is when they get a little older (and bigger), if they can reach the bathtub with their feet, they can brace and push themselves almost out of the seat. Not much of an issue as long as you are right there. But certainly something to be aware of.
In short, we love it. We'll continue to use the Angelcare Bath Support until my son outgrows it (and that's saying a lot considering my track record!). My son loves bath time now – he tolerated bath time before – but as you can see, he's all smiles now!
You can find the Angelcare Bath Support at several different retailers including Walmart, Toysrus, and online at www.angelcarebaby.com
Happy washing!
Enter below for a chance to win your own Angelcare Bath Support
Canadian Only