This February is Heart month Canada!
It's time to get Heart Healthy and encourage our fellow Canadians to do the same! Shoppers Drug Mart is providing a Heart Age Calculator on their website- a unique online tool that helps Canadians calculate their cardiovascular age and assess their risks. By taking this test Canadians can determine if their heart is older than their true age and learn ways to improve their health.
What do YOU think? Will the test reveal that your heart is older or younger than your true age??
What is the Heart Age Calculator?
The Heart Age Calculator is an online tool that helps Canadians calculate their cardiovascular age and assess their risk of heart attack, stroke or cardiovascular disease within the next 10 years by answering simple lifestyle questions (like your height, age, weight, cholesterol levels, blood pressure, personal and family history, your daily habits and more). It is the only scientifically validated online tool available that provides a personalized heart age and cardiovascular risk profile recommended by the Canadian Cardiovascular Society Guidelines.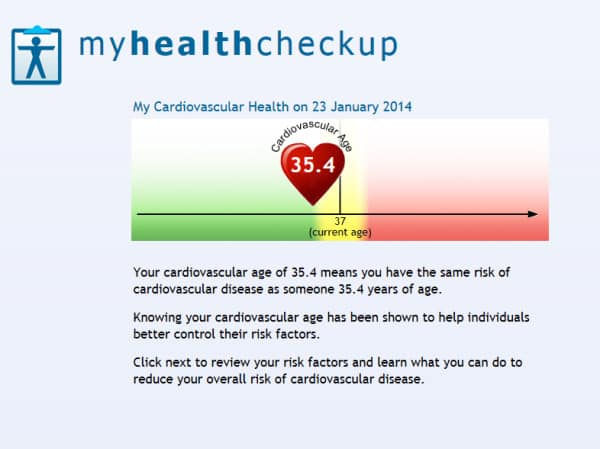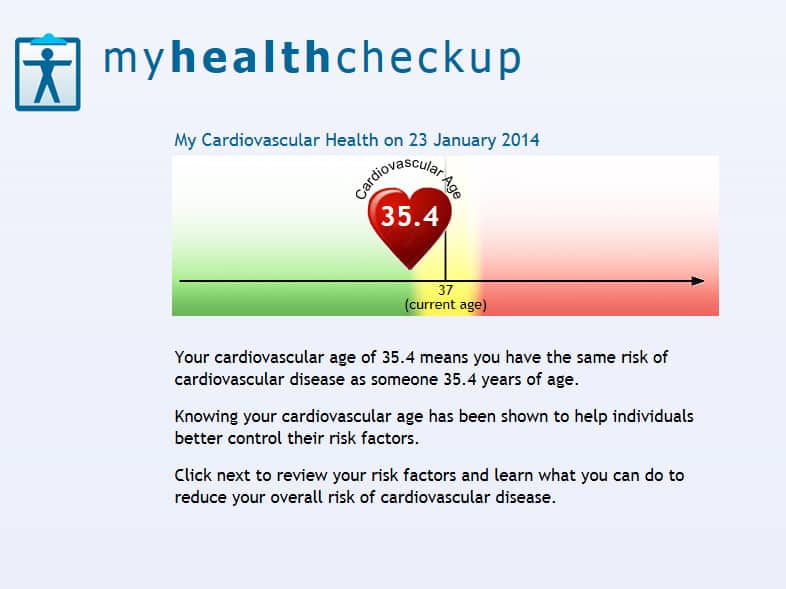 I'm sharing my results with you today! As you can see I'm not doing too badly, just a few weeks from my 38th birthday but my heart is a little younger than that. Benefits on my side were my clear immediate family history of no cardiovascular disease or diabetes and the fact that I don't smoke. The thing I need to work on most is not getting enough physical activity. Aside from walking to the bus stop and back twice a day, I'm not getting my butt moving nearly enough – I blame the cold weather!! lol But in all seriousness, a sedentary lifestyle has about the same impact on your cardiovacular disease risk as smoking a pack of cigarettes a day! GAH!!! I would never ever poison my body like that, so I was pretty shocked to learn this! Time to get out my office chair and get moving!
Your heart may be aging faster than you.  This is important to know because research shows knowing the cardiovascular age of your heart will lead to better heart health management. Several factors influence your heart age, including blood pressure levels, cholesterol, and the presence of risk factors like smoking. The Canadian Cardiovascular Society recommends calculating your cardiovascular age and knowing your cardiovascular risk profile to improve management of blood pressure and blood lipids. Research shows that understanding and knowing the cardiovascular age of your heart will lead to better health management. 
Simple Steps to be Heart Healthy

     Stop Smoking

      Monitor your blood pressure

    Apply an active lifestyle

     Regulate your Cholesterol Levels

     Take Control
Heart Disease is one of the leading causes of death in Canada, but knowledge is power when it comes to heart health! 
Visit Shoppers Drug Mart for the Heart Age Calculator now to see where your heart ranks! If you are brave enough, share your results in the comments below! ( I dare ya!)
For more information on the Heart Age Calculator visit  the website

Disclosure – Although this post has been sponsored by Shoppers Drug Mart Inc., the opinions and language are all my own, and in no way do they reflect the views, opinions or positions of Shoppers Drug Mart Inc. or its affiliates or licensees. Shoppers Drug Mart Inc. makes no representation as to accuracy, completeness, suitability or validity of any information within this blog post and will not be liable for any errors or omissions in this information or for any losses, injuries or damages arising from its display or use.