When I was a little girl I dreamed of seeing the world, I'm not sure where the passion came from because as a family we stuck pretty close to home. We toured around to different camping sites within a short driving distance and those were our vacations. Somewhere along the line I started to connect with kids my age from around the world with pen pals. From Japan, Africa, Australia and the USA, I made friends with girls and boys just like me living their lives in other countries. I learned about their families, friends, hometowns and countries and I soaked it all in, eager to know everything!
When I was 18 years old, I was chosen to take the trip of a lifetime through our local Lion's Club program. Having had 3 different pen pals from Australia in the past, I had already developed a great love for the country and their animals and chose Australia as my destination! As far as countries go, Australia was an easy country for a first travel experience as their money, culture and language is so closely matched to our own. 
Heading to the airport, I really felt at peace. Despite the uncertainty of what lay ahead,  I had said good bye to everyone important in my life, I felt loved and I felt ready.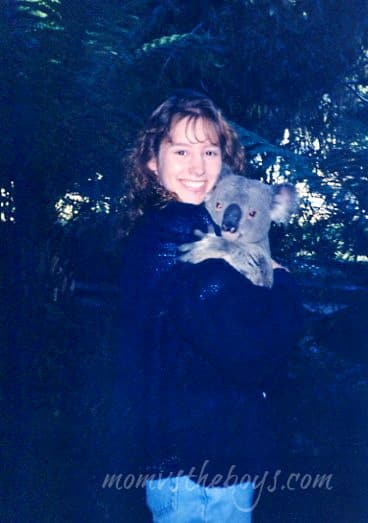 From Koalas to Kangaroos
As a child, we read picture books and see tv shows with strange animals and if we are lucky we might get to peek at one from a distance at a zoo, but there's nothing like meeting these creatures up close. I had a couple of chances to hold a koala in my arms (they are kind of stinky!) and I had the rare and extraordinary opportunity to bottle feed a joey (baby kangaroo) at the home of an animal rescuer. Pretty amazing right? I watched sheep being sheared, cattle being sold at a live auction and even got to hand feed parrots in the rainforest. I was lucky enough not to have encountered any of Australia's more dangerous spiders or snakes, but standing side by side with an emu, I did come to realize that humans aren't as big as we think we are.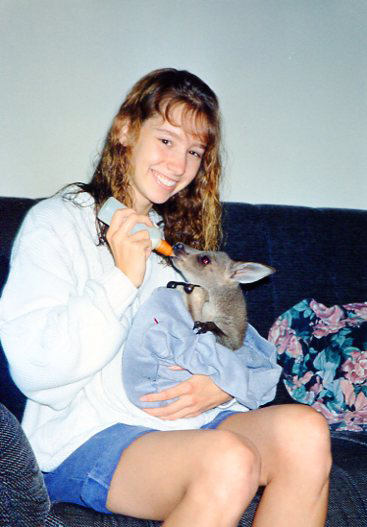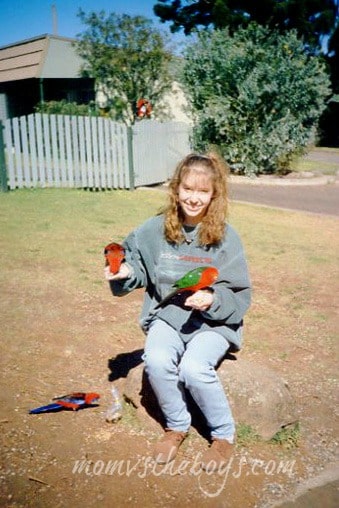 From Vegemite to Baklava
I come from a simple eating family that's riskiest spice was salt and pepper. I don't think I even ate a real taco until I was in my twenties so eating away from home for weeks at a time was a pretty big experience! I'm lucky that Australian cuisine isn't too off the wall and they certainly enjoy a good cut of meat. I would far more appreciate the food today than I did back then. My host parents seemed a little grossed out that I preferred ground beef and my first host mom called the next to tell her she thought that I was really a vegetarian lol But I did try lamb for the first time ever (not bad), ate at my first German restaurant, and tried a delicious baklava while out at the mall with a friend, so I was up for trying some new things. I was excited to write home about the BYOB restaurants and snuck a box of Tim Tams (chocolate cookies) into my luggage.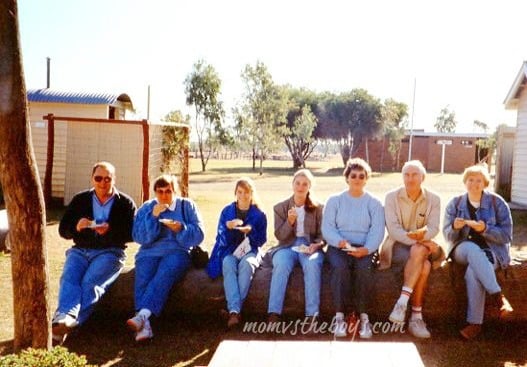 From Wake Boarding to Pepe Le Pew
Being in another country allowed me to try all kinds of things I had never tried before. I went wake boarding with jelly fish (they didn't tell me about those until after I got out of the water), hugged favourite characters at Warner Bros. Movie World, visited a pineapple plantation, took a treetop walk  in the rainforest and attended a footy game (Australian football). Every single day was a new and exciting opportunity to grow and challenge myself!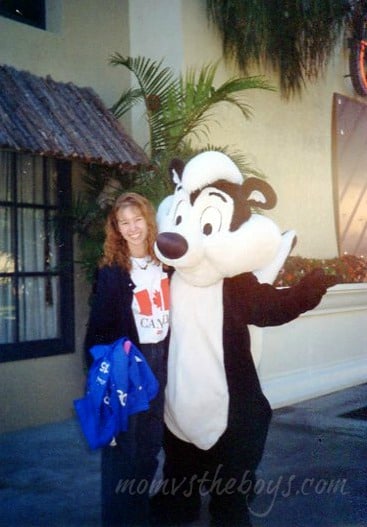 From the Opera House to the National Capital
Getting my first look at the Sydney Oprah House was one I will never forget, but being immersed in a new country is more than the glitzy tourist attractions, it's learning about all the quirky local historical sites as well. I spent time in Gundagai with the dog on the tucker box and posed for a customary photo in front of Tamsworth's Golden Guitar. Visiting Canberra to see the parliament house was a treat and I even had the chance to attend the site of the 1988 World Expo in Brisbane. So much fun history!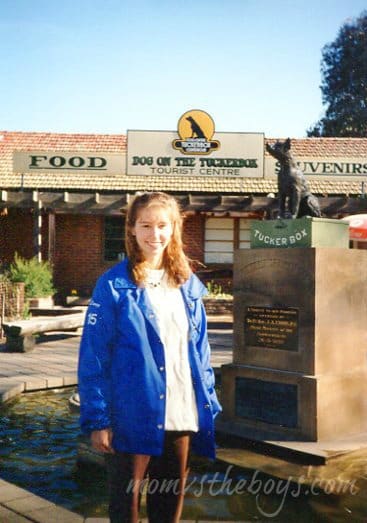 Making Friends
From houses on stilts in the mountains to poinsettias growing on trees, I saw sites I had never even dreamed imaginable. But the best part of traveling is the people, I met friends from all over the world on this trip, but it was the locals that made the trip special. Families who took me in and treated me like their own, who spent their time and money to show me their hometowns, cities and country. Teens who introduced me to their friends, who took me out for nights on the town, into their own classrooms and home for sleep overs. I felt like I belonged. Years later, one of the girls who's family I stayed with was all grown up and living in the United States as an au pair. She came to visit me in my first apartment and I got the chance to show her around my country for a couple of days. I still keep in touch with the family on Facebook to this day! (hello Bocks!)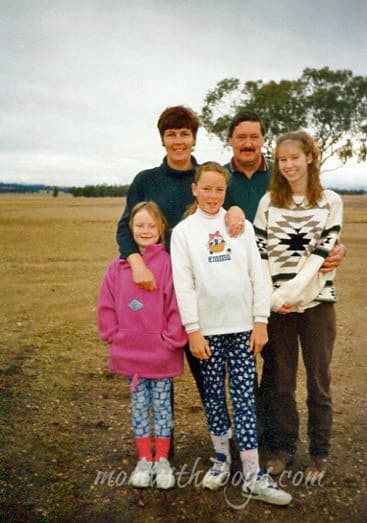 I did a lot of growing up in those six short weeks. I learned to put my faith in strangers, and trust in myself. I put fears and doubts aside and stepped way, way, way outside my comfort zone. I took risks, kept an open mind, and pushed myself more than I even realized at the time. I flew home with a renewed confidence that served me well for years. At 18, I was heading into my final year of highschool, applying for college and attending job interviews. I couldn't have picked a better time to explore the world or myself. It's still one of my proudest moments and greatest memories of my life.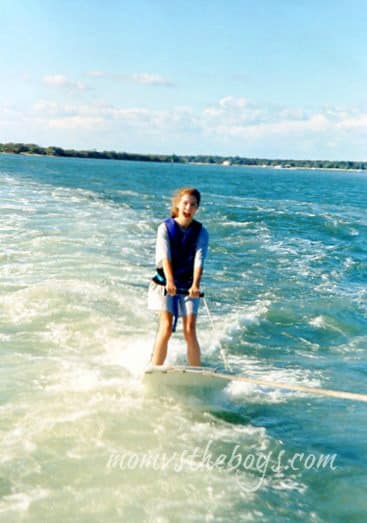 I travelled across the world to find Australia, more importantly, I found myself.