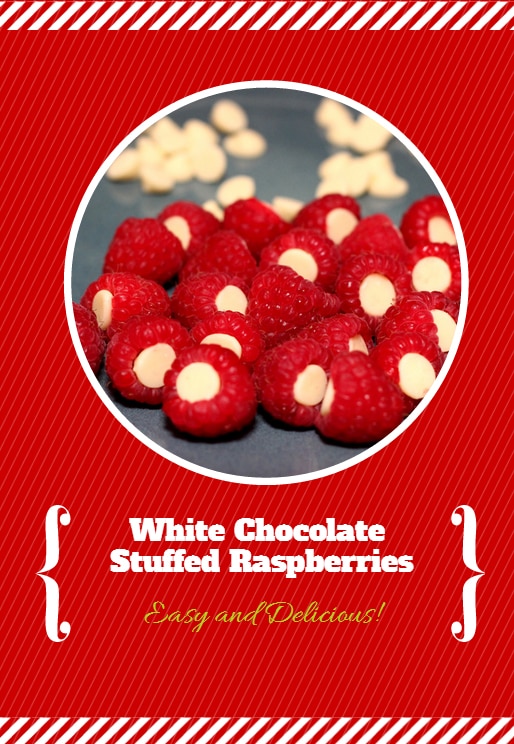 yummmmmm…..right? Sounds fancy, truth is it's not, not even close! It's so easy it's probably not even considered a recipe, but I wanted to share it anyway because it's a fun little snack for Summer!
White Chocolate Stuffed Raspberries
Raspberries are just begging to be stuffed with that open centre and there's nothing better for stuffing than chocolate!
Ingredients
Raspberries
White Chocolate Chips (or heck mix it up and use milk or dark chocolate even, it's all good!)
Simply take a chocolate chip and place it inside of the raspberry with the point facing in, this make a neat little plug for the berry. They taste just fine like this with a soft tart outside and a crunchy milky inside or you can pop them into the freezer for a cold summer snack or let the chocolate melt a little so the inside is soft and gooey. We eat all of our meals outside, weather permitting, in the summer months so the chocolate softens up a little just sitting on the plate and it's delish!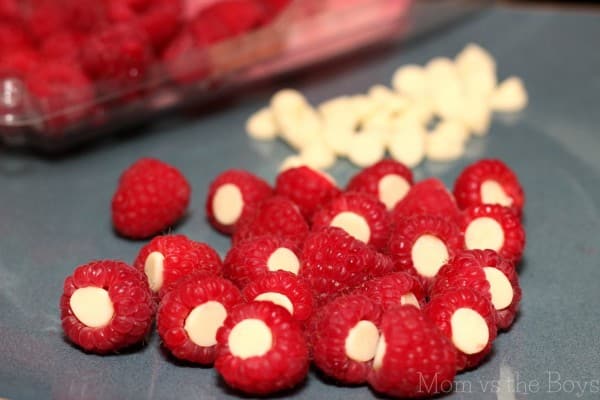 These dress up a regular fruit trayor dessert plate and look kind of fancy for bridal showers, a wine and cheese or New Years Eve parties and the like. But they will be a hit with the young crowd too, my kids go crazy for them! Who doesn't love raspberries and chocolate right?
Looking for a perfect little red and white snack for Canada Day? These little guys are perfect for Canada Day parties and barbecues!