First off I want to say that I was thrilled when Li'l Gourmet (Baby Gourmet) contacted us for another review! My kids were so excited when they seen the new products arrive. As you may remember I did a review for them back in March of this year, and my kids loved them. They were very eager to taste the new creations that Baby Gourmet supplied. So lets dive in!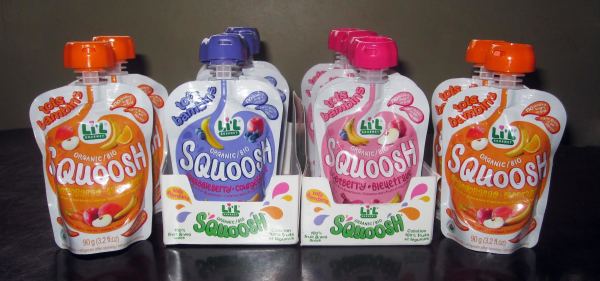 We received 3 different flavours: OrangoBango, BeetBerry and SquabbleBerry.
The first thing that got us talking was the packaging. The kids seen them just before supper, so they had to wait to taste them, and they actually just sat and discussed who was going to try which one first based on their favourite fruits. I love that you can pretty much know all the ingredients just from looking at the picture on the front. It's all REAL food! Yep, you can pronounce and understand every ingredient. I'll also point out that the packaging is very appealing… most importantly to kids, but also to adults. As I mentioned, my kids picked out which ones they were going to try first based on the pictures of fruit.
So with only a small battle coming from my 3 yr old, we managed to get through dinner and on to the fun of trying new things. We let the kids try them first, but my husband and I also tried them.
VERDICT: an astounding YUM! from all… even the parents!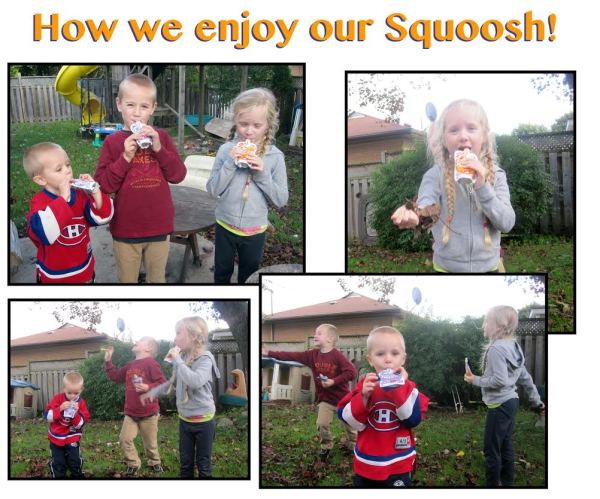 My daughters favourite was the OrangoBango. The 5 and 3 yr old loved the SquabbleBerry best, and the youngest likes them all. They are smooth and tasty, easy to eat on the go – which is good since my kids are always on the move. The best part as a parent (aside from that you can easily grab one on the go for a quick snack) is that you can feel good giving them to your kids. They're healthy and the kids love them. They're easy to throw in a bag or purse (I throw everything in my purse), and since they're tetra packs they don't take up much space. Equally awesome is that they have a resealable lid, like a bottle, so there's no waste if little ones can't eat it all right away, and you're not stuck carrying around a potential mess.
These are a hit at our house. The hardest part is that I have to ration the kids to "only" 3 each a day – I think they would eat one for every snack/dessert if I let them. At least it's a healthy snack they want to devour!
Li'l Gourmet has officially raised the bar on my expectations for tasty snacks.
Li'l Gourmet and Baby Gourmet can be found at many retailers including Walmart and ToysRus.
Try them out… and let us know how you enjoy your Squoosh!
Just in time for Fall, I have one 12 pack of SpinApple Squoosh for two winners!
Enter Below
Canada Only