Last week I shared with you all about my meeting with Jason Priestley, and how he's helping P&G spread the word about the Children's Safe Drinking Water Fund. To date, P&G water purification packets have purified more than 7 billion liters of water and provided more than 21 million days of clean water! The goal is to reach 25 million days before the end of March, and everybody can help! Even you!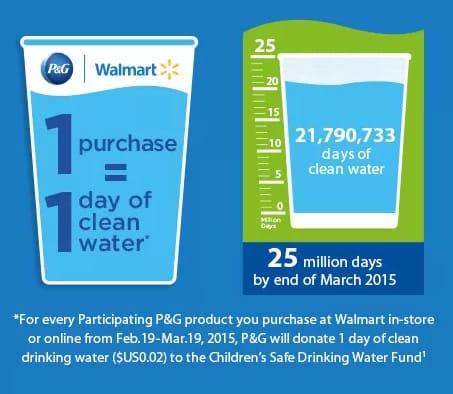 To help reach the goal by March 19th, all you have to do is simply buy your favourite P&G products such as Bounty, Tide, Pampers, Cascade, Swiffer, Always, Duracell, Crest etc at Walmart Canada either instore or online (free shipping!) and P&G will donate 1 day of clean drinking water to the Children's Safe Drinking Water Fund for each product purchased. Such an easy way to help those in need!
For more information about this program and a full list of participating P&G products available at Walmart, visit walmart.ca/cleanwater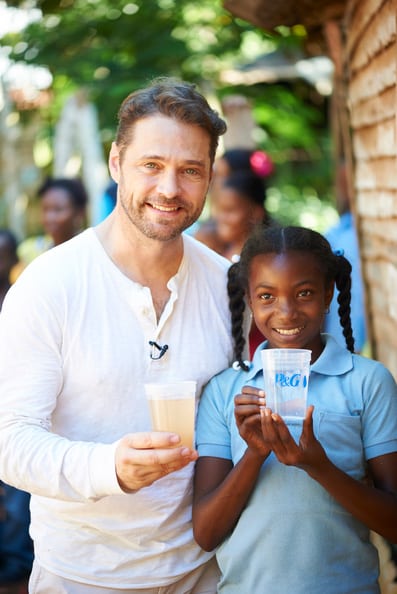 CLEAN WATER FAMILY KINDNESS CHALLENGE: ENCOURAGING ENGAGEMENT
There are so many ways we can help, give and share with people in need, whether they're close to home, or far away. This March, we're promoting social awareness and a culture of kindness by encouraging you to participate in the Clean Water Family Kindness Challenge!
Living in a small town, I love being able to help people right in my own community and nearby towns. We make regular contributions to the local food bank, clothing drive and library throughout the year, and during the holidays, we get to make our favourite donation of all – the annual toy drive! Just knowing those toys are going to make some little child's Christmas special, is enough to put a smile on all of our faces! Sometimes it can be hard for the boys to understand why we are giving brand new toys away, but it's so important for them to learn the importance of helping when you can, and sharing when you are able. I'm always proud of them when I know they would like to keep the toys, but put the bag in the donation box to help another child feel happy and special instead! 
Share with me your tips for fostering the spirit of kindness in your little ones! Leave me a comment, letting me know your favourite ways to give back and you'll be entered to win a fabulous P&G prize pack full of household essentials! 
Prize Pack is valued at $120 and includes:
Swiffer Sweep & Trap Starter Kit 

Mr. Clean Antibacterial Multi-Surfaces Liquid Cleaner 

Tide Pods Spring Meadow 

Dawn Ultra Original Scent with Active Suds Dishwashing Liquid 

Febreze Extra Strength 

Febreze Air Effects Unstopables Fresh 

Febreze Air Effects Unstopables Lush 

Febreze Air Effects Unstopables Shimmer 

Febreze Candle Unstopables Fresh 

Febreze Candle Unstopables Lush 

Febreze Fabric Refresher Unstopables Lush 

Febreze Fabric Refresher Unstopables Shimmer 

Febreze Noticeables Unstopables Fresh 

Febreze Noticeables Unstopables Fresh – Refill 

Febreze Noticeables Unstopables Shimmer 
Remember,  By stocking up on P&G products like these at Walmart or Walmart.ca, you'll be taking a small step to make a big difference!
Disclosure: I am a P&Gmom/mamanP&G. As part of my affiliation with this group I receive products and special access to P&G events and opportunities. The opinions on this blog are my own.
By entering the following contest you are accepting that if you win your contact information will be shared with a P&G PR and shipping agency for the purpose of mailing your prize.  Please allow 4-6 weeks from the contest closure date to receive your prize.
This giveaway may appear on other blogs as part of the #PGmom/#mamanPG program.  However, to be fair, you can only win once per giveaway.  If your name is chosen more than once, another winner will be selected. All winners must be from within Canada