I have fond memories of baking with my mom as a child, it's where my love of baking began and still today I can't wait to get into the kitchen and create something beautiful with food! Peanut Butter Cookies are a classic and my childhood was no different, we regularly had fresh baked ones in the house. We always just used the simple recipe right from the back of our Kraft Peanut Butter jar! These days, I'm a little more creative and love to put my own twist on a solid recipe, and I love it when my own boys get on their little aprons and help me out in the kitchen! It's always more fun to make treats together! 
Kraft Peanut Butter Snack Bites are the perfect recipe to get creative with and tailor to your family's liking! The flavour possibilities are endless! Starting with the base ingredients of Kraft Peanut Butter, honey and large flaked rolled oats, you can branch out from there making your snack bites as healthy or decadent as you like. I gathered the boys around on Easter weekend to create these amazing Peanut Butter Snack Bites, and with our sweet tooth in full effect over the holidays we came up with a delectable Triple Chocolate version!!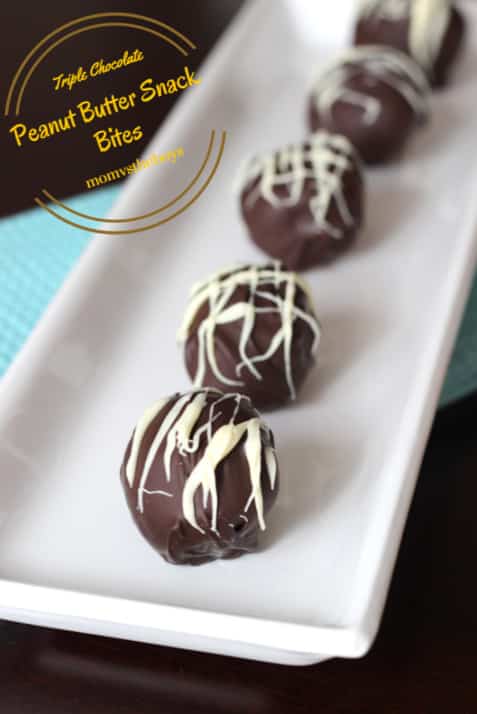 Triple Chocolate Peanut Butter Snack Bites
Ingredients
1 cup large flaked rolled oats
1/2 cup Kraft Smooth Peanut Butter
1/4 cup honey
1/3 cup mini milk chocolate chips
1 cup semi-sweet chocolate chips
1/4 cup white chocolate chips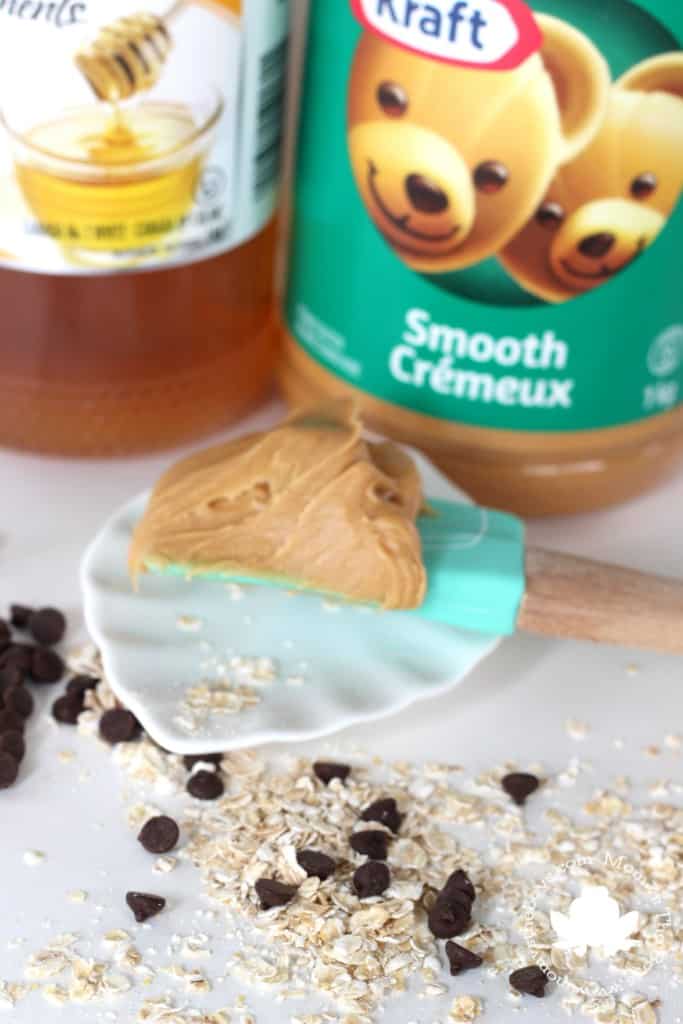 Directions
Mix together Kraft Smooth Peanut Butter, oats, honey and mini chocolate chips until blended. 
Roll into 1 inch balls, using about 2 Tbsp for each, placing them on a lined baking sheet. This made us 10 balls of the size you see in the photos here. Because we are a family of 5, we decided to double the batch!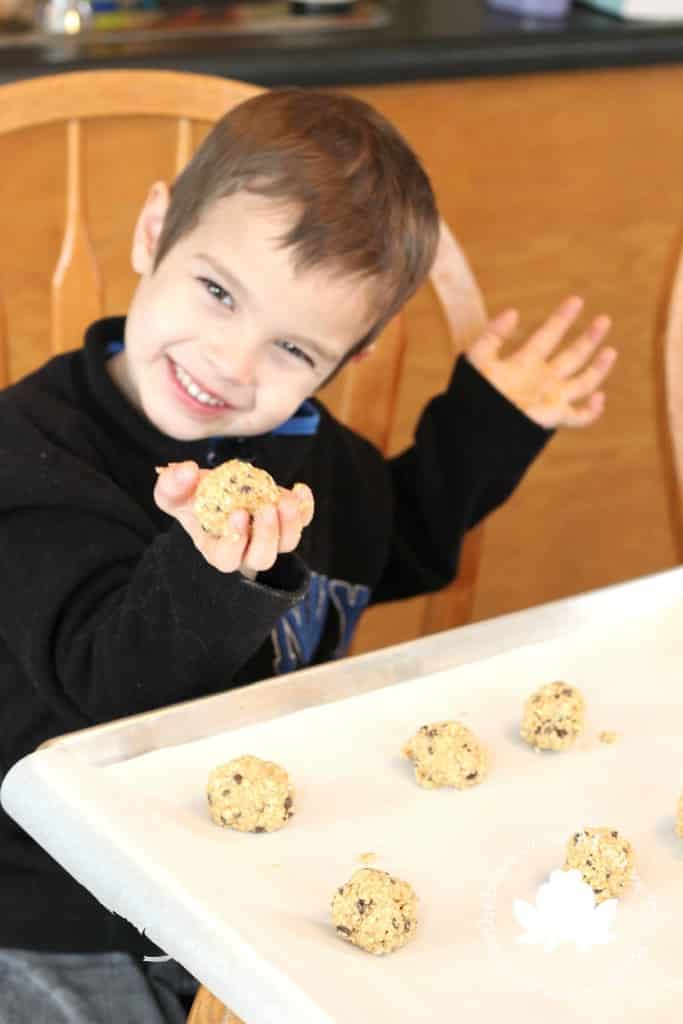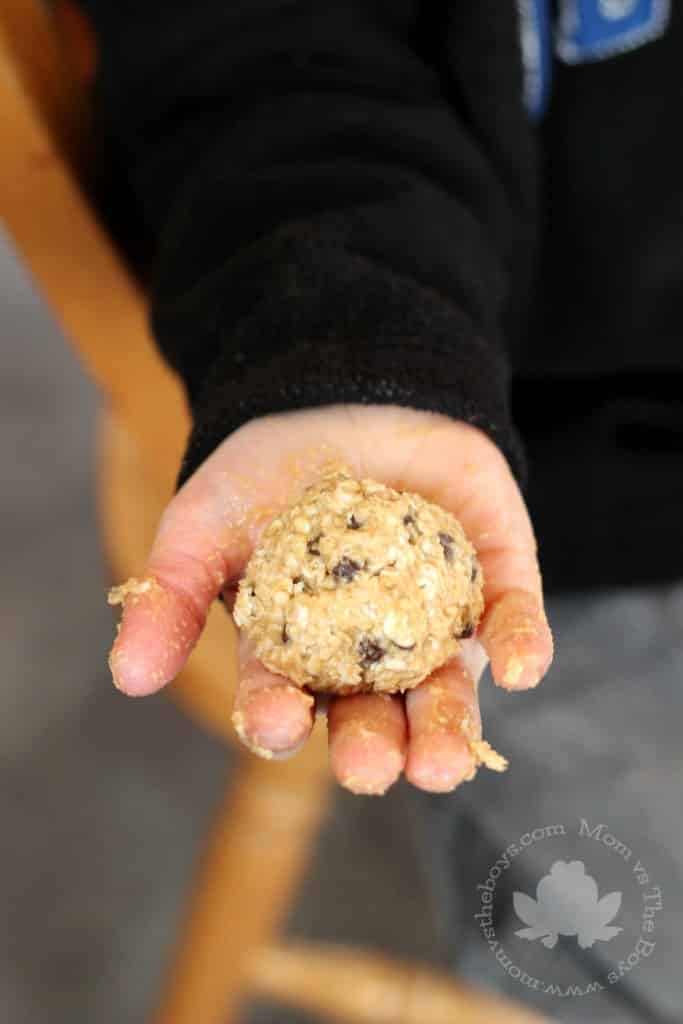 Chill balls for about 20-30 minutes. I popped mine right into the freezer so they were very cold and hard and then removed them from the parchment paper and placed them into a bowl.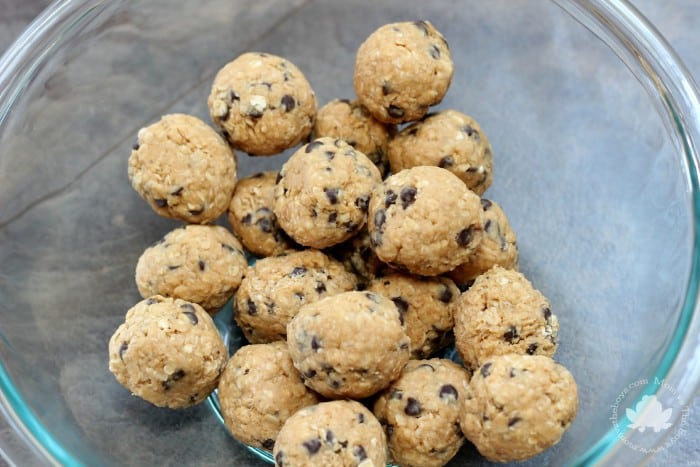 Place a wire cooling rack on top of the parchment lined baking sheet. Next, pour semi-sweet chocolate into a microwave safe bowl and heat for 15-30 sec intervals until melted smooth. Stir frequently and don't over heat, chocolate can burn quickly. 
Place a chilled peanut butter ball into the melted chocolate and coat evenly. Carefully lift the ball using two forks onto the wire rack. Repeat for all of the balls.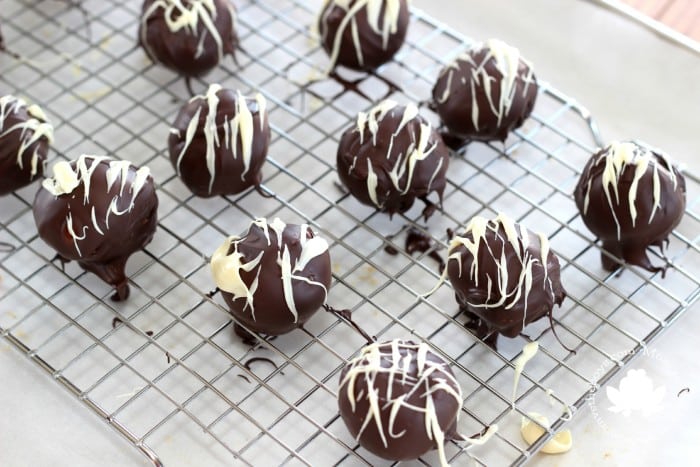 Once all of the balls are coated in the semi-sweet chocolate, melt the white chocolate the same way and drizzle over top. Leave on wire rack, and cool completely to allow the chocolate to set.
This is a fun and safe recipe to make with the kids because they can help in so many ways such as stirring ingredients, rolling the balls and drizzling the chocolate! Best part, no baking required!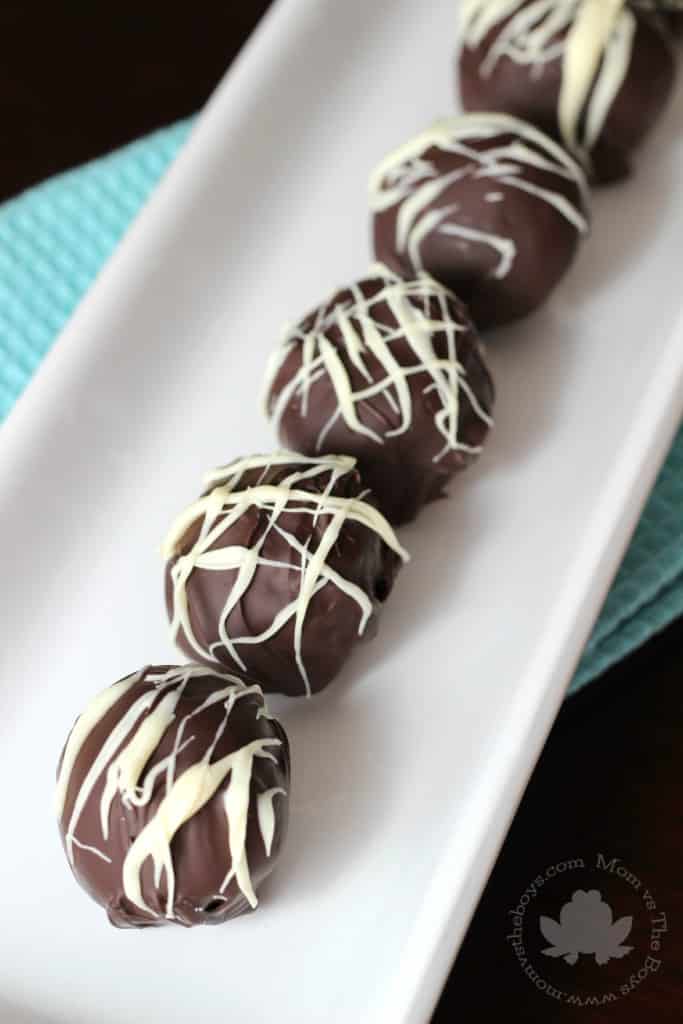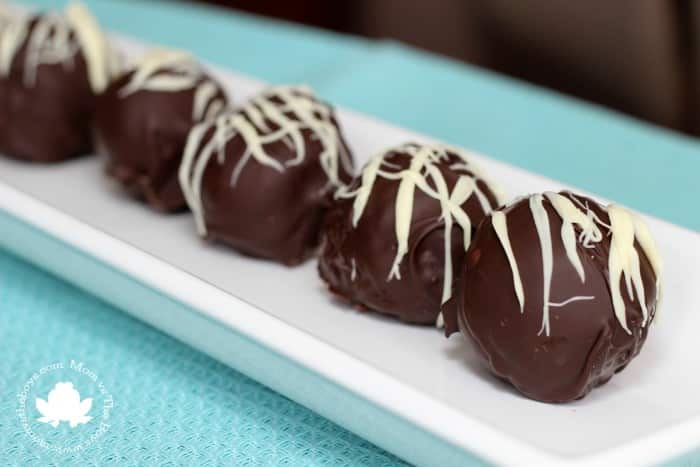 These little bites of heaven are absolutely beautiful and would be perfect for serving to guests on holidays like Easter or Christmas, or anytime of the year! Here's a view of a single serving, with the creamy peanut butter center showing!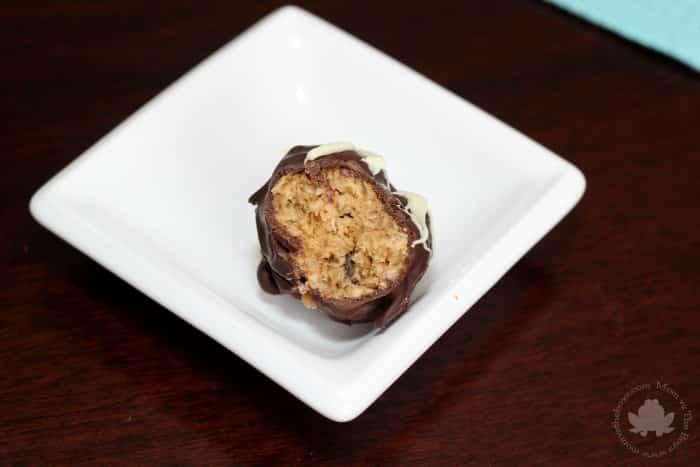 I really love this recipe because it's so versatile. Using the base ingredients of peanut butter, oats and honey you can transform your balls with all kinds of tasty ingredients such as nuts, seeds, raisins, marshmallows etc. Our chocolate loving family went all out, but you could also scale back the sweetness and simply drizzle the peanut butter snack bites with the white and semi sweet chocolate instead.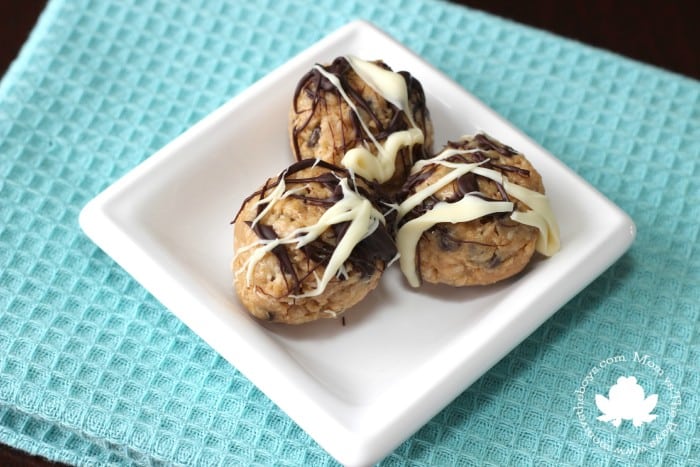 Create your own Peanut Butter Snack Bites and Win!
Visit sheblogs Canada to enter the Make It Yours photo contest. By sharing a photo of your Peanut Butter Snack Bite recipe, you will be entered to win 1 of 4 Kraft Peanut Butter prize packs! 

 Follow the hashtag #MyKPBsnackbite to join the conversation on Twitter and for more Peanut Butter Snack Bites recipes visit www.sticktogether.ca!
Although this post has been generously sponsored by Kraft Canada, the opinions and language are my own, and in no way do they reflect Kraft Canada.