As Ontario slowly slips out of it's winter deep freeze, my thoughts turn to all things summer! Meals on the back deck, picnics in the park, road trips with the family…..and all the delicious warm weather food that goes with it! When temperatures rise, it's just too hot to heat up the kitchen with the oven, and lately I've been experimenting with spring roll wrappers and came up with a delicious tuna wrap that's reminiscent of your favourite tuna sandwich without the added calories the bread gives you. These skinny minis are served cold and travel well making them the perfect take along on all your summer activities this year!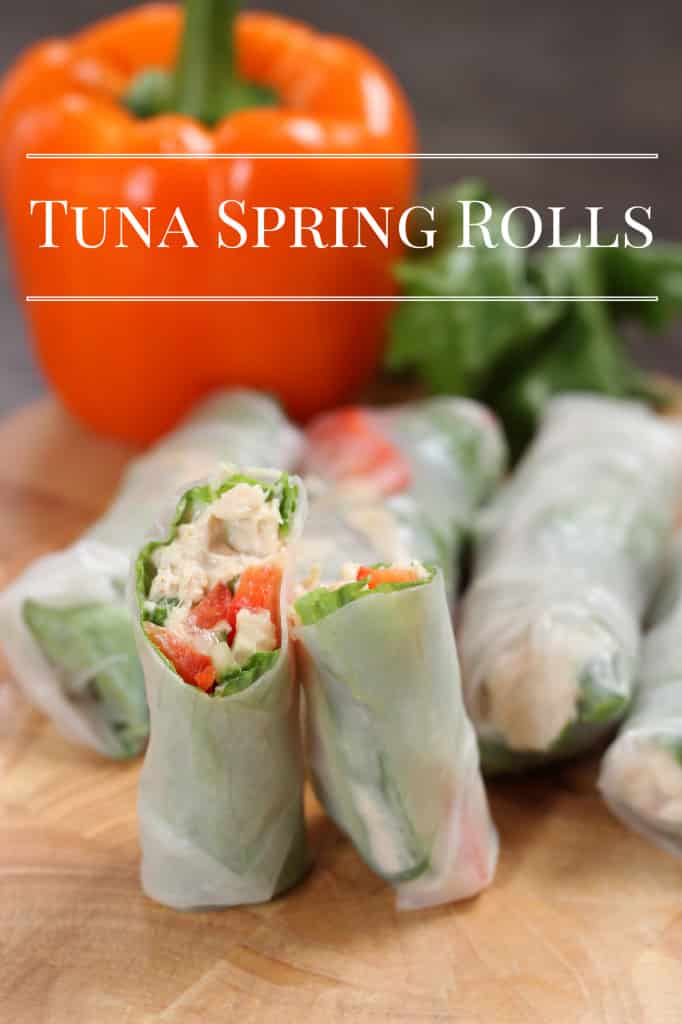 Tuna Spring Rolls
Ingredients 
1 can of flaked light tuna
2 tbsp light mayonaise
2 green onions
1/2 tsp seasoned salt
leaf lettuce
red or orange pepper, cut into thin strips
cucumber, cut into thin strips
Blue Dragon Spring Roll Wrappers
Directions
I wrote out the recipe I used above, but go ahead and prepare the tuna the way you like it best. If you usually dice up some celery, do that, if you prefer different spices, add those. Go ahead and make it your own. I make my tuna a little different each time and kept it simple in this recipe. Mix all ingredients thoroughly.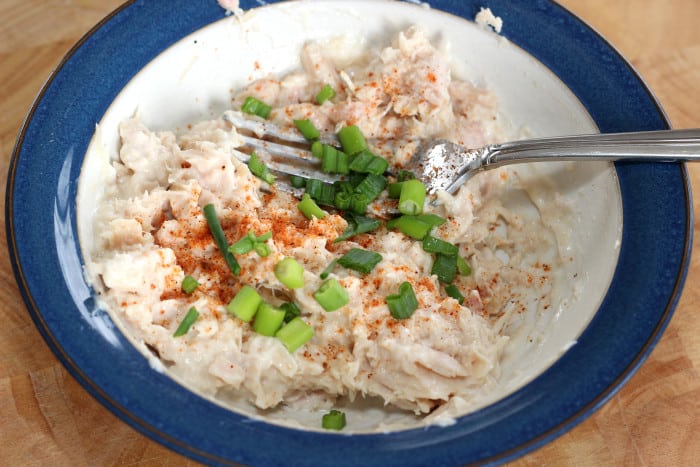 Spring roll wrappers can be a bit finnicky to work with until you get used to handling them. The easiest way is work with one wrapper at a time, and while holding it with both hands, run it under warm tap water until the wrapper becomes soft and pliable. The water doesn't have to be hot, warm will be fine and it only takes a few seconds for the wrapper to be ready. Once soft, carefully place the wrapper on a flat work space. 
To fill, start with a piece of the leaf lettuce to create a bed on the lower portion of the wrap. Then spoon on top a row of the tuna and lastly, place the cucumbers and peppers on top. If you have other veggies you prefer, feel free to sub those in.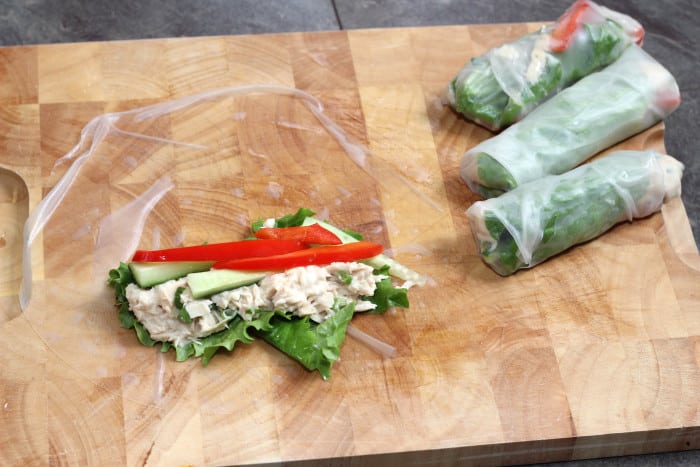 To fold the spring rolls, carefully pull the left and right sides over on top of the filling, then lift the bottom and roll up. Use a bit of water on your finger to rub the roll to make a seal when complete.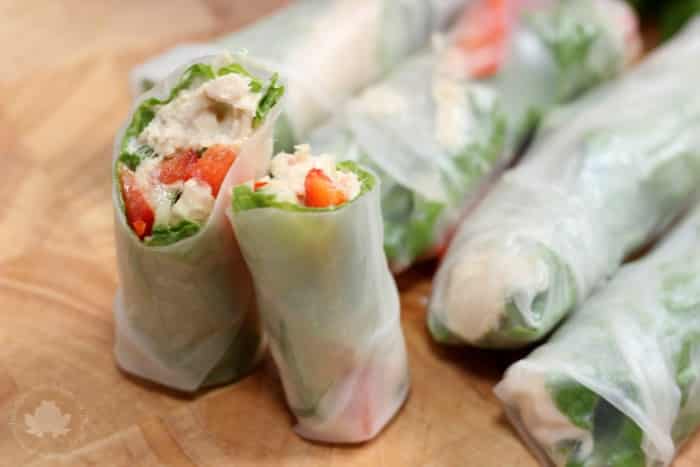 One can of tuna made about 6 rolls for me.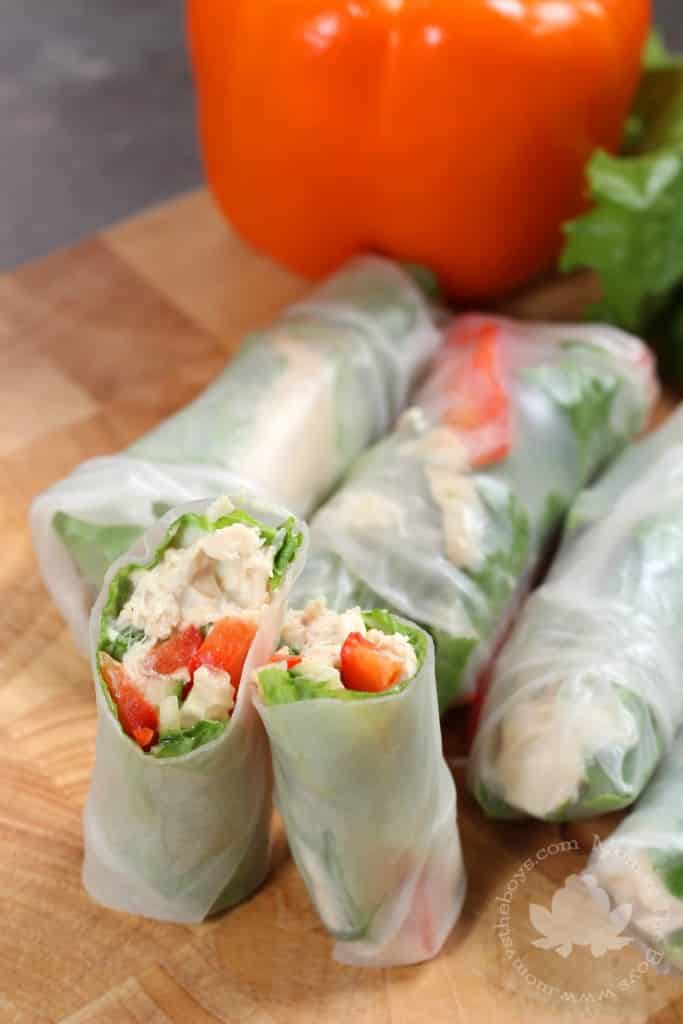 These Tuna Spring Rolls are so cool and fresh tasting with the soft tuna center and crispy crunch of the veggies! They were surprisingly filling and I ended up saving a few for the next day. I recommend serving them fresh but they did hold up very well in the fridge and were really the good the next day. Try using Blue Dragon Sweet Chili Dipping Sauce for an added kick!
For more recipe inspiration be sure to visit the Bamboo Room
I created this Tuna Spring Roll recipe as part of the Blue Dragon Canada ambassador program and I receive special perks as part of my affiliation with this group. The opinions on this blog are my own.