I've known my whole life that I wanted to be a mom, so when I finally married my husband we spent some time moving into our new house and travelling and then I couldn't wait to start our family. Unfortunately, I was having some trouble with my thyroid and my specialist told me with the medication I needed to be on, I wasn't going to be able to start our family for possibly a year. I was devastated! We started our family anyway, by adopting our furbaby, a gorgeous chocolate lab named Riley!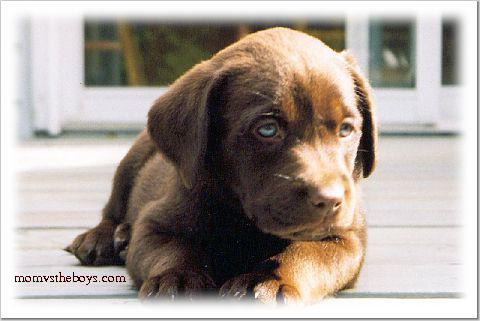 Riley filled our house and home with love and she instantly became part of our small little family! As it turned out, it did take years of waiting, along with a miscarriage and finally, finally we were pregnant with our first son. Riley was there with me through it all, with more cuddles than I could handle. She really was a best friend! When our son was born, she was lucky recipient of two walks a day, and loved the new member of our family too. She was always patient and sweet with the boys, no matter how crazy life became when we not one, not two but three little boys in our mix!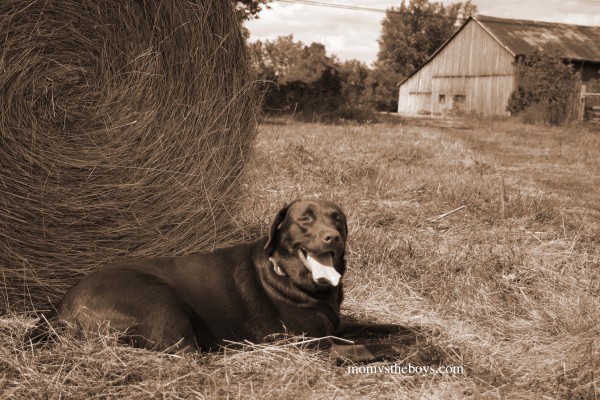 Last fall, our old girl was having trouble with her health and she passed away. She was 10 years old and brought joy and love to our life, heart and family every day. Saying good-bye to our girl was the hardest thing I've ever had to do, but on her last day we took her for a short walk in one of her favourite places and I knew we were sending her off happy. She was our Smiley Riley, a funny, sweet, loving and kind fur baby to the end, and I miss her every day.
It's amazing how pets quickly fill our hearts and become truly part of our families, they are silly and funny and make us smile. They are always good for cuddles and hugs when we need them, in fact 98% of Canadians feel pets improve their general well-being and we are definitely part of that percentage!

Share your own #PetHappy story and photo on the PetSafe Canada Facebook page and you'll have a CHANCE TO WIN a year's worth of PetSafe product!!  ($2500 value!)
Contest open to Canadian residents over the age of majority in their province of residence. Contest closes 05/31/2015 at 11:59 PM EST
Plus be sure to view all the great stories that other people have shared at petsafepethappy.ca. I'll be sharing the winner on my blog in June – stay tuned!
You also have a chance to win an  amazing PetSafe Prize Pack for your pet right here!
Enter below for the chance to win a big prize pack full of PetSafe toys and treats, valued at $500!! You'll be able to choose between dogs, cats or both!
(open to Canada, excluding Quebec)
This post is brought to you in partnership with PetSafe Canada. All opinions shared are my own.