With Canada Day right around the corner and the kids finishing up the last day of school, I think it's safe to say that Summer is officially here! Woot!! Just not having to pack 15 lunches a week is cause for celebration enough for me! I'm looking forward to lazy mornings, sunny afternoons and evenings spent sharing stories on the deck.
It's not family time if food isn't involved though right? Families love to gather around the food, and the boys and I have created a super fun dessert that is just perfect for nights around a campfire or hanging on the deck. Give it a try this upcoming Canada Day weekend and show of that red and white!!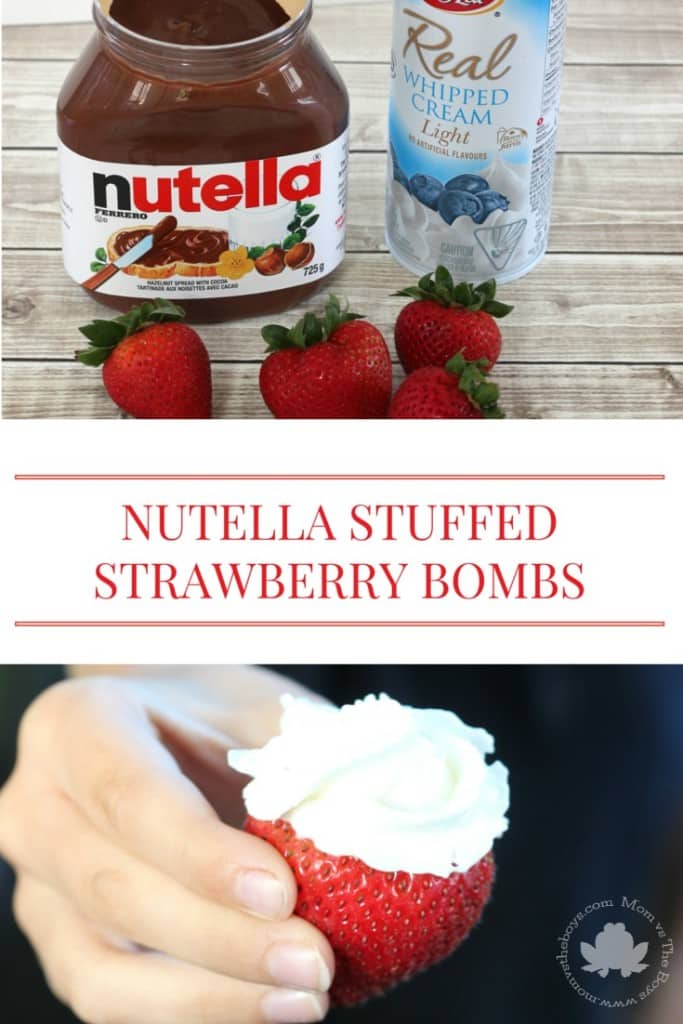 This couldn't be easier or more fun! Just 3 simple and well loved ingredients make this no bake dessert fresh and delicious!
Nutella Stuffed Strawberry Bombs
Ingredients
15-20 Large Strawberries
1/2 cup Nutella
Gay Lea Light Whipped Cream
To Assemble
Wash and pat dry your strawberries, then hull out the middle with a small, sharp knife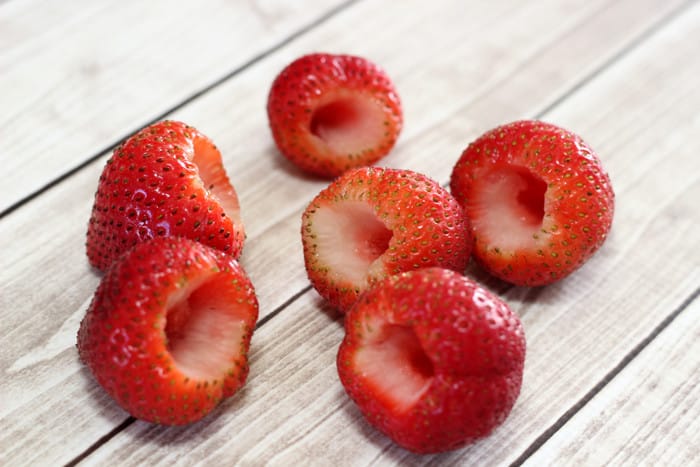 Place the Nutella in a ziploc bag, knead for a minute or two so that the nutella is soft and pliable. Snip off a corner of the bag and pipe the nutella into each strawberry hole.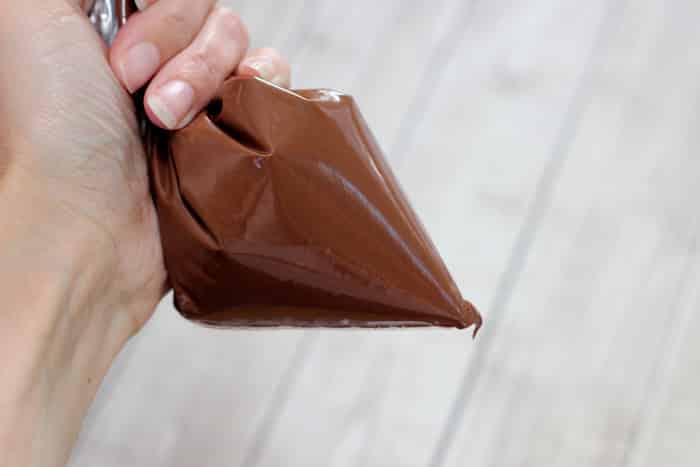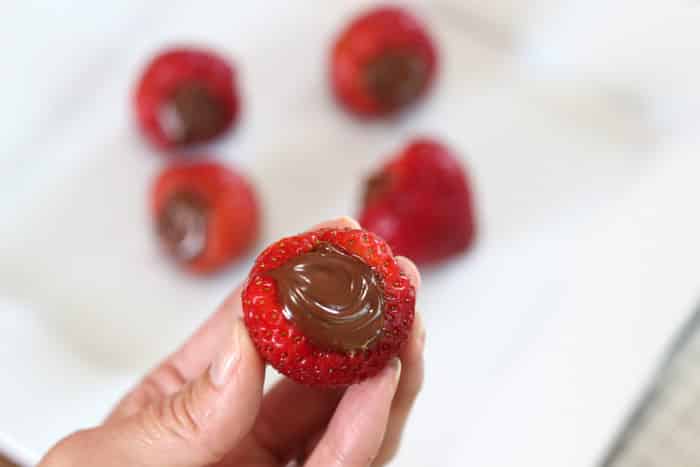 Now pop them into the fridge until you're ready to eat. Don't put the whipped cream on until right before serving, it will run off.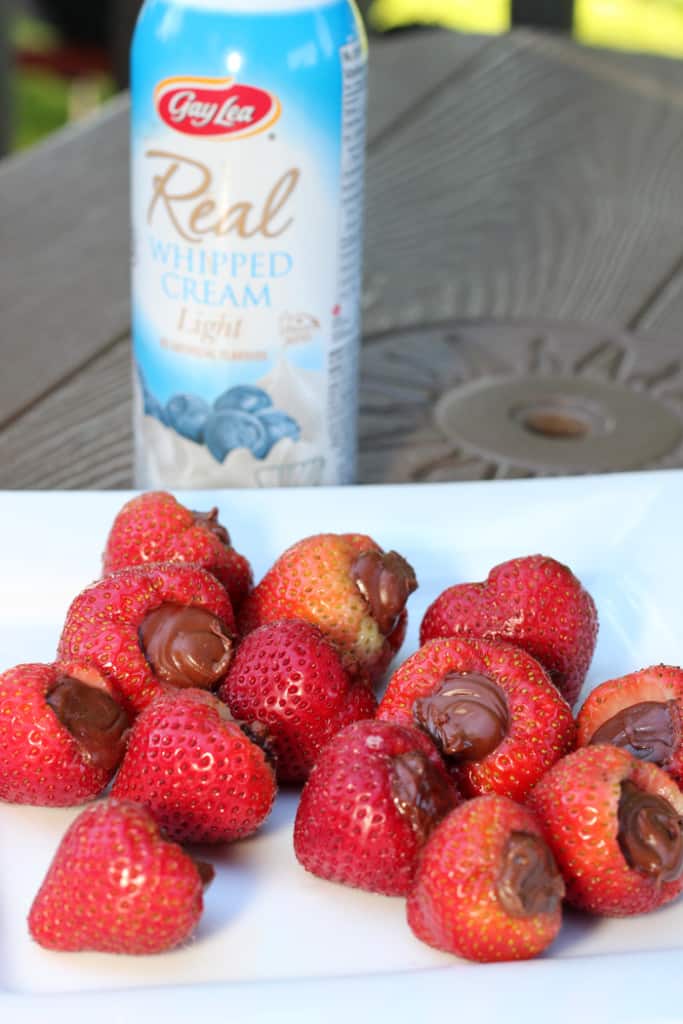 We found it most fun for everyone to pick out their own strawberry and top it themselves. Using the spray whipped cream is incredibly fun!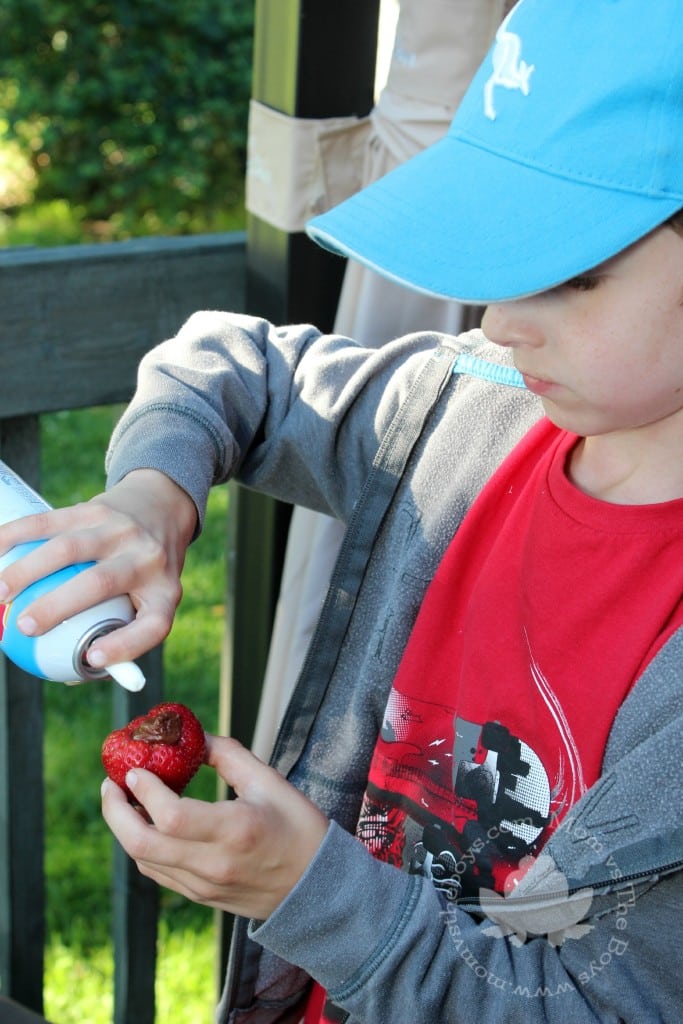 Some of us piled theirs higher than others…eh hem….hubby!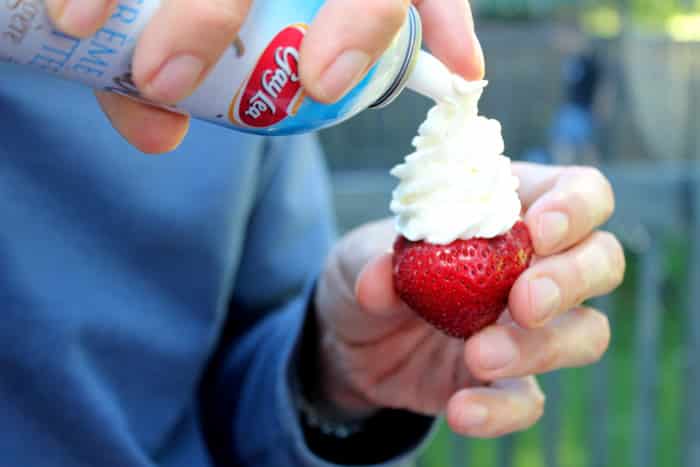 Have a little fun with your bombs!
While you have everyone gathered anyway, why not have some fun! Here's a game you can play with your bombs!
Mutual storytelling
This is a fun campfire storytelling game that has a special twist, when it's your turn you get a little treat! One person starts the story with one line that serves to set the scene. Then the next person will add a line and and then the next until everyone has had a turn. It's fun to see where it takes you! At the end of each turn,  top your bomb with whipped cream and pop it in your mouth, then pass the can to the next person for their turn!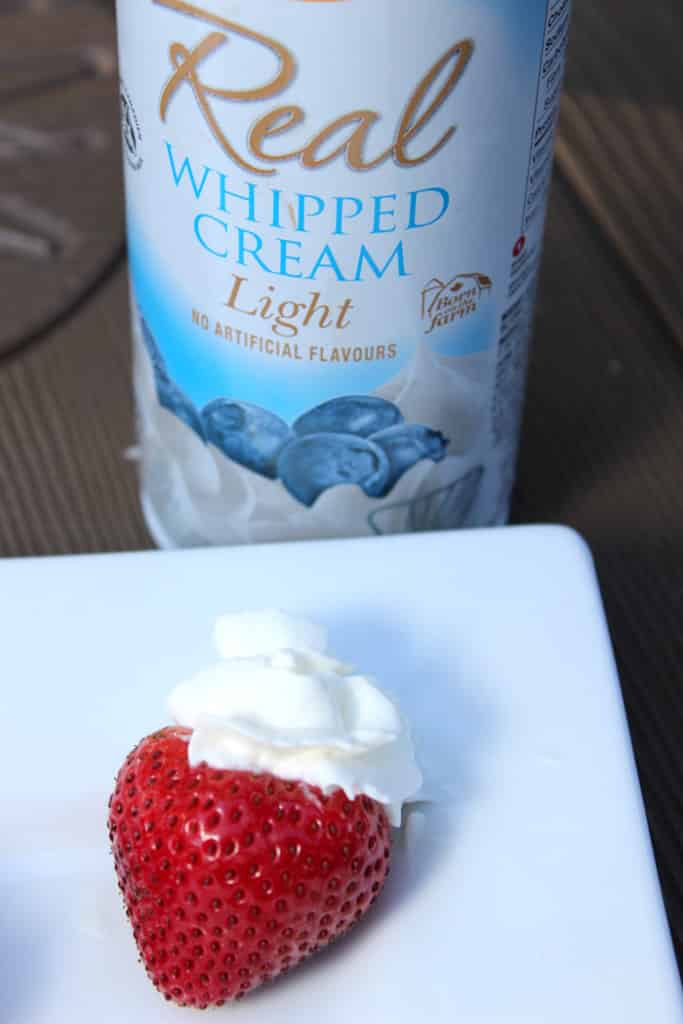 Nutella Stuffed Strawberry Bombs are super fun for kids, but adults can't resist that delicious chocolate strawberry combo either and I have another way to dress your bombs if you are having an adult party or thinking of serving this up on Valentines Day, which by the way, would be a very good idea!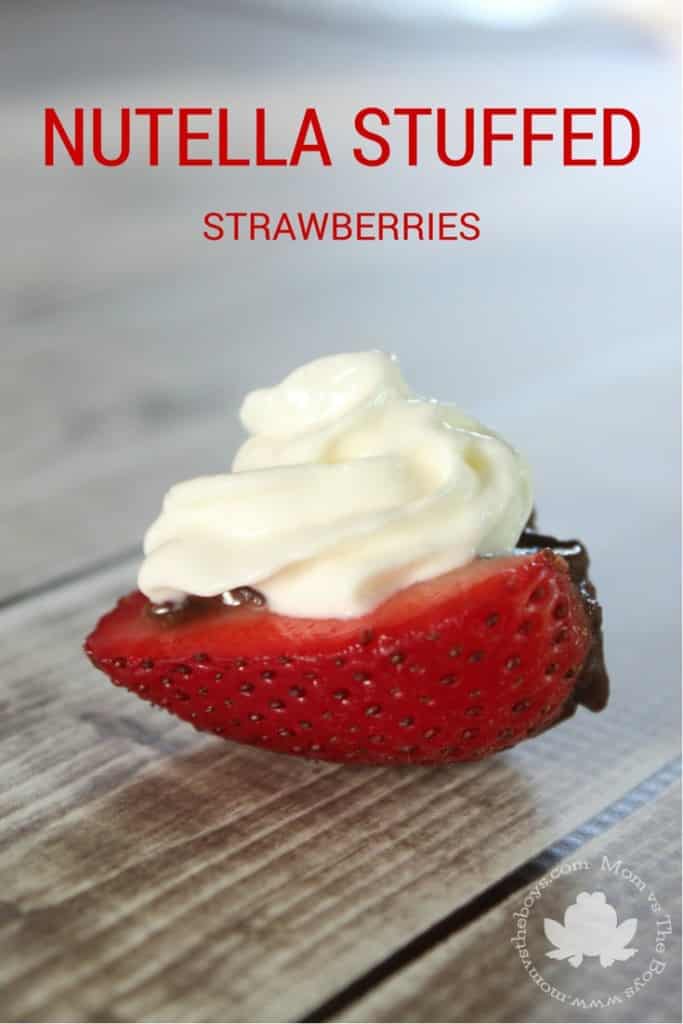 To Assemble
The best way to describe this is like a deviled egg! Hull out your strawberries just like above, but then slice them in half to create a little boat. 
Using the same ziploc bag method fill the strawberry with nutella and place in the fridge until ready to serve. Just before serving, top with whipped cream and present your dessert. It's very pretty! 
Did you know that Gay Lea's Whipped Cream is made with real cream, and is not only nut free but kosher and halal certified?
The Nordi-Cows are Back!
Moooo-ve along over to the Gay Lea Facebook page and pick your favourite cow! Be sure to milk her twice a day, once in the morning and once at night. The more you milk your cow, the more chances there are to win great weekly prizes!
Contest runs from the end of June and is open to Canada, excluding Quebec.
Visit the Gay Lea Website recipes and other inspiration
Disclosure: I am part of the Gay Lea Ambassador Campaign with Mom Central Canada and I receive special perks as part of my affiliation with this group. The opinions on this blog are my own.