Who loves to move? BeatBo does! And so do babies and toddlers so it's a perfect match! BeatBo is the creative and super cute new robot from Fisher Price and he's all kinds of adorable! Get the dance party started by pressing BeatBo's tummy or any of the other buttons on his feet to activate fun songs, learning content and dance moves. This futuristic friend even allows mommy or baby to record a phrase, and he'll remix it into his favourite song! That's pretty cool right there!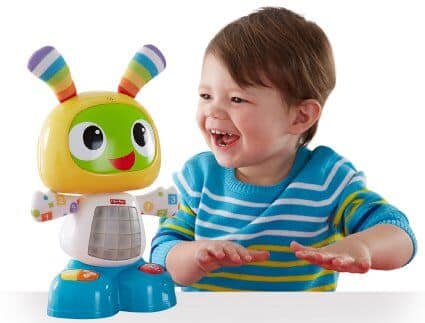 Taking a few lessons from BeatBo, here are a few ways to engage your little one's senses for maximized learning at playtime:
Hear
One of your baby's first senses to develop is hearing. Encourage this through singing and speaking to your baby as much as possible. While it can be easy to revert to a "baby voice", speak to your baby as if they are a more developed child. Sing nursery rhythms or narrate what you're doing to your baby so they learn all the different sounds they will one day be learning to speak.
Sight
Sight is another great way to engage your baby, even before they learn to speak. Show your baby a variety of multi-faceted inspiring toys. Stimulating your baby's sight teaches them to recognize patterns, objects and even develop their memory. Try holding up different shaped and coloured blocks and state to them what each one is – before you know it, they'll be able to repeat to you "blue triangle" or "red block"!
Taste and Smell
After about six months of age, your baby is ready to start eating solids. When they reach that age and you've consulted with your family nutritionist, start introducing different foods slowly. When you offer your baby new foods – try allowing them to smell it first so they can learn what different foods smell like. Once you actually begin feeding them the food, try reinforcing what the item is by saying phrases like "tasty broccoli" or "yummy sweet potato". Eventually they'll be able to recognize the smells of their favourite food and start requesting it themselves.
Touch
Finally, touch is another essential element that helps your child learn. From the texture of the clothes you dress them in to the variety of soft, hard and smooth textures of their toys, there is so much for your baby to learn! If your baby is particularly interested in a toy, try repeating the texture of the toy to them. For example, "BeatBo's feet are shiny and his ears are soft". Alternately you can try running their fingers over opposite textures while repeating the different names – for example, "Mommy's sweater is soft and the coffee table is hard."
BeatBo has three modes – Dance n' Move, Learning & Games, and Customized Sing-Along. BeatBo also "grows" with your baby, making him a friends for years to come. Toys like BeatBo are awesome because they are so interactive and fun, your little one doesn't even realize they are learning while they're laughing.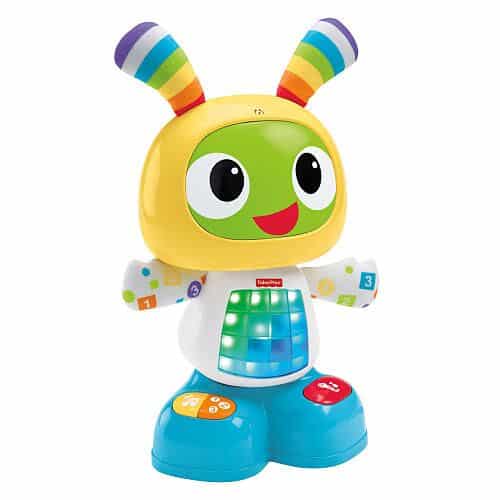 Enter for a chance to win one of two Bright Beats Dance and Move BeatBo toys from Fisher Price! $50 value, Open to Canada only, excluding Quebec.