Sooooo…… a blogger you all know and love is turning the BIG 4-0 next month. Yup, I'm a February baby so I've been busy this week renewing my health card and drivers license and all that jazz. Not that I needed a reminder that my 40th was coming up quickly or anything, in fact, I kind of just thinking of myself as forty months ago. It's here, why not embrace it.
The good news is, I can still pass for much younger. My kids ages don't even give me away because I know plenty of Mama's far younger than me with kids the same age! There are definitely other things that do give me away though. This past weekend I was quizzing my oldest in the van on the way to skating lessons on the names of all the provinces. I called Nunavut the 'new' province. Yeah, well to me it's new, it was not a province when I was growing up. It definitely didn't show up on any of my Geography tests since I was 23 when it became our newest Canadian territory.
Or the times when my boys are watching tv and I jump on the couch with them exclaiming, "I love this show!" and then realize they are watching the Retro TV Channel. Oy, my childhood is now considered retro. wow.
Well, age really is just a number! Did you know that Canadian women no longer feel defined by their chronological age? In fact, 90 per cent even believe age will become less relevant as the years go on.
In December, Olay unveiled their Ageless program – an initiative that explores how Canadian women and their counterparts around the globe think about aging and expectations when it comes to beauty.
Olay is encouraging women to share their own age 'giveaways' like having a teenager or your groovy dance moves!
So what gives your age away?
The older gentleman on your arm? Your love for retro cartoons? lol Let those little things be the only thing that gives you away!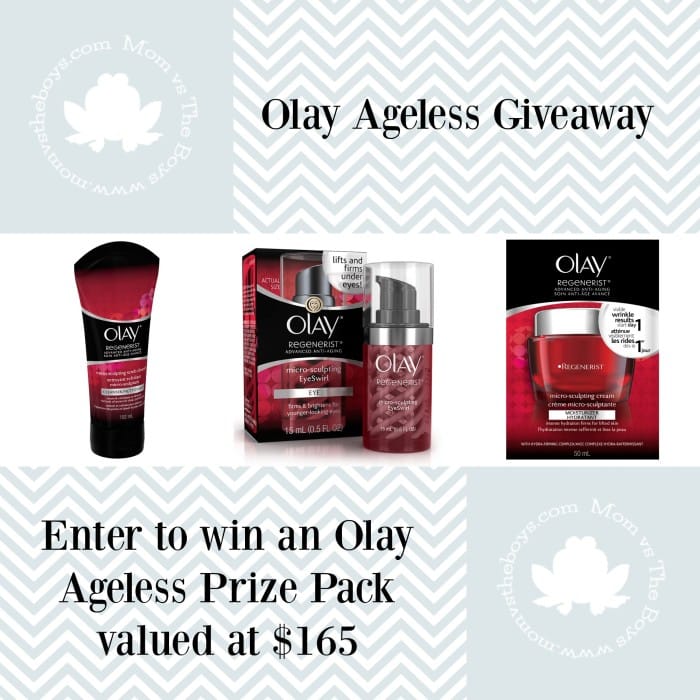 Share with me your age 'giveaway' in the comments below and enter to win an Olay Ageless Prize Pack valued at $165
Prize Includes
NEW – Olay Regenerist Micro-Sculpting EyeSwirl

NEW – Regenerist Facial Cleansing Brush

Olay Micro-sculpting Scrub Cleanser

Olay Regenerist Micro-Sculpting Cream

Olay Regenerist Micro-Sculpting Serum