As much as we all love a good chocolate egg or fruity jelly bean, Easter baskets should be more than just the sweet stuff. What were some of your favourite gifts to find that the Easter Bunny had left behind in your basket growing up? My brother and I always knew to expect one spring outfit and one new spring toy, like a skipping rope or sandbox toys. My boys have a similar experience but I also like to find something unique or special that will surprise them each year, like a Put Me In The Story personalized book just for Easter.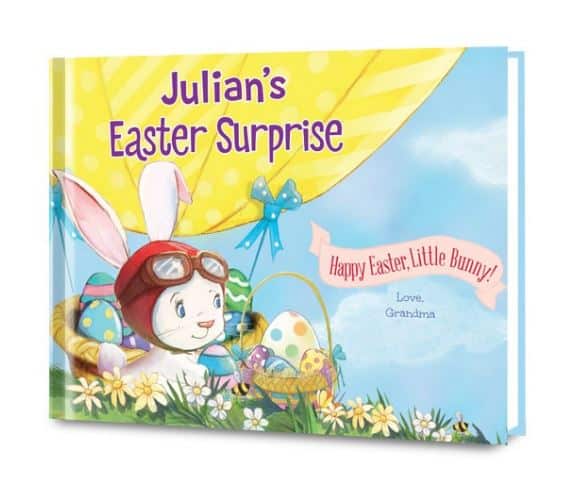 This Easter, take your little one on an "eggs-traordinary" egg-hiding adventure around the world with a personalized copy of An Easter Surprise for some-bunny special! 

As fun and festive as an egg hunt, An Easter Surprise gives your child the chance to plan his very own Easter mission! Soaring as high as the moon in a hot air balloon, delivering eggs all over town, and stashing tasty treats all down the streets, your little one will be thrilled at the surprise twist in this Easter adventure!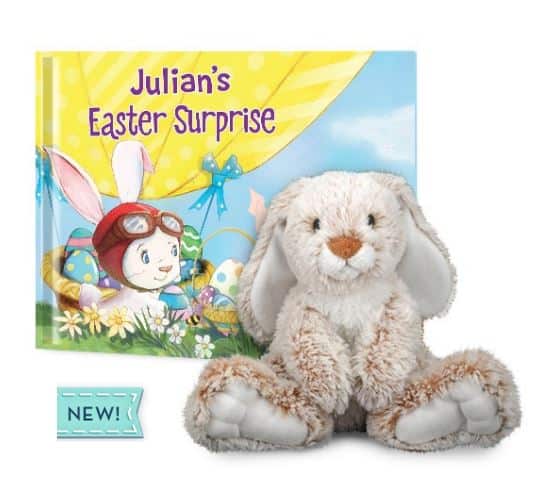 Make Easter morning extra magical! Personalize this exciting Easter storybook with your child's name and hometown, along with a special message and photo on the dedication page. A sweet Easter surprise your little one will cherish long after the holiday is over! You can even choose the gift set which comes with an adorable plush bunny.
An Easter Surprise is available in both paperback ($19.99) or hardcover ($34.99) and can be completely personalized. Parents and Grandparents will find this to be the perfect little Easter surprise gift and can even leave your little bunny a dedication message right inside the book for a cherished memory.
Visit the Put Me In A Story website for other holiday books and gifts.