We decided to kick off summer in the best way possible and had the cousins come and stay with us for 5 days. The boys came over the Canada Day long weekend and we had so many fun activities planned, but the weather forcast was a wee bit disappointing. We did manage to get in a lot of outdoor fun, but it was inbetween bouts of rain, on Canada Day alone it rained three times! So what do you do to keep 5 little boys occupied on a rainy day? First, you just send them outside to play anyway, because their boys, they don't seem to care lol but then you bring them in and snuggle them up in some comfy jammies and you break out a brand new set up Playmobil!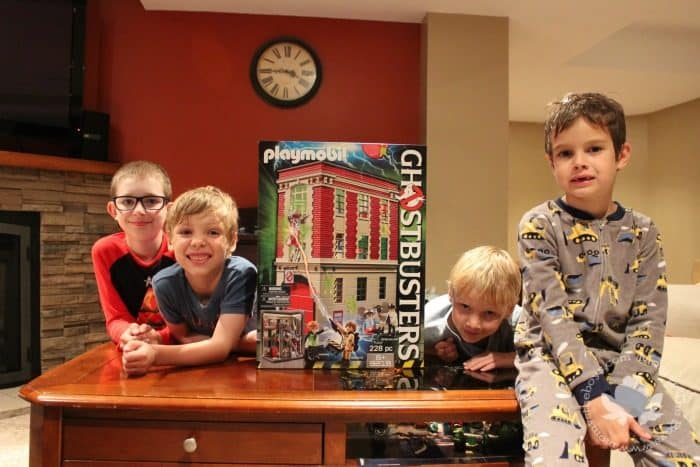 Playmobil has 4 new sets out including a very cool Cruise Ship, 1.2.3 Night Train with Track, a Camping Lodge and this HUGE Ghostbusters Firehouse set! The size of the box alone was impressive and got the boys really excited! 
Something strange in your neighborhood? call the ghostbusters firehouse. here you will find Spengler mixing up his current ghost fighting mixture in the lab, Stantz keeping a close watch on the library ghost, and Janine answering all your ghost busting calls. When the call comes in, watch them race into action sliding down the fire pole to the garage. Here, the ecto-1 (9220 – sold separately) can be parked inside for even more ghoulish action. And don't forget to lock up all ghosts in the ghost containment unit. This set is packed with plenty of accessories for hunting down ghosts, including a detachable proton pack and proton wand, ghost trap, PKE meter for measuring psychokinetic energy, silicone slime splatters that stick to smooth surfaces, and more. recommended for ages 6 and up.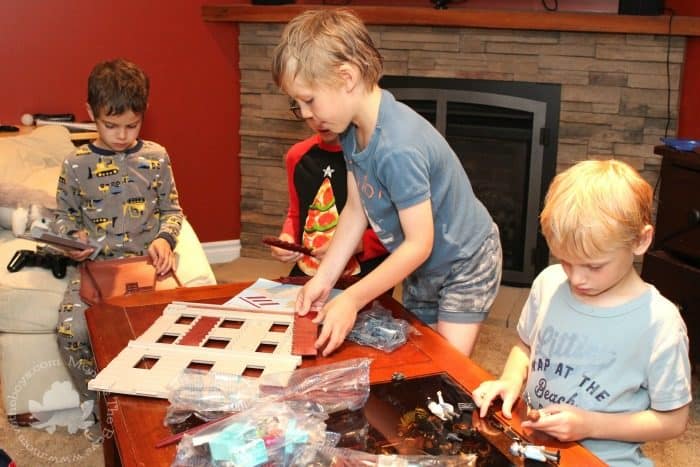 With my 11 year old in charge, the boys got to work building set. These boys are really good at following the directions and putting each piece in place with very little assistance. They had some trouble snapping the stairs together but the rest they worked their way through on their own. With 228 pieces to place, it was a great way to spend a rainy afternoon.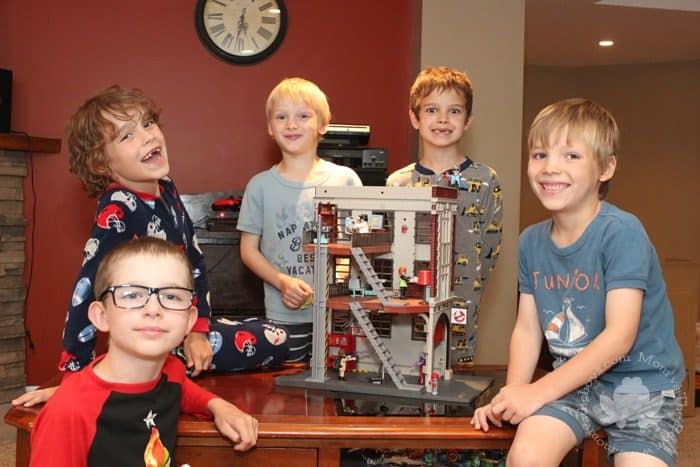 Just look at these proud little faces! They were so excited about the new three level firehouse they built and couldn't wait to bust some ghosts! Our crew has a good mix of boys who love to build and boys who love to play so everyone was happy!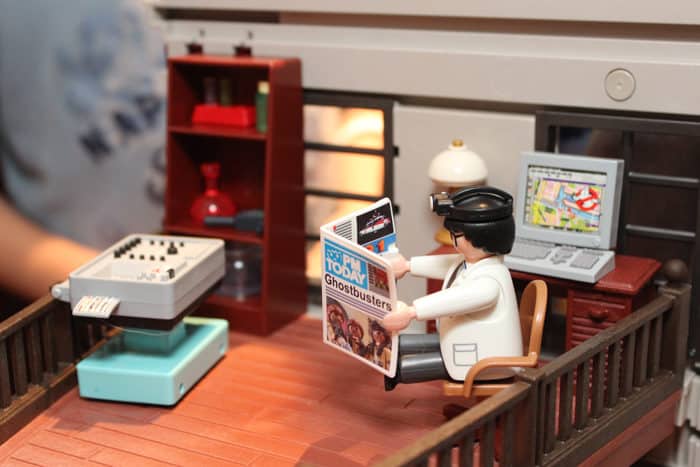 All the little accessories really made the set come to life and the boys loved putting each sticker in place to add the finishing touches. The set even comes with green slime decals you can move around!
If you are a family who loves to camp, definitely check out the Playmobil Camping Lodge set, it's perfect for summer fun at home or at the cottage! It's a smaller set with 136 pieces and suitable for kids as young as 4 years.