Easy Snowman Oreo Cookies that are fun to make and perfect for kids to help with!
The holidays are one endless to-do list, from decorating, shopping, wrapping, baking….it can all be exhausting. So I'm all for cutting corners and making life easier. These Snowman Oreos are quick and easy to make because there is literally no baking involved at all, and as an added bonus, they are a lot of fun to make!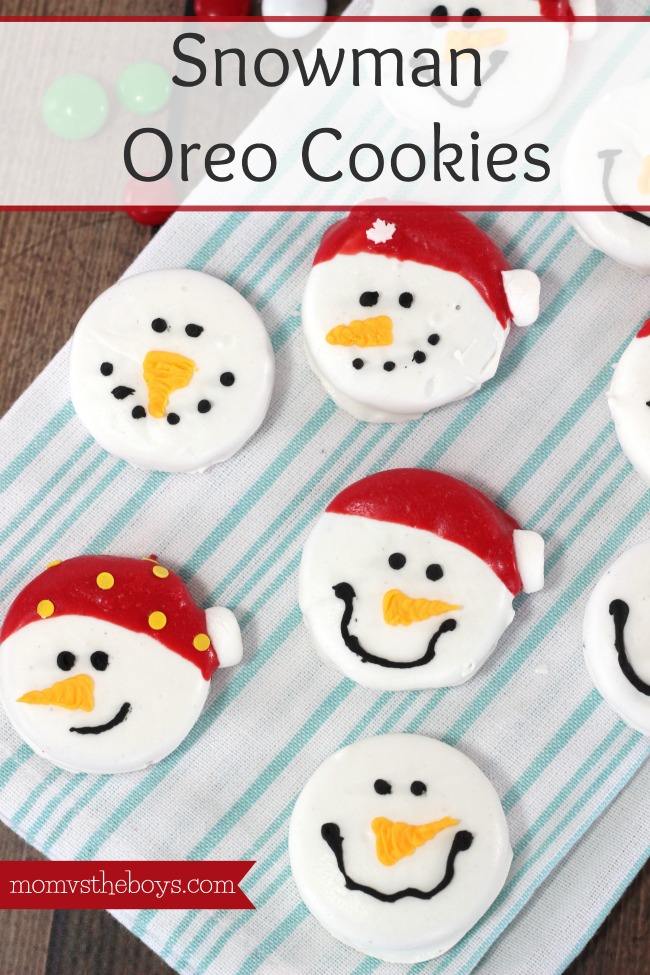 Because the Oreo cookies are getting completely covered, you can choose any flavour you like. There are other brands that look similar to a classic Oreo, these are fine to use as well and you might even find some other flavours you like.
During the holidays look for holiday flavours like peppermint bark oreos or even mint oreos, but rest assured, if you can't find those, a good old chocolate or golden Oreo is perfectly suitable to make Snowman Oreos.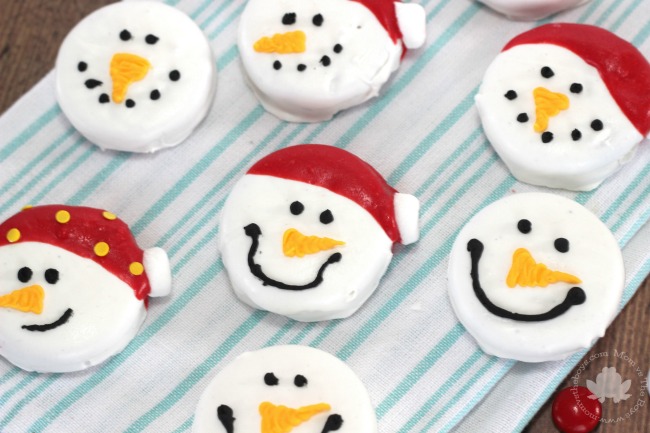 Snowman Oreo Cookies
To make Snowman Oreos, you'll need:
Oreo Cookies – any flavour
White Candy Melts
Black Decorators Icing
Orange Decorators Icing
With Hats
Red Candy Melts – Or any colour you fancy
Mini marshmallows
Any decorating confetti jim jams you have on hand (optional)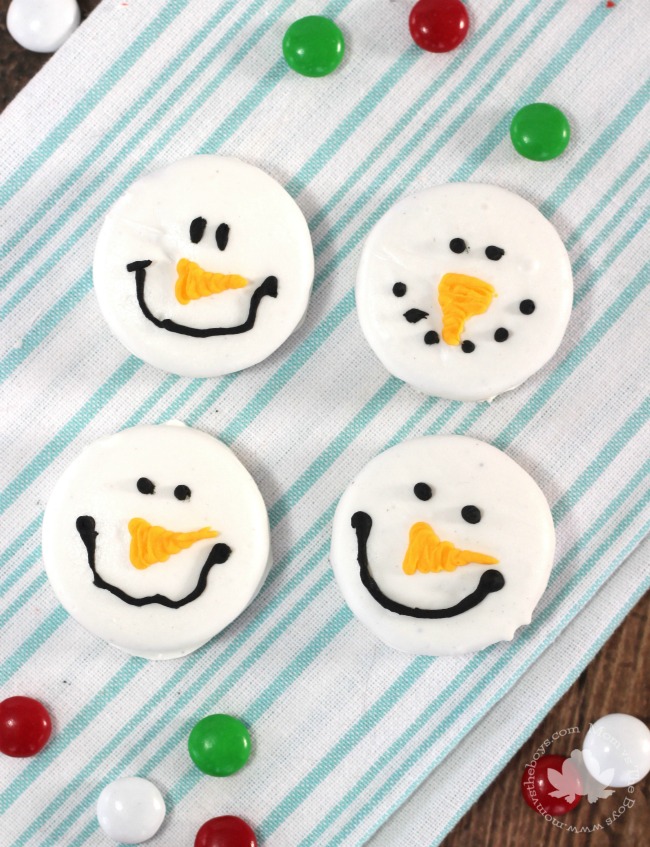 How many cookies you want to make will determine how much of the candy melts you will need. Half of the package should do a nice batch of cookies and is easy to work with to get the cookies coated. Place the candy melts into microwave safe bowl and heat at 50% power for short intervals of 20-30 seconds. Stir and repeat each time until they are completely melted.
Place a cookie in the melted wafers and push around with a spoon, as well as flipping the cookie over, until the cookie is completely covered.
Using a fork, gently lift the cookie out of the melted wafers and tap lightly on the side of the dish to strain off excess candy melts.
Repeat for as many cookies as you like or until you run out of candy melts. If the melted wafers start to harden pop them back into the microwave for 20 seconds and stir.
Place onto a piece of parchment paper or wax paper to dry. I always put the parchment paper onto a baking tray so I can easily move the batch of cookies.
To speed the cooling and hardening process, you can place the tray into the fridge for about 10 minutes.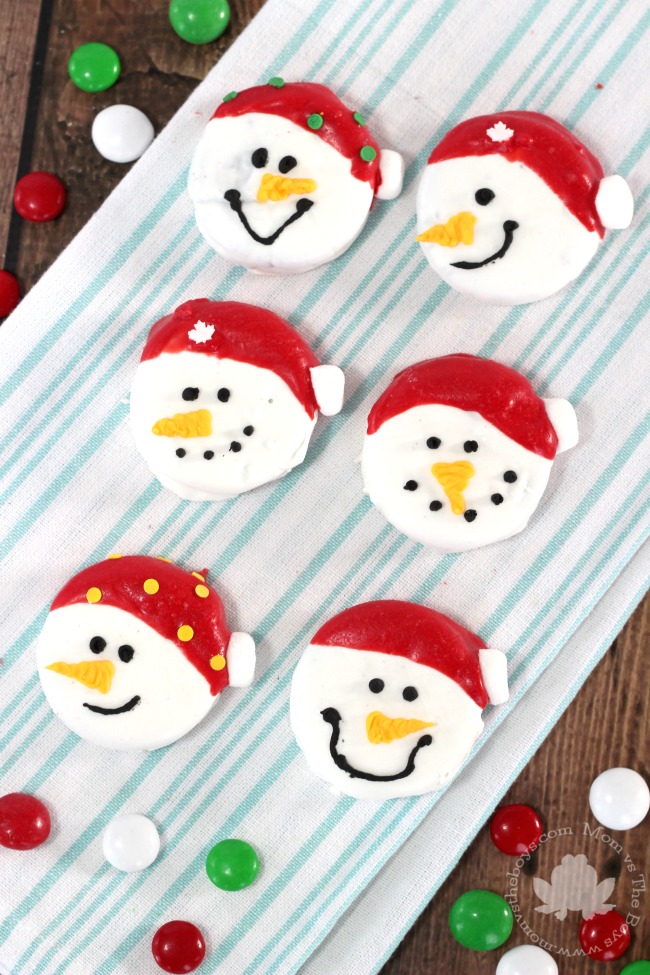 These Oreo Snowmen are adorable on their own, but if you want to take them to the next level, add a hat!
What do you call a winter hat where you are? Up here in Canada, we call them toques!
Snowman Oreos With Hats
Melt the red candy melts using the same process as above. Dip the snowman's head into the red candy melts to cover the top of his head. Cut a mini marshmallow in half and stick it on the hat at the side or even on top to form a pom pom.
If you have some candy confetti or jim jams on hand, go ahead and decorate the hats. Have fun with it, each one can be different, this is the kid's favourite part!
Attach a small writers tip to the black icing tube and pipe eyes and a mouth onto each snowman. Follow the same process to pipe on a carrot nose. Give each one their own personality.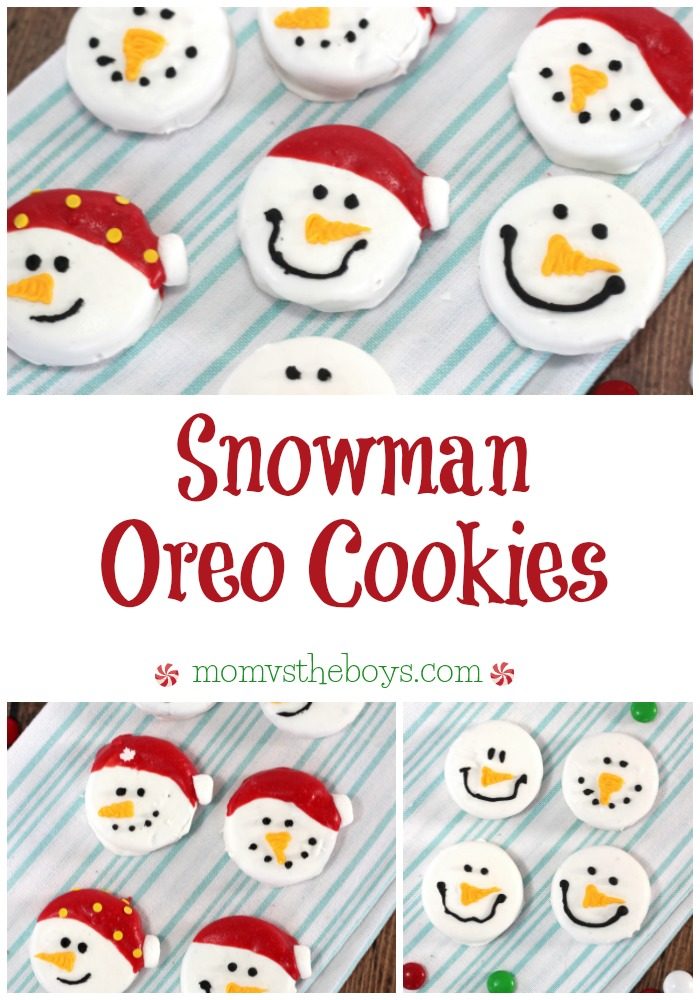 Can I Put Snowman Oreo Cookies On A Stick?
Yes! You can easily turn these Snowman Oreos into Oreo Pops!
To do this, remove one side of the Oreo cookie either by twisting or using a knife to pry the sides apart.
Press a lollipop stick into the cream filling. Pipe some of the melted wafers over the stick. Press the top of the Oreo back on and wait 10 minutes for the chocolate to cool and harden.
Now you can dip the cookie into the melted white candy melts and lay on parchment to cool.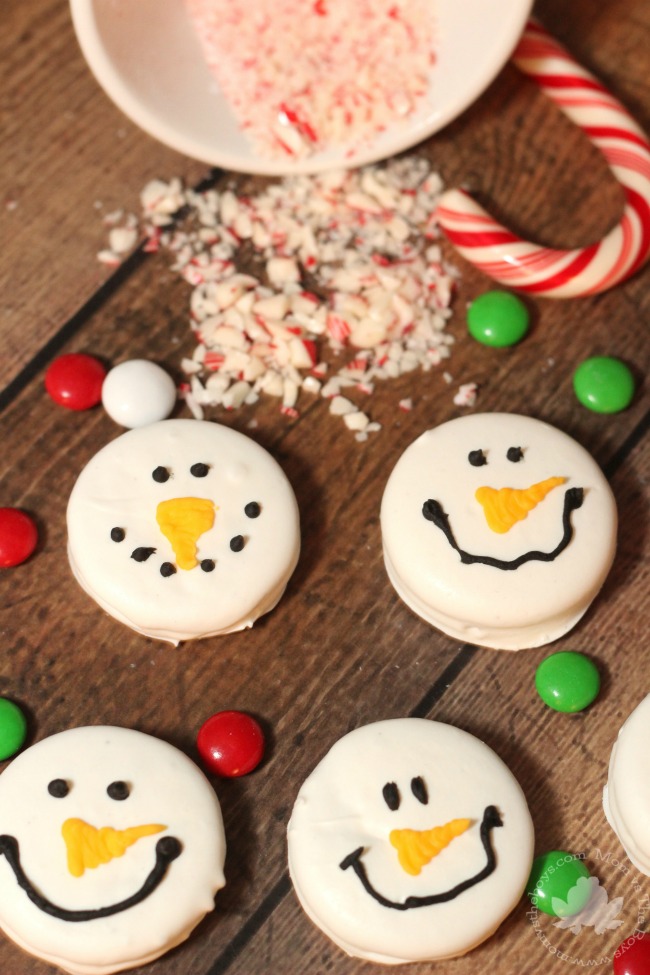 Snowman Oreo Cookies are a whimsical addition to your Christmas cookie tray or package them up pretty for homemade holiday gifts for friends, neighbours and even the teachers. They also make great classroom party treats for holiday festivities!
While you are busy whipping up these Snowman treats, try making Santa Oreos at the same time!