Complimentary subscription box was provided in order for me to share this Sweet Reads Box reveal with you. All opinions are my own.
Lazy summer days make it easy to grab a good book and lie the day away on the deck or beach reading. It's also the perfect way to kill time on a long road trip. Somehow reading during the summer months comes easy and guilt free. Don't let the end of summer deter you from your favourite past time! One way to make sure you keep up your reading is with a Sweet Reads Box subscription.
Sweet Reads Box is a book subscription box out of Canada and offers the best little "me time" treat! Each month a new book arrives and with it comes a perfectly curated box full of yummy goodies and gifts!
Sweet Reads Box – Subscription Box for Fall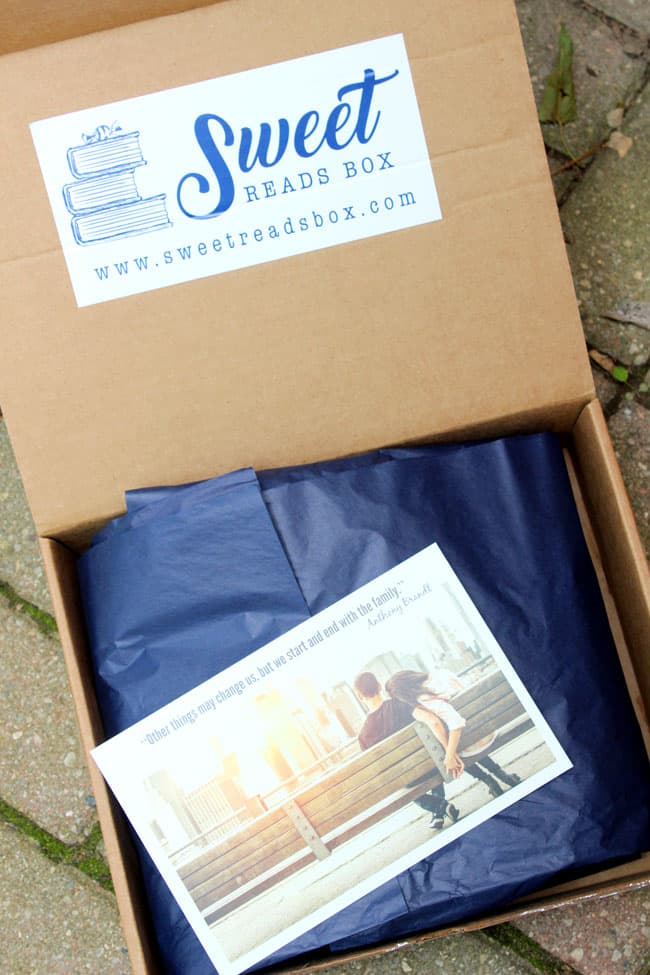 "Other things may change us, but we start and end with the family." ~ Anthony Brandt
Take a peek into August's Sweet Reads Box, the book selection is Ask Again, Yes by Mary Beth Keane
About Ask Again,Yes
How much can a family forgive?
A profoundly moving novel about two neighboring families in a suburban town, the friendship between their children, a tragedy that reverberates over four decades, the daily intimacies of marriage, and the power of forgiveness.
Francis Gleeson and Brian Stanhope, rookie cops in the NYPD, live next door to each other outside the city. What happens behind closed doors in both houses—the loneliness of Francis's wife, Lena, and the instability of Brian's wife, Anne, sets the stage for the explosive events to come.
Ask Again, Yes is a deeply affecting exploration of the lifelong friendship and love that blossoms between Kate Gleeson and Peter Stanhope, born six months apart. One shocking night their loyalties are divided, and their bond will be tested again and again over the next 40 years. Luminous, heartbreaking, and redemptive, Ask Again, Yes reveals the way childhood memories change when viewed from the distance of adulthood—villains lose their menace and those who appeared innocent seem less so. Kate and Peter's love story, while haunted by echoes from the past, is marked by tenderness, generosity, and grace.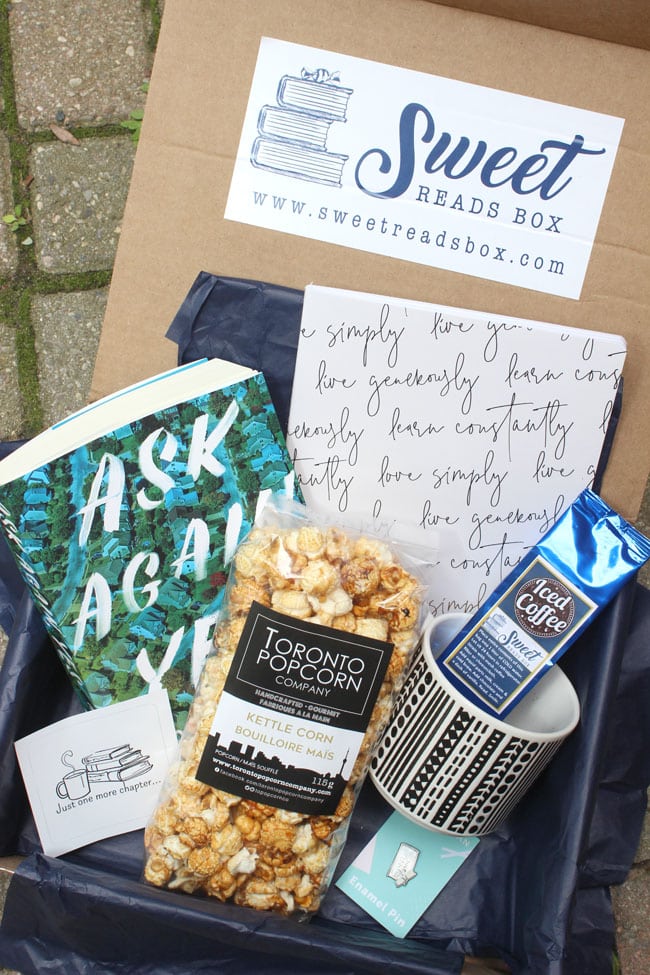 Also included in the July Sweet Reads Box were:
Drink = Iced Coffee from Kyoto Coffee
Sweet = Old Fashioned Kettle Corn from Toronto Popcorn Co.
Connected items:
Black and white mug from Danica Studio
Journal with lined paper
Custom vinyl sticker that reads – Just one more chapter…
Book Nerd pin
Sweet Reads Box makes the perfect subscription box for those busy months of the year because a new and carefully chosen book shows up right to your door without you having to make the trip to the bookstore or library to search for one yourself. Plus, you get the full "me time" moment with the beverage and a snack for maximum pleasure as well as a few fun items to spoil yourself!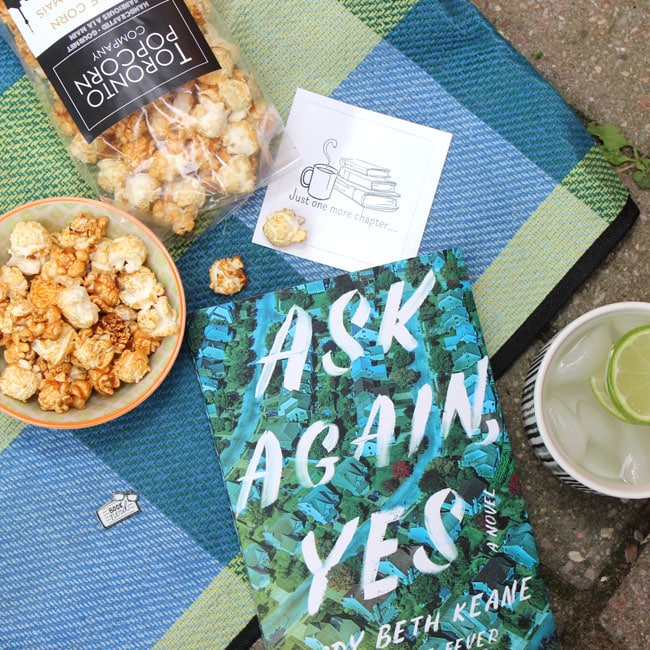 Win a Sweet Reads Box!
The boxes do sell out almost every month so the best way to ensure you receive a box is to order the 3 or 6 months subscription. You can also try your luck by entering to win one below! (open to Canadian residents only)
Follow Sweet Reads Box on Social Media
Visit the Sweet Reads Box website to order and follow along on with @SweetReadsBox on twitter, instagram and facebook.
If you enjoyed this Sweet Reads Box reveal and want to see more, find past Sweet Reads Box unboxing videos and photo reviews, here.