Turkey Buddha Bowls are the perfect solution to left over Thanksgiving turkey!
It's already October and with Thanksgiving around the corner, Canadians everywhere have delicious turkey dinners on their minds!
One of the best things about roasting a whole turkey is having delicious leftovers that you can use to make meals for a later date. You can strategically plan to make leftovers from your main meal by buying a turkey that is a few pounds heavier than you need, or just add an extra half pound per person.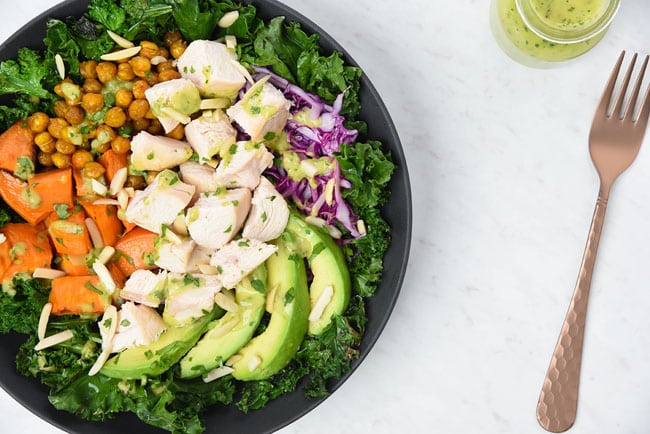 Leftover turkey can be shredded, cubed or sliced, and stored in the freezer to be used as a handy base for a healthy meal like these Turkey Buddha Bowls. These portions of pure lean protein will be a mom's best friend in the kitchen, where they can be used to make soups, salads, pastas, casseroles, wraps, sandwiches and more.
Turkey Buddha Bowls
This post is sponsored by Canadian Turkey, Turkey Buddha Bowl recipe provided.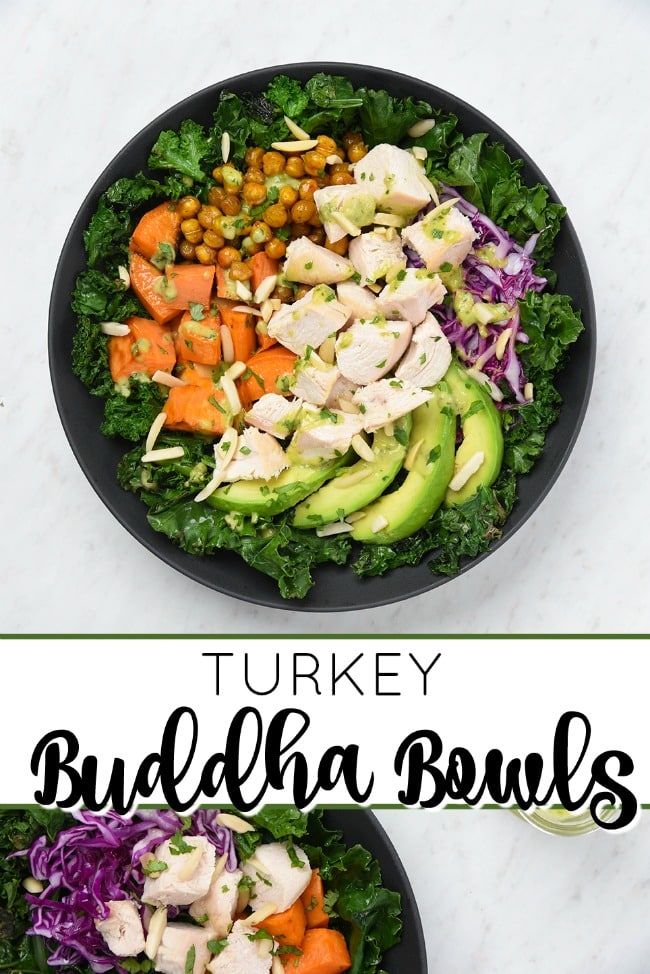 Yield: 4-6
Turkey Buddha Bowls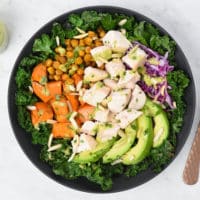 Turkey Buddha Bowls are the perfect solution to left over Thanksgiving turkey! 
Ingredients
2 cups Canadian turkey leftovers
2 cups cubed sweet potato
2 X 398 ml cans of chickpeas, drained
1 tsp each: turmeric, ground cumin, garlic powder, onion powder
3 cups kale, roughly chopped
1 cup shredded cabbage
2 avocados, sliced
2 tbsp olive oil
1/2 cup slivered almonds
¼ cup chopped fresh cilantro
Salt and pepper to taste
Dressing:
¼ cup olive oil
1/3 cup water
1 tbsp Dijon mustard
2 tsp apple cider vinegar
½ avocado
¼ cup chopped fresh cilantro
¼ cup fresh basil
½ tbsp honey
Salt and pepper to taste
Instructions
Preheat oven to 400ºF (200ºC). 
Spread chickpeas and sweet potatoes on a non-stick baking sheet.
Drizzle with ½ of the olive oil.  Season with dried spices and salt and pepper to taste.
Bake for 20 – 25 mins or until lightly browned.  Let cool.
While baking, heat the other ½ of the olive oil in a skillet.
Sauté kale over high heat until lightly browned and wilted, 2-3 mins.
To make dressing: combine all ingredients and blend with a mini food processor or hand blender until dressing is smooth and creamy.
Assemble the salad.  Divide kale evenly between the bowls.
Pile the kale on each bowl and top with chickpeas, sweet potatoes, cabbage and avocado. 
Top each with a generous serving of turkey.
Sprinkle with almonds and cilantro.
Drizzle with dressing and serve.





Notes
You can make the dressing, kale, sweet potatoes and chickpeas up to 3 days ahead.  With these ingredients on hand, this bowl will come together in less than 15 minutes on a busy weeknight for dinner or quick weekend lunch.
Nutrition Information:
Yield:
6
Serving Size:
1
Amount Per Serving:
Calories:

634
Total Fat:

36g
Saturated Fat:

5g
Trans Fat:

0g
Unsaturated Fat:

29g
Cholesterol:

49mg
Sodium:

269mg
Carbohydrates:

56g
Net Carbohydrates:

0g
Fiber:

18g
Sugar:

13g
Sugar Alcohols:

0g
Protein:

28g

Download this handy guide on building your own custom Buddha Bowl
REASONS TO REACH FOR TURKEY DURING CANADIAN TURKEY MONTH
1. Easy Sub
Turkey makes everyday meals delicious and tasty. It's packed with deep and satisfying flavor and you can easily substitute turkey into any of your family's favourite meals.
Make Canadian Turkey Month the time to sample some new and different recipes.
2. Lean But Juicy
It's hard to believe but with turkey, both white and dark cuts are lean. That means you can enjoy any cut you prefer, and feel good knowing you are choosing a healthy protein without compromising on flavor, tenderness or juiciness. To find out more about why turkey is a healthy choice for everyday living, visit https://www.canadianturkey.ca/nutrition/.
3. So Much To Choose From
Turkey is such a versatile protein, with so many cuts of both dark and white meat to choose from, including ground meat, legs, drumsticks, breast steaks, breast rolls, breast roasts, thighs, drummettes, wings, sausages, and burgers. With such a wide selection, you can enjoy turkey at breakfast, lunch or dinner, with leftovers that taste delicious the next day. Look for a variety of cuts at your local grocer or butcher during Canadian Turkey Month.
4. Pack A Flavour Punch
Turkey plays well with other flavours. It's hearty taste and texture marry well with bold profiles, making it a perfect partner for spices and rubs. Make recipes your own by using your family's favourite flavours and change up your everyday dishes using rubs, marinades and sauces. Need inspiration? Visit https://www.canadianturkey.ca/recipe-category/featured-recipes/!
5. Perfect For Penny Pinchers
Turkeys are generally larger than other poultry options and deliver a lot of meat for the price. Whole birds can be roasted for pennies per pound, and are a perfect choice for batch cooking meals or freezing leftover meat that can come in handy as an everyday meal starter. Cuts like drums, breasts and thighs are larger, so you need fewer pieces to feed your family and plan for leftovers to stock your fridge.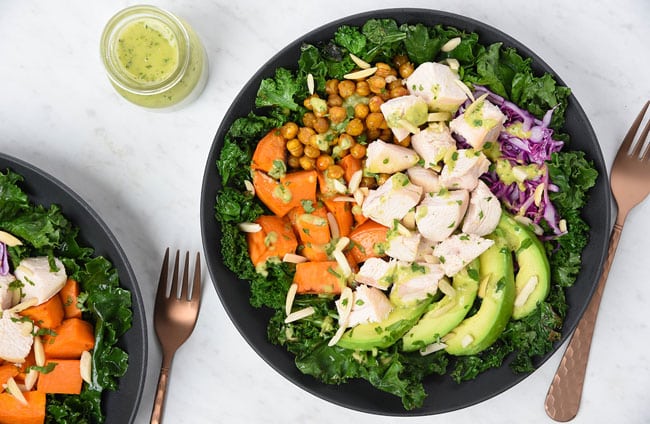 Looking for additional tips, recipes, Turkey Basics videos and HOW TOs? Canadian Turkey makes your Thanksgiving easy with all the recipe suggestions and turkey prep tips you need. The Year Round Whole Turkey HOW TOs section will help you prepare a whole Canadian turkey for your friends and family for any occasion.