I think we can all agree that a bright white smile is pretty attractive, in fact one panel shows that 87% of adults would like whiter teeth, and that doesn't surprise me at all. Few can resist a dazzling smile!
Rembrandt and Reach can help!
Recently I was sent a whole line up of tools for a brighter, whiter smile to try out! Items like toothpaste, a toothbrush, whitening strips and kits!

Here's a break down:
 
REMBRANDT® INTENSE STAIN® Stain Dissolving Strips, $24.99
An easy and conventional solution for on-the-go whitening, whenever and wherever. These strips are targeted to remove tough stains from smoking, coffee, and red wine. The new INTENSE STAIN® Stain Dissolving Strips dissolve in just 5-10 minutes for a noticeably whiter smile in just 2 weeks!
REMBRANDT® 2 Hour Whitening Kit, $24.99
REMBRANDT® whitening treatments are clinically shown to visibly whiten your teeth up to three shades in just one two-hour treatment, using the same enamel-safe ingredients that dentists us
REMBRANDT® DEEPLY WHITE™ + Peroxide Toothpaste, $6.99 – 7.99
The first and only all-in-one fluoride toothpaste with Active Dental Peroxide – the same enamel-safe ingredient cosmetic dentists use
 REACH® Total Care + Whitening Toothbrush, $3.99 ‐ $4.99
Purposefully designed to whiten teeth and remove stains
The only toothbrush delivering whitening power with MICRAWHITENING™ Calcium Carbonate bristles
Unique touchpoint grip for advanced control
Slim, precision grip handle
Available at drug and food retailers nationwide
REMBRANDT® INTENSE STAIN® Toothpaste, $6.99 -$7.99
Stain removing toothpaste designed to keep your smile sparkling and effectively remove deep stains from coffee and wine. Removes 60% more stains than the leading toothpaste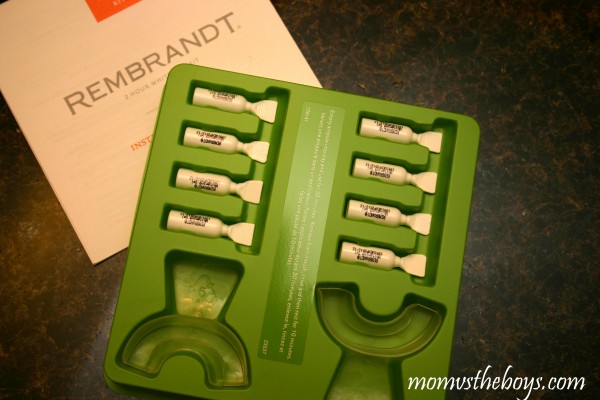 I actually didn't care for the taste of the toothpaste much, but I did really love the toothbrush. It is much wider than toothbrushes that I have used in the past and I felt like it gave a good all over scrubbing. I use it everyday. I was very interested in trying the 2 hour Whitening Kit, like the 87% of other adults in the nation, I too desire whiter teeth, but I have had trouble in the past with whitening products making my teeth sensitive and need to use sensitive toothpaste every day now because of it. It took me weeks to find a 2 hour span of time that I did not need to talk or eat in. Literally, weeks upon weeks! But finally I got it done. I had some trouble with my teeth actually poking through the trays which caused the product to leak out a little and boy did it burn my throat for a bit. It tastes really nasty when removing the trays, give yourself a good rinsing! The end results were promising though, and even my husband agreed that my teeth were a little lighter at the end of the day! It's not really an enjoyable experience but if I had a big event coming up I would probably try them again. As for the sensitivity it did increase after using this product but subsided to my regular sensitivity with a few days. 
On the quest for whiter teeth??? Enter below to win an assortment of Rembrandt and Reach products to try out yourself!
US/CAN