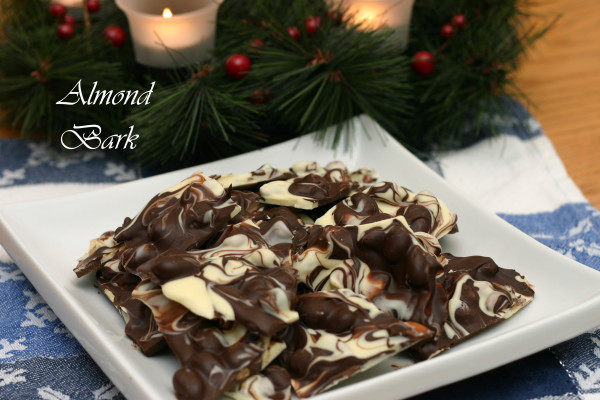 Looking for a quick and easy last minute treat for the holidays? This is it!
Easy Peasy and Taste so Good!


Ingredients
8 Squares Bakers Semi Sweet Chocolate
6 Squares Bakers White Chocolate
1 Cup toasted almonds
Instructions
Chop each square of chocolate into approximately 8 pieces
Place chopped semi sweet and chopped white chocolate into two separate bowls
Microwave each bowl for about one minute depending on your microwave. Essentially you want to see one-third of the chocolate still unmelted. You can also opt to use a double broiler method.
Stir chocolate until completely melted and smooth
Stir in a half a cup of almonds into each bowl until coated
Drop spoonfuls of chocolate, alternating white and semisweet onto a waxed paper lined baking sheet
Using the end of a knife, draw the semi sweet chocolate and white chocolate together to create a marbled pattern.
Refrigerate until firm
Break into pieces
I get a lot of compliments on this, but it's so easy to make! You don't need to use Bakers chocolate but that's what I use. Just make sure whatever you are using is good quality chocolate!
Happy Holidays!