Are your kids ready to Party in the USA with the brand new release from Kidz Bop??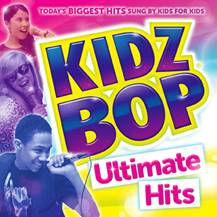 I Got a Feeling, your kids will think Kidz Bop Ultimate Hits is Dynamite!
Check out the new song list!
1.      Tik Tok
2.      Dynamite
3.      California Gurls
4.      I Gotta Feeling
5.      Billionaire
6.      Party In The USA
7.      Break Your Heart
8.      Hey Soul Sister
9.      DJ Got Us Falling In Love
10.    Fire Burning
11.    You Belong With Me
12.    Single Ladies (Put A Ring On It)
13.    Fireflies
 You can pick up your copy of Kidz Bop Ultimate Hits May 8th, or WIN one here! 2 Winners!
(US/CAN)