It didn't surprise me in the least to learn that the fabulous Funky Fleece company was Canadian. Nobody knows cold like us Canucks and getting cozy under some soft warm fleece is the best cure for it! And while Funky Fleece carries the best in fleece blankets, hats, mitts, ponchos and leg warmers did you know that they carry items for all seasons, even summer?
I'll be honest, in the Mom vs the Boys family we don't put our fleece away for the warm weather. We love to sneak into fleece pants and cuddle under blankies on cool summer nights, but I was really impressed with the fun selection of fair weather items available. Like the funky baby onesies, sunglasses and pillow case dresses. Okay, let's pause here for a second. As a mom of three boys and not one girl, these pillowcase dresses seriously make my ovaries ache! They are so fabulously adorable that it makes me want try for that girl!!! And then I remember that my Grandma had 6 boys and I come back to my senses, but if you are lucky enough to have a pint sized princess in your house, these dresses are a must have!!!
Funky Fleece sent me a wonderful assortment of goodies to get to know them better.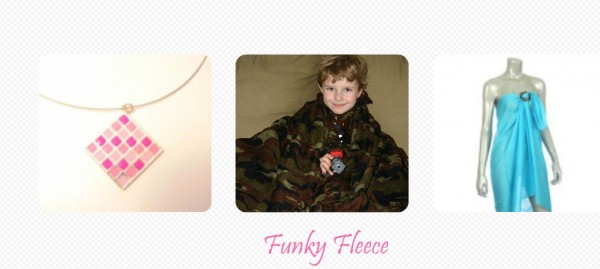 An Adult Sized double sided fleece blanket– The large blanket is a really good size, measuring in at 6ftx5ft and comes with two layers of soft thick fleece for extra warmth. One side is a fun print, for us it's brown camo (those boys again) and the other a dark brown. This was supposed to be for watching movies in the cold basement but my oldest has scooped it up and won't let it leave his bed.
Beach Wrap with Coconut Ring– Funky Fleece Beach Wraps come in two different styles and an assortment of colours. I chose the Turquoise because it's so bright and beachy and one of my suits has some matching colours in it. I was happy to find that the wrap is super easy to put on and fit great. I'm looking forward to wearing this at the beach this summer and if Hubster is reading, maybe he would like to wisk me away for our 10 yr anniversary this fall???
Funky Necklace– This was probably my favourite category at funky fleece. I could spend all day looking at the fun watches, bracelets and earrings. The necklace I received is a multi pink diamond shape and I was really impressed to find that the colour and design was on both sides. My necklace pendants are always getting turned around and this one looks pretty either way.
Me to We African Outreach Program
Pam is the owner of Funky Fleece and her amazing 15 year old daughter will be traveling to Kenya, Africa this summer to aid the residents of the Maasai Region in building schools, digging wells, planting trees and so much more. The cost of the program is high but the family is committed to the cause. 100% of all sales from Funky Fleece are going directly toward funding this trip. This is a great opportunity to purchase a quality product you will love and support the Me to We venture this summer.

Funky Fleece has an AMAZING gift package for one lucky reader to discover the greatness of Funky Fleece for themselves!
Check this out~ The winner will receive EVERYTHING listed below: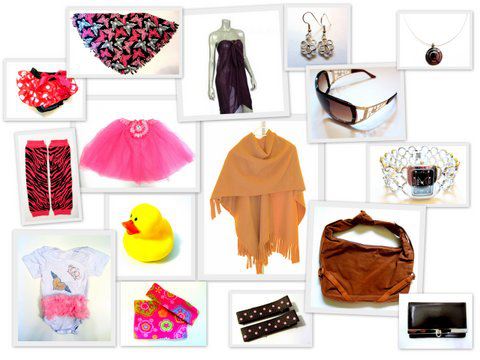 Ladies Wrap, Girls Poncho, Ladies Purse, Neckwarmer/Earband set, Baby legwarmers, Ruffled Diaper cover, Ruffled Onesie, Rubber Duck, Watch, Hair Clip Set, Necklace, Earrings, Tutu, Sunglasses, Beach Wrap
(Grand Prize Pack Value- $265, which just shows you how reasonable Funky Fleece prizes are, because this is a ton of great stuff!)
 Enter on the form below- Giveaway open to US/CANADA
This giveaway is hosted by Mom vs the Boys, Mommy Moment, My Wee View and Mommy Kat and Kids- you only need to enter once as the form is the same on all 4 blogs.