I started taking Adult Essentials a number of months back, I was really excited to have discovered them at the ShesConnected conference last fall because I was in the market for a new vitamin. I had been taking a regular kind of multi vitamin that comes in the hard pill formation. For some reason, they just didn't agree with me.  A little while after taking one I would start to feel a pain in my chest, similar in a way as heart burn I guess, but mostly it just always felt like the pill got stuck there and it hurt for a bit. This was no way to feel healthy, so I stopped taking them and was not aware that adults could get gummy vitamins like kids!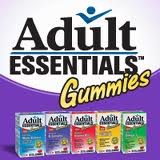 Since these vitamins are chewable, I no longer have that pain when I swallow a large pill and they taste really good too! I never miss a morning of taking my daily multi-vitamin! I really love that the Enhanced Multi-Vitamin has Omega -3 DHA & EPA, and also Vitamin D. For those of you who are on Dairy, Gluten or Nut free diets,  Adult Essentials is okay for you too.
While I may not be as healthy or fit as I would like to be, I do make sure I never go a day without taking my vitamin and lately we have been working a little bit harder at making healthier choices when it comes to meals. I use whole wheat flour when baking and have been adding flax to some of our recipes too!
Visit Adult Essentials on their website to learn more and also connect with them on Facebook or Twitter to keep up to date with all their current news!
Disclosure- I am participating in the Adult Essentials Blogger Outreach program by ShesConnected. I received a supply of vitamins and compensation in exchange for my participation in this program. The opinions on this blog are my own.