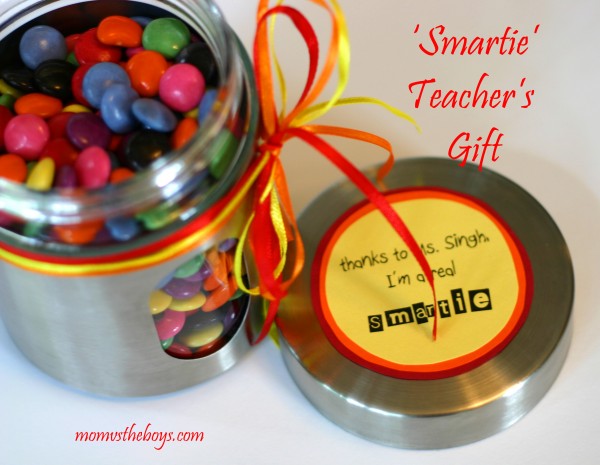 We finished up our End of the Year Teacher's Gift just in time, with Big Brother's last day being Wednesday! Cruising Pinterest I was inspired by another creation to create ours, of course, in Canada a Smartie is a whole other treat!
To Create:

First you'll need to find a fun container to put all the Smarties in, I headed to our local Dollar Store and had a few good options available. Knowing that my son's teacher is a city girl, I thought she might like this stainless steel jar with a little glass window in the front.
Next head to the Bulk Barn and fill a bag full of Smarties with enough to fill your jar, I actually bought three times as many as we needed! lol oops! We'll be snacking on them all summer long! No complaints from anyone!
I had some bright ribbon in the house already and choose red, orange and yellow since they are fun Smarties colours, Just tie around the jar in a bow.
Next print out your saying onto cardstock to match your ribbon, I made three circles in varying sizes and glued them together, than used Adhesive tabs to secure to the lid. The teacher will be able to easily pop this off is she wants too. Play around with some fun fonts, I used Boopee for the first set of words and Earwig Factory for the word Smartie.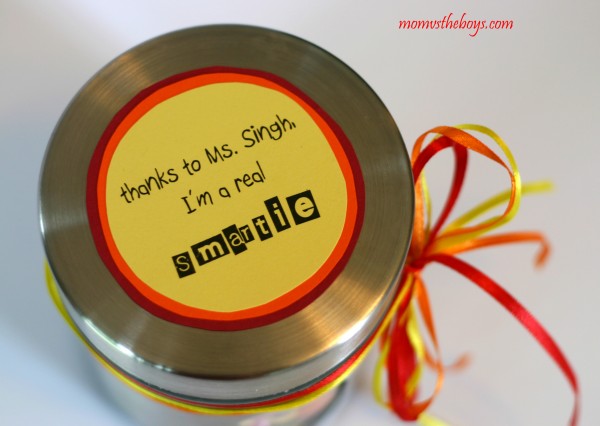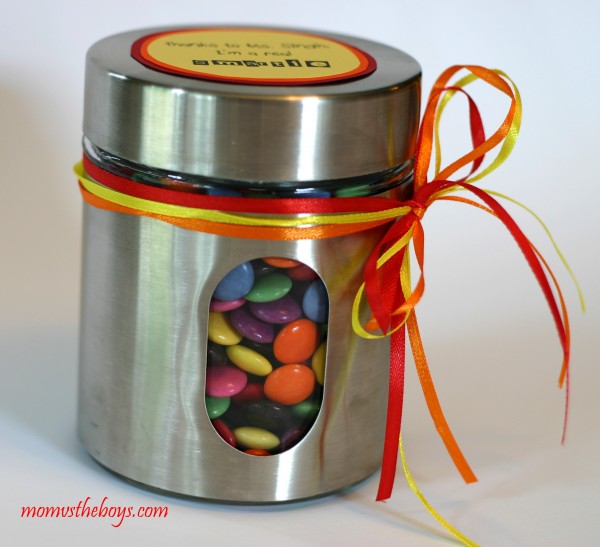 For a co ordinating wrap, I used a small white gift bag , stuffed with bright green tissue paper and similar ribbon on the handles. To dress up the bag, I printed a note on the outside in Green and used a large stripe of Orange to accent it. I glued this right onto the bag.