With a girls camping weekend coming up I got inspired to find to some tasty breakfast recipes that were quick and easy to do using the bbq. I never have to go far from Pinterest to find what I am looking for most days and this day was no different. I found a recipe for mini frittatas in the oven and transformed that idea into my very own Egg Sandwiches on the BBQ. I even added a side of warm peaches and everything was cooked on the grill in just minutes. These are soooo delish! I am guilty of making them twice last week! Best breakfast sandwich I have ever had, so here' a quick photo tutorial!
Ready for Breakfast on the Barbie?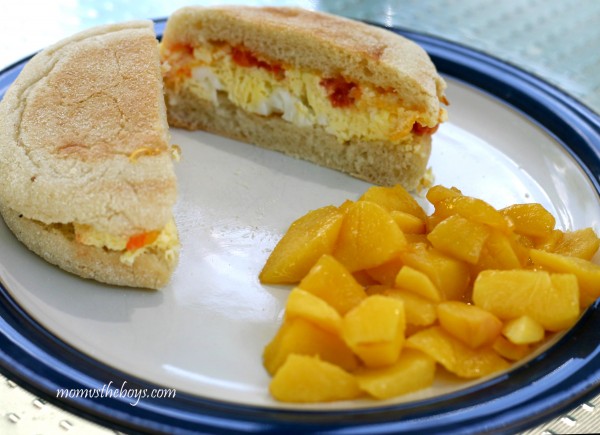 You'll need a muffin tin to start, I happen to have an old one my mom passed down to me when I moved out of the house, it isn't very deep like the jumbo muffin tins we like to use nowadays and it was perfect for this! Spray the tin down really well, whisk  couple of eggs and a bit of milk together and pour into muffin holes about half way full (once you add the rest the liquid will rise). I found the easiest way to do this is to use a large measuring cup because it has a little spout for pouring.
Next add your fixin's! – this can be anything you like such as peppers, onions, mushrooms, ham, tomato, green onion etc. (if you are headed camping you can chop these up ahead of time)
Peel and cut up some peaches, sprinkle with brown sugar if you like
If you aren't using all the muffin holes like mine below, just add a bit of water in the empty holes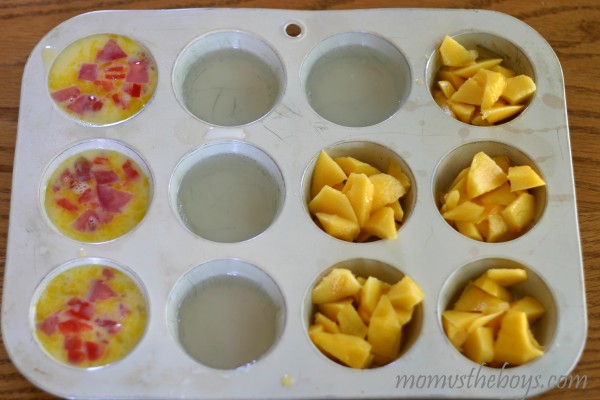 Pop the whole pan on a warm on a warm bbq. Meanwhile slice your English Muffins and add those to the top rack to toast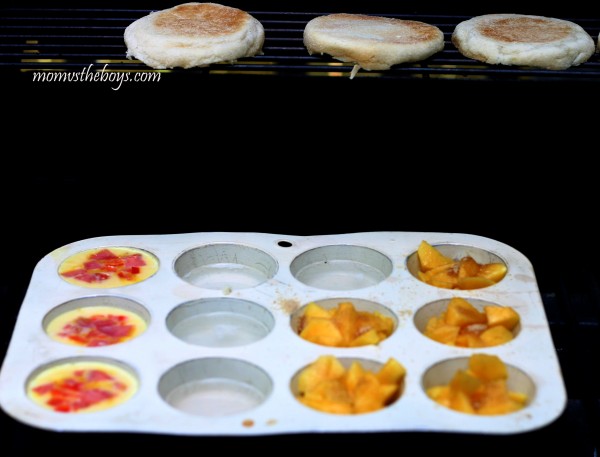 Once the egg looks set (about 5 min) top with shredded cheese until melted (about 1 more minute)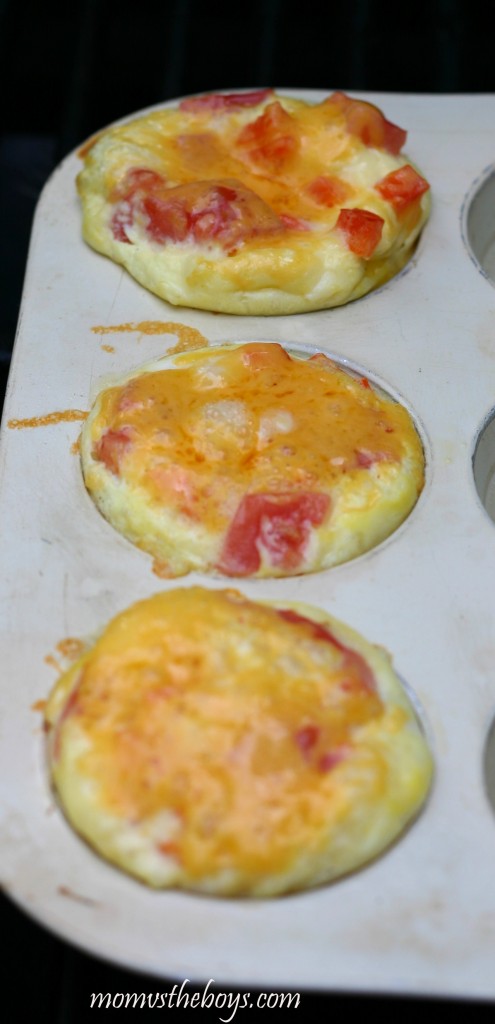 Okay, now just pop those little omelette pucks (yes, I made that term up lol) out of the pan, I found a spoon easy to use and place on your toasted English muffin. With my size of pan, one and a half eggs circles filled the english muffin and  made a perfect egg sandwich. For my lunch above I used 2 eggs which made 3 omelette pucks equalling two sandwiches.  Add your side of warm peaches and you are ready to eat!
I used tomato and red pepper in the sandwich shown here and I have also tried a red pepper/ orange pepper/ onion combo that was excellent. Hubby is looking forward to trying these again with small cubes of ham as he needs a bit of meat in every meal lol.
These egg sandwiches were so light and fluffy and stacked high for a nice filling egg sandwhich, they really were the best I've tried! I love that you can make enough for a few people at one time and everyone can choose the ingredients they like the best for their own sandwich. Give them a go and let me know what you think!