A recent camping trip had me searching for a camping dessert recipe that you could make over the fire or on a bbq and the chocolate lover in me found just what I was looking for in this post by Chef Jessica Bright! Jessica's Campfire Dessert Cones looked like a fun thing to make at home with my boys but I wasn't sure that it really belonged at a ladies camping trip so I made these the week before for the boys!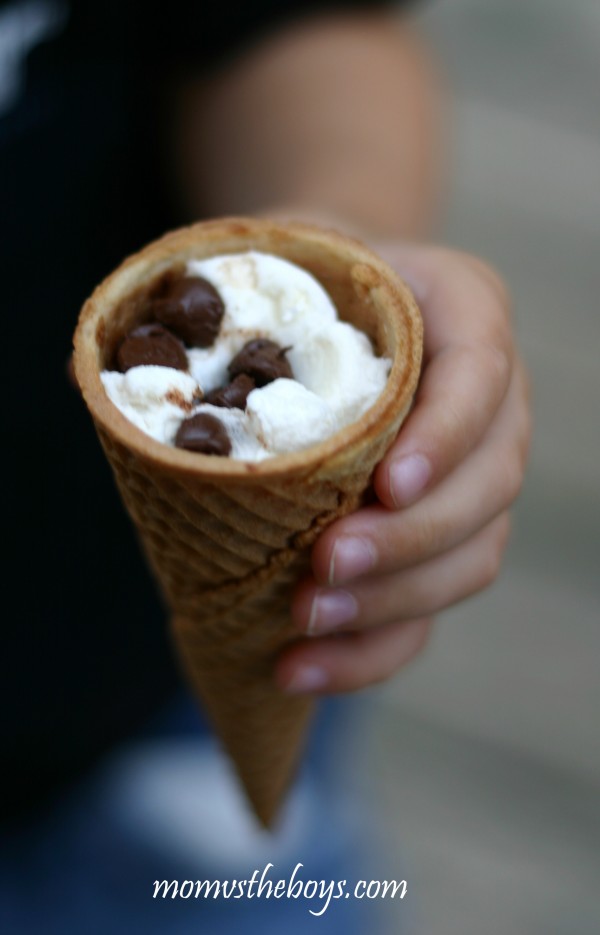 Campfire Dessert Cones
You will need one Sugar Cone for each person and then a variety of yummy fillers! Anything you like and each person can choose what they like the best and customize their own dessert!
Try items like:

Chocolate chips (white, milk, dark, mint, butterscotch)
Peanuts, cashews, walnuts
Coconut
Marshmallows
Skor Chips
Fruit
I used whatever I had on hand which was mini marshmallows, chocolate chips, walnuts and a couple of candy melts! Just fill the cones up to the top and then wrap in tinfoil. They were way easier to make than traditional smores but tasted just as good if not better plus they weren't as messy as smores are! The kids gobbled them up and only had a few smears of chocolate left on their faces. All hands and clothing were clean! Apparently not fool proof though because I did end up bringing them camping and one of our friends managed to get covered in chocolate, though I have no idea how! lol
Cooking on the BBQ-
Hubby had the good idea to only use the back two burners on the bbq and leave the front one turned off. This way the bbq gets warm but there are no flames underneath the cones. You want the chocolate melted and the marshmallows toasted but you have to be careful because chocolate and nuts can burn quickly and there is nothing more sad in this world than ruined chocolate right? It still toasted up pretty quick and was delish!
Cooking on the Campfire–
This took quite a bit longer than the bbq, we used a rack over the fire but tried to keep the cones out of the flames. It is a fine line on a fire where it is too hot and not hot enough. So it took some playing around. I think the BBQ is a way faster and easier way to go if you have the choice.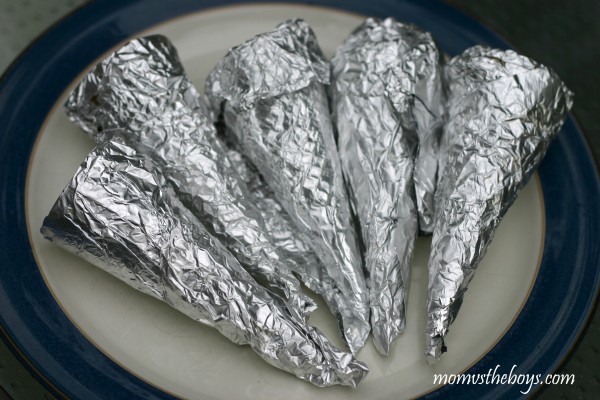 Looking for more camping recipes? Start your day camping with these delicious Egg Sandwiches made right on the grill.