It seems every time I get on the computer these days I am hearing about another blogging conference. As a ShesConnected Conference Ambassador you already know that I'll be excitedly making my way to SCCTO this fall, but let me tell you why!
1. Location, Location, Location
For me this is just a no brainer, I live in Ontario and ShesConnected is hosted in the heart of Toronto. While I would rather suck a lemon all day than drive in the craziness of the the T-Dot, there is no denying that Toronto is full of movers and shakers and it's truly a perfect location. This years conference will be held in the vast Metro Toronto Convention Centre, lending space for 10 break out sessions, exhibit areas and plenty of breathing space. There will be many brands in attendance who won't have to travel far as Toronto is a favourite for corporate head offices. While I love my rural lifestyle, there is just something about the view from a big city window to get creativity and excitement flowing!
2. Come one and Come all!
ShesConnected has never just been a 'blogging conference', it's open to all kinds of social media mavens and entrepreneurs looking for a business savvy look into the worlds of twitter, facebook and the blogosphere. This creates a networking mecca as so many brilliant and creative minds are in one space.
3. Brands and Bloggers Connect

If you work with brands now or you plan to in the future, this is the best and only conference in Canada where the two come face to face for some high energy learning and a little fun. ShesConnected puts the brands in the spotlight, meaning right up on the panel platform to talk with bloggers, learn from bloggers and field questions from bloggers. It's a very rare opportunity to get to meet the faces behind the emails in person and nothing creates a relationship faster than a hug to say hello and a good laugh with your favourite company reps.
4. Commraderie
There is nothing more fun than throwing a few hundred women in a room together who are ready to cut loose and have a little fun with no worries of ruining their dress with peanut butter hand prints or waking up to a crying baby at 3am! Yes, conferences are FUN! Learn by day, party by night, this is the best way to get to know other bloggers and form lasting friendships. Before SCCTO last year, I was a wallflower. I watched from the sidelines, I did it all on my own but after meeting other Canadian bloggers in person I jumped in and got more involved in projects other people were working on and formed some of my own. I really love the support Canadian bloggers are providing to each other, we all have knowledge to give and lessons to learn from each other.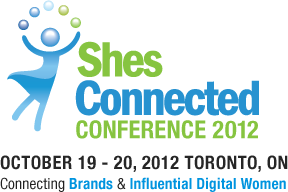 #ShesChat
Did you know that every Monday leading up to the conference there is a twitter chat at noon? They are a great way to get to know others who will be attending the conference and include a fun learning session as well!
Join in today! I will be hosting the chat alongside Mommy Kat and Kids and Mommy Moment as we discuss our unique Canadian voice in the blogosphere!