Do you have a family member suffer from back pain? My husband is the culprit in our house! Check out this great new book from Chicken Soup for the Soul!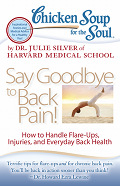 How to Handle Flare-ups, Injuries, and Everyday Back Health
Inspiring Chicken Soup for the Soul stories and accessible leading-edge medical information from Dr. Julie Silver of Harvard Medical School. Many people suffer from back pain. The lucky ones have occasional flare-ups and the unlucky ones have chronic issues. This book is filled with great advice on how to care for your back, recover from injuries, improve your mobility, handle pain, manage chronic problems, and maintain a positive attitude.
Giveaway
US/CAN