Everybody's favourite Chihuahuas are back on Blu-ray this week!
September 18th, Disney  unleashed  BEVERLY HILLS CHIHUAHUA 3, VIVA LA FIESTA!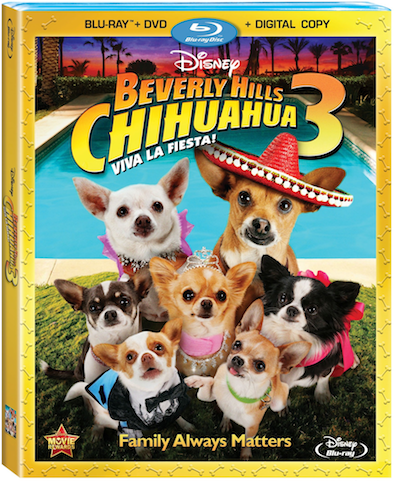 Everyone's favorite talking Chihuahuas Papi (voice of George Lopez) and Chloe (voice of Odette Annable) are back, joined by their five playful pups in an all-new family comedy. It's canine chaos as Papi's family (dog and human) move into the posh Langham Hotel, complete with a luxurious doggy spa. But there's trouble in puppy paradise when Rosa, the littlest member of the pack, feels smaller and less special than ever. Now it's up to Papi to help Rosa find – and celebrate – her inner strength, which turns out to be bigger than she ever dreamed and reminds humans and canines alike of the importance of family, friends and teamwork.
Here's a fun little sneak peek!
 
Keep up to date on all the not-so-furry friends news by following the Beverly Hills Chihuahua Face Book Page!