Being a mom is tough.
Being a mom to a barely three year old, one year old and newborn is really really tough!
Thank goodness for easy first foods that all ages enjoy from babies to grandparents! Thank goodness for Cheerios!
Some days my big boy was a helper, some days he was all mischeif and some days he was both – like this particular day pictured below! Breastfeeding can take a good chunk of time and not one to wait, my big guy decided to help feed his middle brother and grab himself a little snack too! I like to call this picture "One for you, One for me"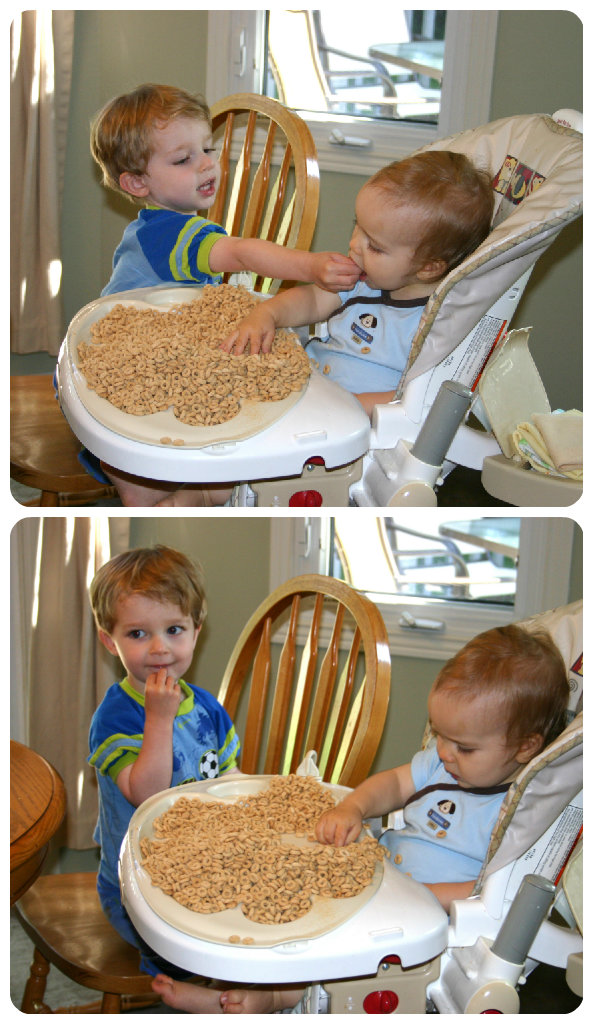 Do you have a photo of your little one trying Cheerios for the first time? (or any time?) You're not alone! Us moms love to snap those awesome milestones!
Share a photo of your baby's first Cheerios moment by clicking on the Cheerios Mosaic tab on the Life Made Delicious Facebook page and if you're one of the first 1000 participants, you'll receive a coupon for a free box of General Mills Cheerios! Once those are gone, don't worry, you will still receive a $1.00 off coupon for participating.
But the really fun part is your baby's photo could be on a box of Cheerios!!
Watch store shelves in Spring 2013, when they will be unveiling the completed mosaic on limited-edition family-sized (400g) boxes of Cheerios!

Grab your cameras Mama and Say Cheese Cheerios!
Disclosure – I am participating in the First Cheerios Blog Tour by Mom Central Canada on behalf of General Mills. I received compensation as a thank you for participating and for sharing my honest opinion. The opinions on this blog are my own.