My family looooves their breakfast! It's the one meal where my picky picky eaters aren't picky at all! We've even been known to conquer a little 'second breakfast' before lunch-time even hits on occasion as well! 
You know who else is a pro at breakfast? Dempsters® and Maple Leaf Foods® of course!! 
Whether it's english muffins, bagels or drool worth bacon, we can't get enough and I bet you can't either!
Join us on Thursday, October 4, 2012 from 9pm-10pm EST when we will be chatting all about the most important meal of the day at the #BreakfastReady Twitter Party!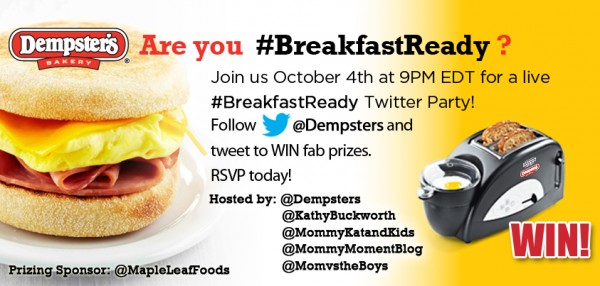 With TEN amazing prize packs including revolutionary toasters with egg cookers, Visa gift cards and coupons for Dempsters® bread products and Maple Leaf Foods® bacon, you'll want to make sure you save the date for your chance to win your share of $900 worth of prizes! Please note that prizes are available to Canadian residents only (excluding Quebec) but everyone is welcome to join in the conversation! View full promotion rules by clicking here and RSVP below!
Date: October 4, 2012
Time: 9pm – 10pm EST
Twitter Party Hashtag: #BreakfastReady
Host: @Dempsters

Moderators: @MommyKatandKids – @MommyMomentBlog – @MomvstheBoys
Sponsor: @MapleLeafFoods
#Breakfast Ready RSVP List