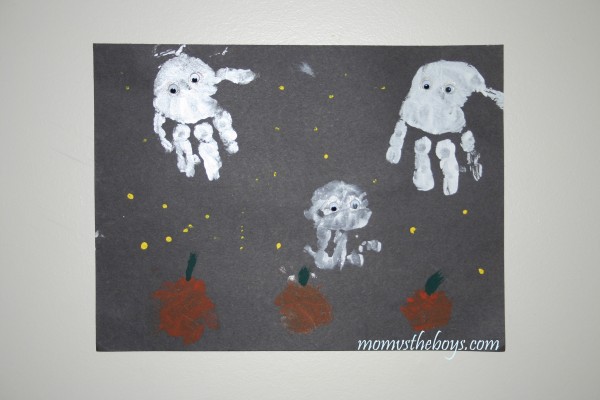 I was cleaning up my boy's closet a couple of weeks ago and found this old piece of art work I did with them when they were smaller. Yes, it's hard to believe, even for me, that I managed to find the motivation to do crafts with my kids when they were 3, 16 mo and 4 mo but apparently I did! It must have been the lack of sleep making me crazy! lol
Anyways, I thought I would share it with ya'll today because it still brings a smile to my face just seeing those tiny hands! 
To make your own, simply paint your child's hands with white paint (*tip, add a small dab of dish soap if you aren't using washable paint for easy clean up) then press their hand onto a piece of black  paper and lift back off. Turn the  paper upside down for you ghosts hang the right way. Add googly eyes with a bit of glue. 
The pumpkins were done the same way using only the palm and adding a green stem with a paint brush.  
I like making one piece with all three kids handprints on them so I only have to worry about keeping one throughout the years, they accumulate sooo much art don't they?? If I remember correctly though, (remember I was in a fog with the lack of sleep!) we ended up making a few different ones and using them as Halloween cards for the relatives. We just tuck in a photo of the boys in their costumes on Halloween or a few days before and mail them off. We don't have any family that sees the boys on occasions such as this. 
Get Ghosty with your lil' Goblins this Halloween!