My six year old discovered the 'Retro Cartoons Channel' over the summer and it's been gracing our television screen ever since. It always makes the Hubster and I both laugh and cringe when we walk into the room and find our own kids watching shows from our youth like Tom and Jerry, Inspector Gadget and my son's favourite Scooby-Doo! He just cracks right up over Scooby and Shaggy's antics and doles out 'roles' for the whole family so we can each take on a character, of course I always pick Daphne! lol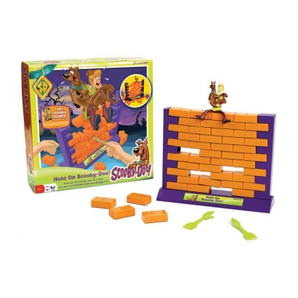 When the opportunity came up to review the Pressman game Hold On Scooby-Doo! I knew it would be a hit at our house and leaped at the chance! This game is a little bit like Jenga only in reverse. Instead of adding blocks you are taking blocks away from a wall that Shaggy and Scooby are sitting on. One by one, the bricks come out and eventually Scooby and Shaggy tumble down, when that happens the game is over and it's time to rebuild. 
You can play this game with two players or in teams and once you touch a brick you have to stick with it, no changing your mind. It's both really fun and challenging for the whole family! Some games take a matter of seconds and others last for a bit. The game is recommended for ages 5 and up. 
This will make a really great Christmas gift this season! 
Giveaway!
 
Two lucky winners can win Hold On Scooby-Doo right here! Enter below!