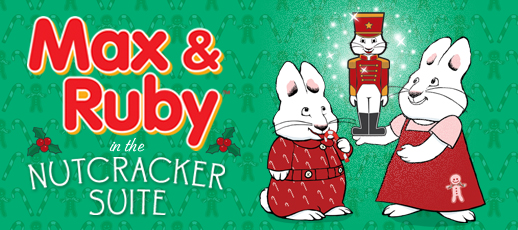 I can't think of a better way to celebrate the holidays than with our good friends Max and Ruby! 
Look what they have in store for you this holiday season: 
Max & Ruby bring to life a wonderful tradition this holiday season as they take to the stage their most magical performance yet! Inspired by one of the greatest musical scores ever composed – Tchaikovsky's Nutcracker Suite – the beloved bunny siblings star in Koba Entertainment's brand new musical production Max & Ruby in the Nutcracker Suite. It's a glistening snowy winter evening and Max & Ruby have been anxiously waiting for the most spectacular event of the year: seeing The Nutcracker ballet with Grandma. Imagine their disappointment when a snow storm keeps them at home! A story of The Nutcracker will have to do! So vivid is Grandma's storytelling that the characters in the ballet come to life right before their very eyes! Max & Ruby marvel at the sight of many enchanting guests, including a Spanish bullfighter, the Sugar Plum Fairy and the Nutcracker Prince. Ruby is eager to participate in their exquisite dance, but it's Max who steals the show! Whether it was the sweets, or their lively imaginations, Max & Ruby head off to bed with visions of sugar plums dancing in their heads!
Go HERE to find out when Max and Ruby will be making a stop in your city and learn how you can order tickets! We can't wait to make holiday memories with Max and Ruby this year!
Enter to win tickets to the show in your city on Facebook!
Giveaway 
I have one Max & Ruby prize pack with a DVD and book to Giveaway!
CDN
 This giveaway has ended
disclosure: my family will receive tickets for the show in exchange for promoting the tour. all opinions are my own, you may have  a different experience.