Gamers will love this Fortnite party drink idea, inspired by the game's legendary healing potion – the Chug Jug!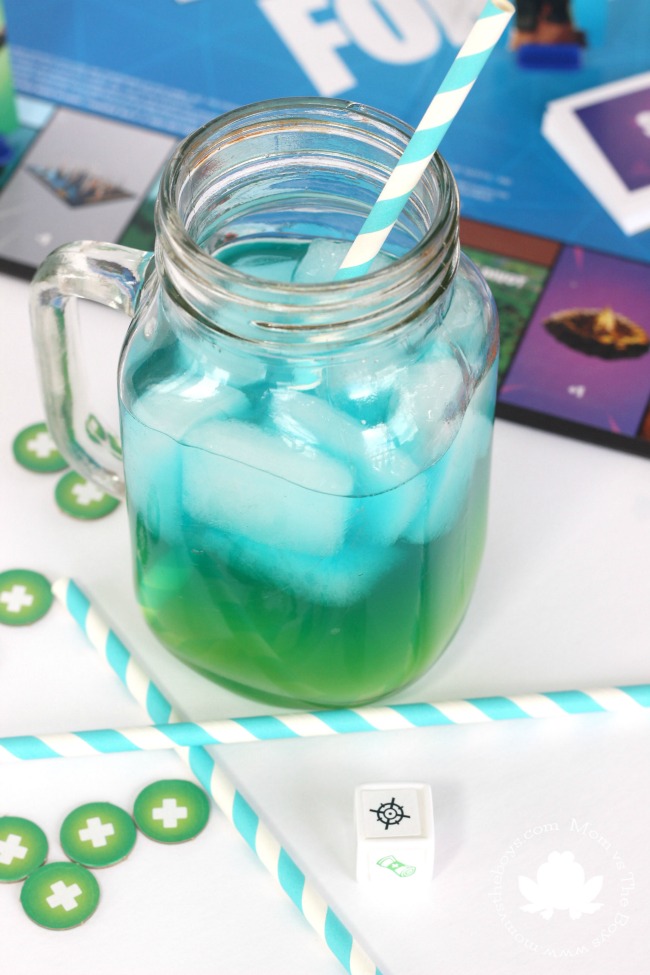 If you've got school age or teen boys in the house, there's a good chance you've got a Fortnite player under your roof. The game is wildly popular and while a lot of parents (myself included) wish the game would just quietly go away it seems to only get more popular with time.
You know what they say, if you can't beat 'em, you might as well join 'em!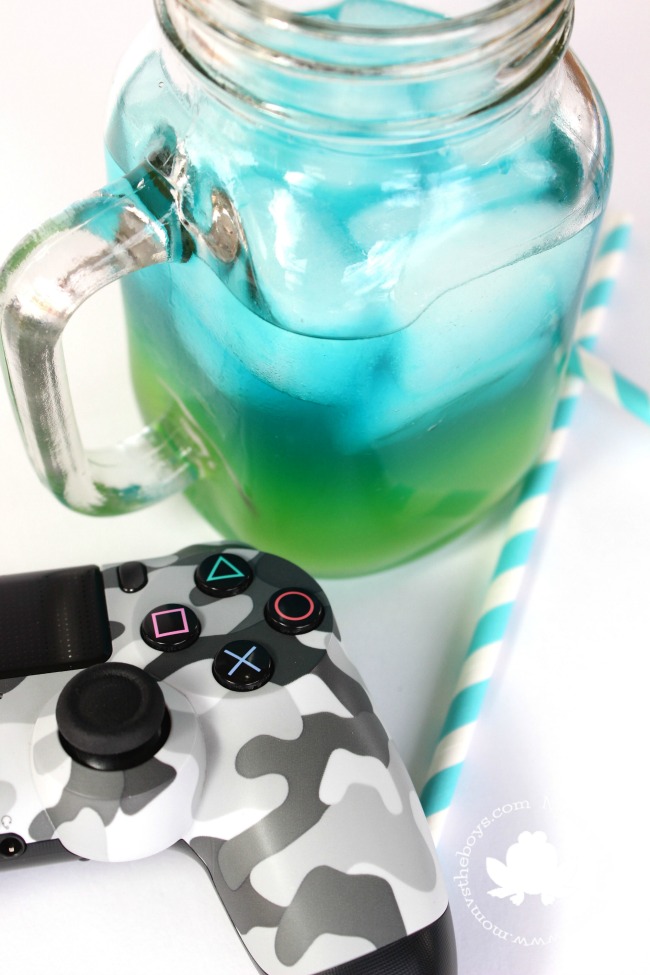 My boys are fairly new to the Fortnite craze because we held out as long as possible, but now that they are playing I thought it might be fun to create a super cool Fortnite style drink to go with it.
Whether you are planning a Fortnite birthday party, a Fortnite monopoly marathon or are just chillin at home battling friends, this crazy drink is sure to quench your game day thirst!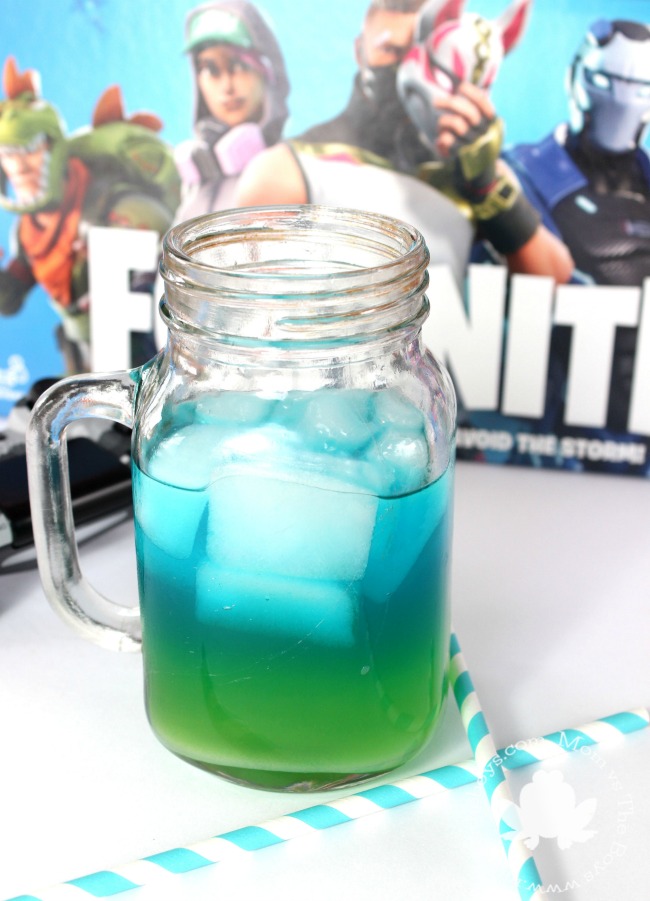 What is a Chug Jug?
Good question! If you aren't familiar with the game, the name Chug Jug might seem kind of strange. A Chug Jug is a healing item in Battle Royale that gives the player full health and shield. It looks like a canister with a two tone liquid that is green on the bottom and blue on top. It's very similar to the game's Slurp Juice which also grants health and looks colour wise the same but given the mason jar mug we used, we thought it looked more like the Chug Jug. Go ahead and call it Fortnite Slurp Juice if your crew prefers that. Both have equally fun names and will taste great either way.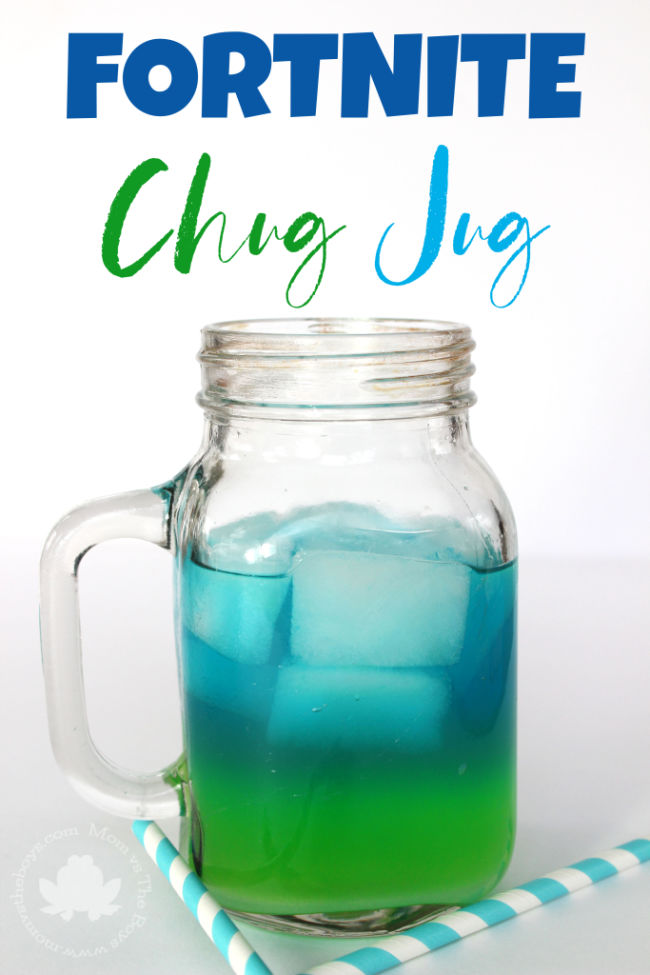 Fortnite Party Drink – Chug Jug
This real life Chug Jug recipe is totally edible and looks incredibly cool with layers of green and blue
Fortnite Party Drink - Chug Jug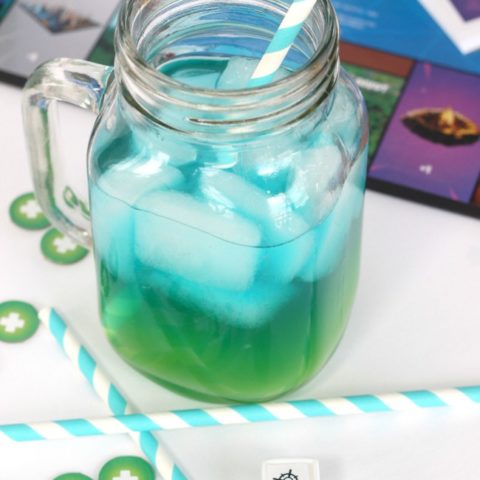 Gamers will love this homemade Fortnite party drink idea, inspired by the games legendary healing potion - the Chug Jug! 
Ingredients
Green Hawaiian Punch or Mountain Dew
Sugar Free or Low Sugar Blue Gatorade or Powerade
Blue Food Coloring
Ice
Instructions
Put a few drops of the blue food colouring into the gatorade bottle and shake to blend. This will give the blue a more intense colour.
Fill your glass with ice.
Fill the glass half full with the green Hawaiian Punch or Mountain Dew
Slowly pour in the blue gatorade. You'll want to be very gentle here and can even use a spoon to help slow the pour.
Toss in a straw and enjoy!
Don't those layers look awesome? The key to the layers is to pour in the beverage with the most sugar first. The Hawaiian Punch or Mountain Dew are more dense with their high sugar content and will stay "sunk". When the sugar free or low sugar sports drink is added, it will float on top! Consider it their science lesson for the day!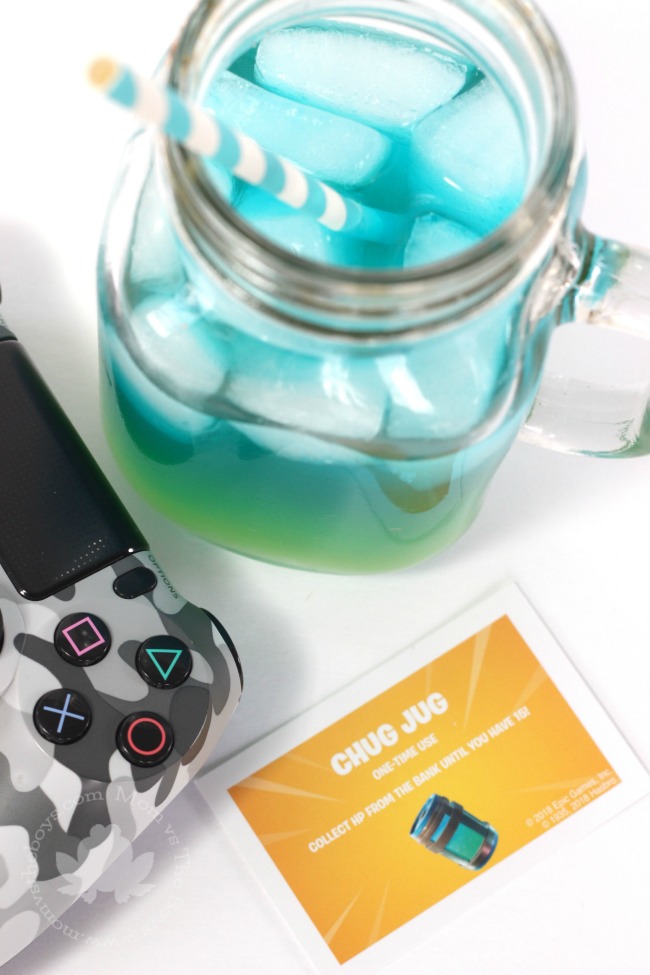 Which is better, Mountain Dew or Hawaiian Punch?
We tried both the Hawaiian Punch and the Mountain Dew, and we felt the Mountain Dew worked better. Let's face it, soda is FULL of sugar! lol The Hawaiian Punch does have a nice green colour to start with, while the Mountain Dew is more of a bright yellow. But once the blue starts to blend in a little (especially after the straw was inserted) it turns more green. Consider it their art lesson of the day, blue and yellow make green lol
This image below is done with Mountain Dew, the others were made with Hawaiian Punch.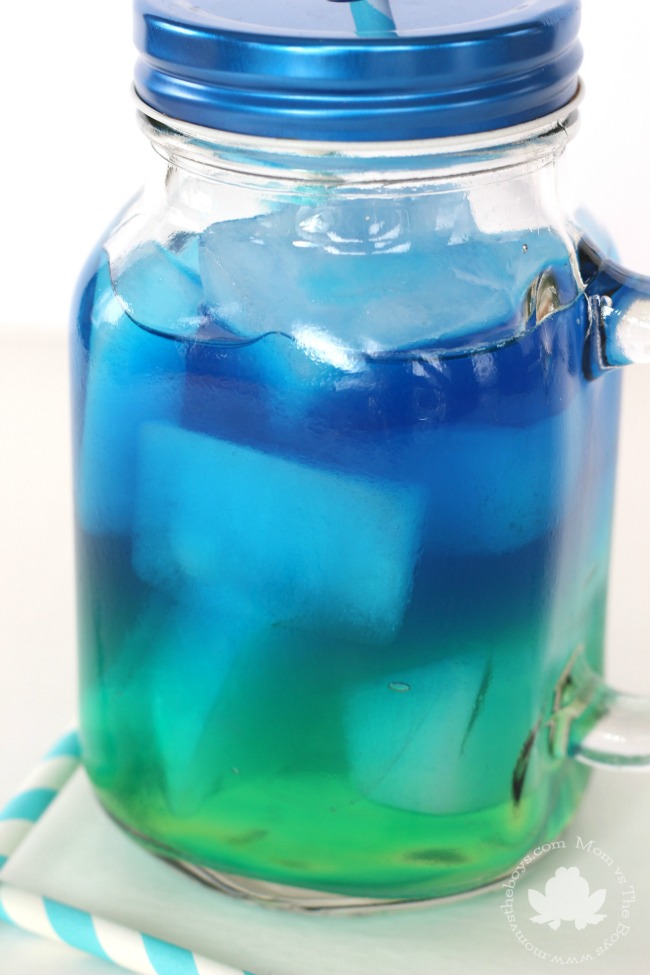 This homemade Chug Jug recipe is a really fun for the kids to make themselves, just make sure they pour that sports drink in nice and slow. Pouring it directly on the ice can help slow down the flow as well as pouring on top of a spoon. Use clear small cup sizes if you are making lots for a Fortnite birthday party or use our jar mug if you are just playing the game at home with the family and want a special treat.
Check out this post if you are planning a Gaming Birthday Party, it's full of great ideas!
Fortnite fans will love these real Chug Jug cups or Custom Water Bottle to help them heal on the run.
Give it a Pin!