My boys have birthdays fairly close together, like almost on top of each other. It makes for a very busy week and not enough days in between to throw three separate parties. This year, we decided to try holding one party for all three boys and allowing them each to invite a few friends. Because they are close in age, the boys all know eachothers friends from the playground at school and it worked out pretty well. 
The friends coming to the party ranged in age from 5-9. When it came time to pick a theme, I immediately thought of a Hot Wheels birthday party. All of my boys still enjoy playing with the classic cars, they never seem to go out of style and boys of all ages love them. Girls like them too and we had one girl coming to the party as well, yes, that sweet thing held her own in a room packed full of boys! She was a trouper!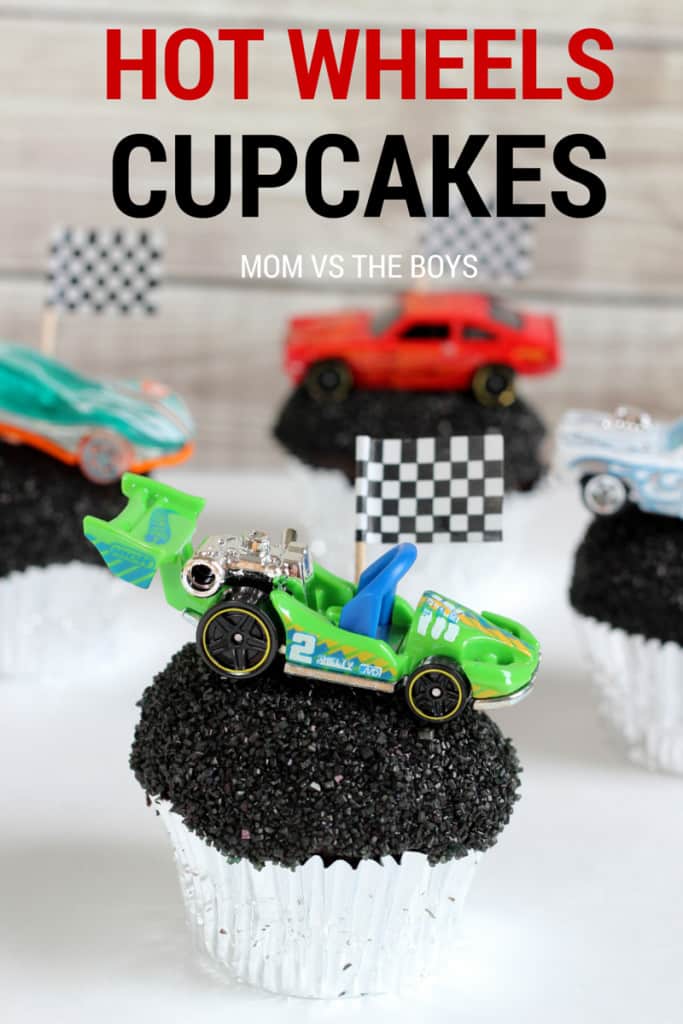 I find cupcakes a lot easier to do for a large group party. It eliminates the time and stress of cutting and serving cake and everyone gets a 'fun piece'. In this case, the cupcakes were extra fun because each one held a coveted Hot Wheels car as well! 
Hot Wheels Birthday Party Cupcakes
You'll need
Cupcakes in liners (I used a shiny silver)
Black icing (see my tip below)
Black sugar
Checkered flag picks
Hot Wheels Cars
Golf Tees
Glue gun
Directions
Start by prepping your cars. I didn't want to just stick the cars into the icing because I wanted the cars to stay as clean as possible. When I couldn't find anything suitable to hold them up at the party/baking supply store, I came up with this idea of hot gluing golf tees to the bottom of the cars.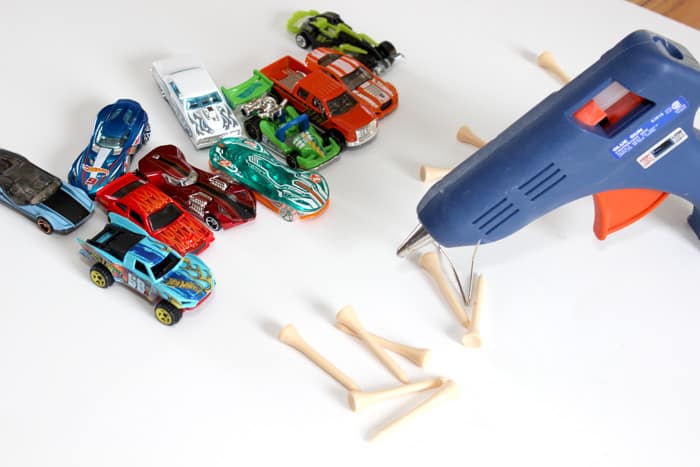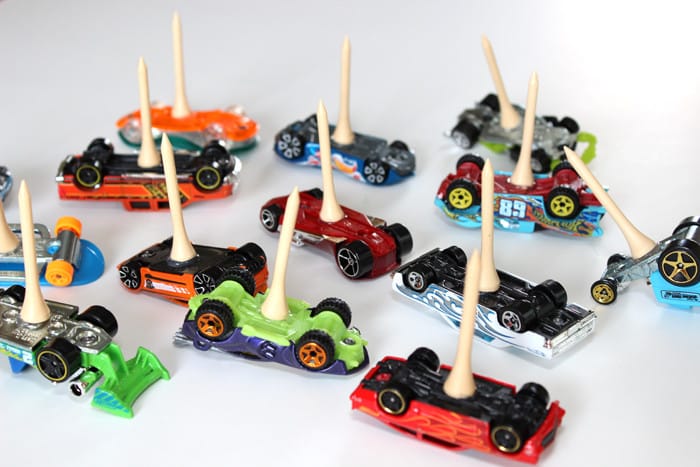 This worked really well, it allows the cars to sit just above the icing and the pegs easily pop right off of the bottom of the cars when you are ready to eat the cupcakes. So each child can bring their car home! The pegs will also prevent the cars from sliding off of the cupcakes. 
Back to the cupcakes, frost each cupcake with black icing. A really easy way to get deep black icing is to buy a jar of chocolate icing and add a little black food colouring. It's way faster and easier than trying to dye white icing black, which can be really frustrating. Place the black sugar in a bowl. Turn the frosted cupcake upside down into the bowl of sugar and swirl around until the cupcake is covered evenly. This gives the icing an asphalt kind of look!
Now carefully push each car into the middle of the cupcake and add in a checkered flag.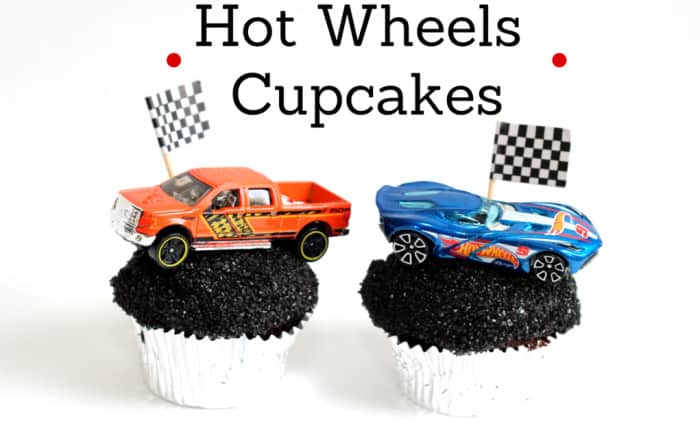 I let the boys pick their cars at home and added a candle to the birthday boys cupcakes so we would know which one was for them. Hot Wheels also has skateboarders for a fun twist!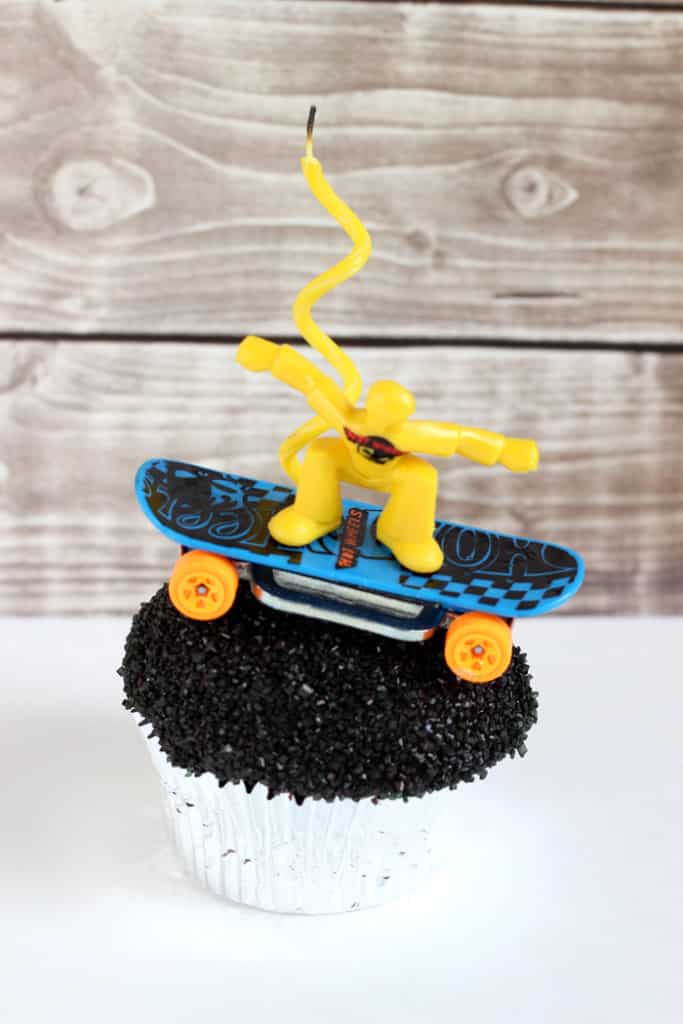 The Hot Wheels Cupcakes were a big hit with all of the boys! It was really fun to see their reaction!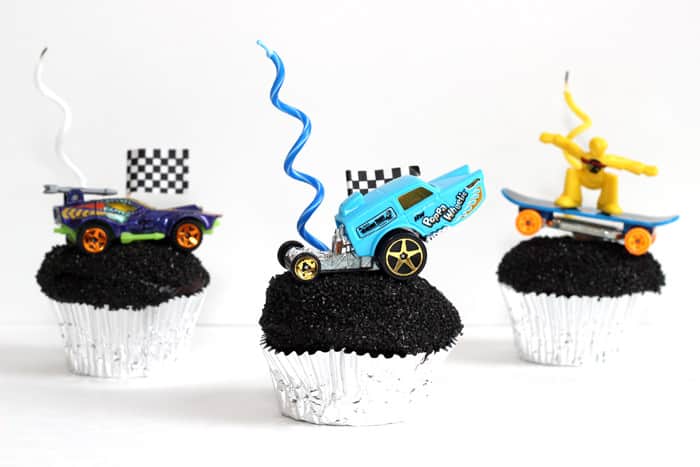 You can get a lot of different fun accessories to go with your Hot Wheels themed party! Think invitations, napkins, plates, games, tableclothes, and party hats!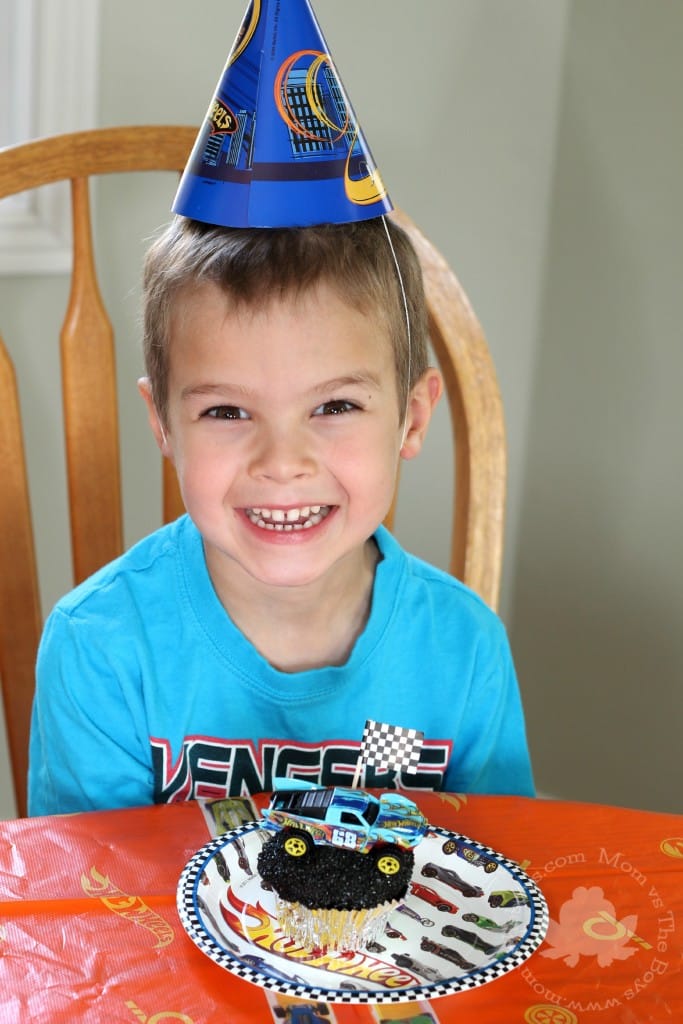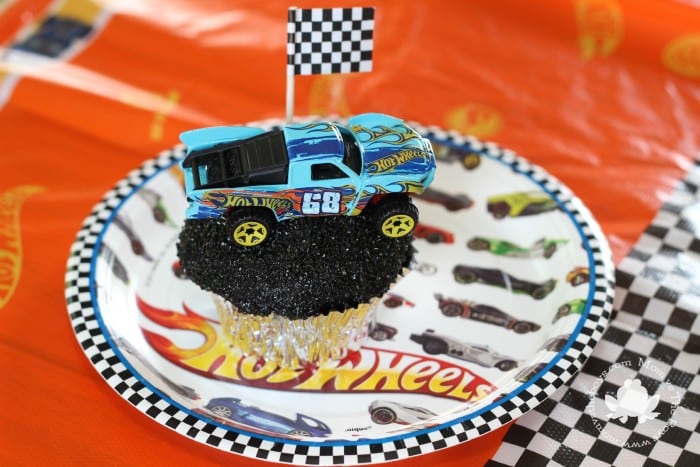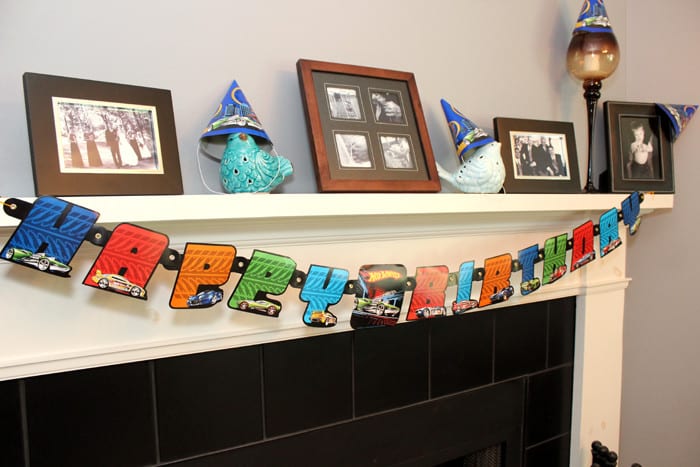 Hot Wheels cars are also the perfect little gift to tuck into loot bags!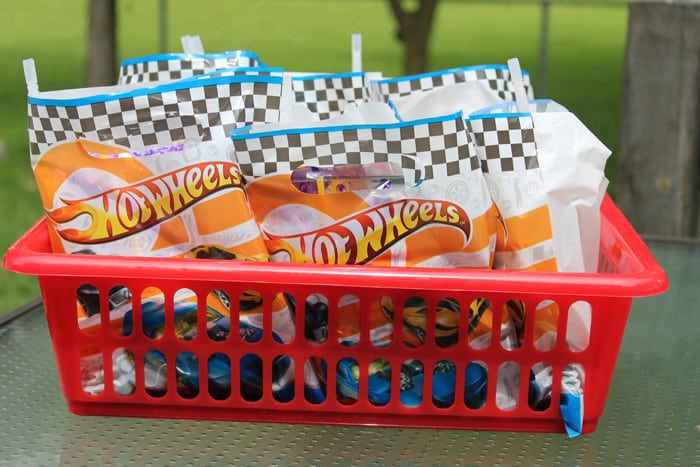 Our Hot Wheels Birthday Party was a success!!! The boys had a great day with their friends and everyone went home happy!! If you are planning a Hot Wheels party, consider or fun cupcakes! I bet they'll be a big hit with your pit crew too!