This is a blast from the past for us, because this is the year my oldest son turned three. He was, and still is, a big Cars fan so I decided to make him a Cars birthday cake for his party! It was one of the first few birthday cakes I made and was a big hit! 
Cars Birthday Cake
To Replicate, You will need:
One 9×13 Cake, any flavour
1 tub Chocolate icing
Buttercream icing, green food colouring
Black sugar (a bulk food store should carry this)
Thin chocolate covered cookies (bulk store or grocery store)
Icing letters (bulk food store, craft store like Michaels)
Racing flags
Cars characters like Lightning McQueen, Chick Hicks and The King
Rev your engines, and let's get started!
Start by baking your 9×13 cake in your choice of flavour. I choose chocolate.
Icing the cake completely all over with chocolate frosting first. Next I drew in the race track with the light green buttercream icing using a writer's icing tip. TIP: I made a template using cardboard first and traced that outline right onto the cake.
Next up, I used black sugar to fill in the track, it really looks like asphalt! I decided to go with taste and texture over aesthetics on this one. It would look really nice if it was filled in really thick so no brown was showing through, but I really worried how that would taste and feel on the teeth for the people who had to crunch through the sugar! lol So your choice, a light or heavy coating is fine.
I used a star piping tip and buttercream icing tinted green to pipe on the grass. Since then, I have accumulated a grass tip, so making the cake again today I would go with that one, but either tip will look great. Pipe in the outside and inside of the track. 
I found some thin chocolate coated cookies to place along the outside of the cake to form a fence. Looking back, these could have been squeezed in a little tighter.
Use black and white checkered flags to decorate the corners of the cake and icing letters to write in a birthday greeting. If you have a steady hand you could easily pipe in a message but I like the way these ones looked. I have my son's name erased for privacy reasons in the photos. 
Simply buy a pack of your son's favourite race cars to add to the track and let the race begin!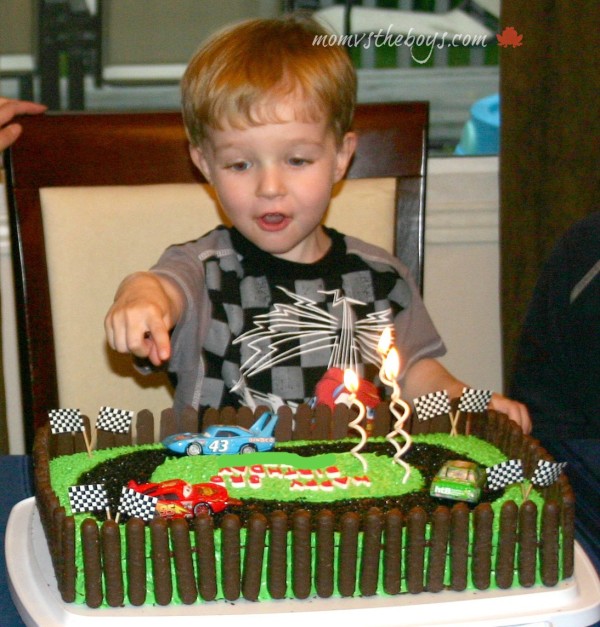 This is a special cake for him because these were his very first race cars and he remembers exactly where he got them. You can see how excited he is to see Lightning McQueen! He was just looking at these pictures with me and marveling over how clean and unchipped they were! Even years later and with about a hundred hot wheels cars added to the collection, these are still his favourites and give me really good memories of both his birthday and my first attempts at making him special birthday cakes baked with love!
Looking back, there are a few changes I would do to make it a little cleaner looking, but I'm still pretty proud of it!  It was a really fun and easy one to put together and thought I would share for any other moms looking for some Cars birthday cake inspiration!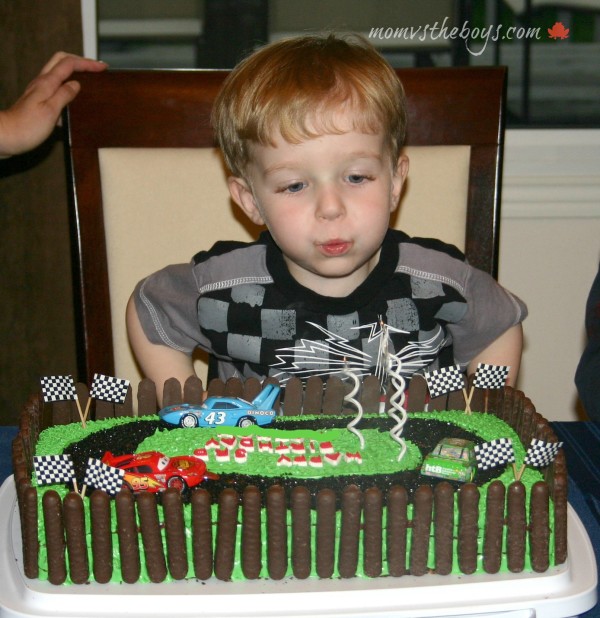 NASCAR fan?? Just change up the Cars cars for racing cars and make a race car birthday cake!