It's not every day I fix a multi-course dinner with apps and all but I like to go all out on Valentine's Day! This year I made some yummy baked and breaded mushrooms for pre dinner appetizers!
These are much healthier than a fried version!
They are so good right out of the oven so they just kind of pop with warm juice right in your mouth! Yummers!
Give them a try!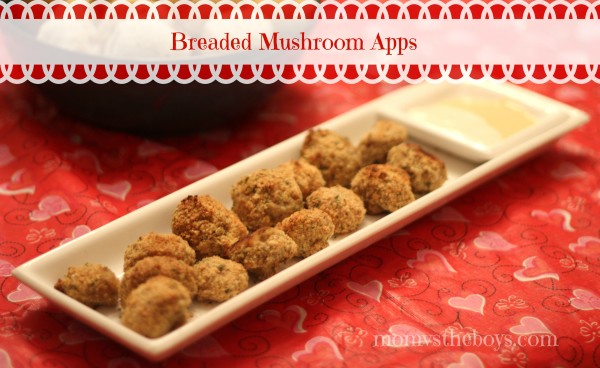 Breaded Mushrooms
Author:
adapted from weight watchers
Prep time:
Cook time:
Total time:
Baked Breaded Mushrooms
Ingredients
Small container of fresh whole mushrooms (about 13-14)
1 Egg, whisked
2 tbsp Parmesan Cheese
¼ cup Italian Breadcrumbs
1 tsp garlic powder
salt and pepper to taste
Ranch Dressing (optional)
Instructions
Pre heat oven to 475F
Spray a baking sheet with non-fat cooking spray or use a silicone sheet
Wash and pat mushrooms dry with a paper towel
Combine breadcrumbs, cheese, garlic powder, salt and pepper.
Dip each mushroom into the whisked egg, roll in the breadcrumb mixture, tap off excess and place on baking sheet.
Bake in oven for about 10-12 min or until golden
Serve warm with ranch dressing for dipping
I served up mine with a side of  Ranch Dressing for dipping!
If you try them out, let me know what  you think!