I remember the first time I tried a Schick Intuition razor. It was years ago when Schick had a fun campaign that they ran where you could order yourself up a razor free of charge PLUS you got one for each of 6 friends!  The razor actually didn't look like something I would use, it was huge and bulky, would take up too much coveted space in my shower, I thought. But the opportunity to play 'Beauty Claus' and bringing my friends, co workers, mom and mother in law a little gift was too hard to resist and I was definitely a hit! They even came wrapped up with little bows for gift giving! 
In the end, I was the one that was most surprised! Turns out I really liked the Schick Intuition and today it's even better!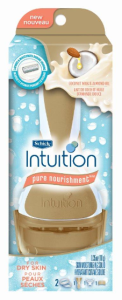 About the new Schick® Intuition® Pure Nourishment™ razor
Coconut milk and almond oil have long been lauded for their skin-benefiting qualities. Now, you can enjoy the power of these ingredients with the new Schick® Intuition® Pure Nourishment™ razor. Made for dry skin, the Schick Intuition Pure Nourishment razor lathers, shaves and moisturizes during shaving—all in one easy step, with no need for shave gel, soap or body wash. Infused with coconut milk and almond oil, the Pure Nourishment Skin Conditioning Solid™ leaves dry skin feeling noticeably soft, and its four blades and pivoting head follow your contours for a close shave. The new Schick Intuition Pure Nourishment razor and refills will be available starting in February 2013 at grocery, drug and mass retail outlets across Canada for approximately $11.99.
This razor really is made for dry skin and I have the driest legs around, so I really appreciate how the pivoting razors are literally encased in a silky bar of soap. I can even skip the shaving cream when I use this razor and it makes it the ideal razor for travel because you can leave your can of shaving cream right at home. I still found it a little wide for areas like around my knobby knees and with the razors tucked inside the soap you almost don't even feel them, which can be a little hard to judge where you are and I did give myself the slightest knick. Just a learning curve though, I know from experience that once you try it a few times you will really get the hang of it and love it! 
Oh and about the complaint of the razor taking up too much shelf space in the shower? The new Schick Intuition Pure Nourishment package comes with a handy little shower hook!

Turning the Table~ Putting YOU in the Reviewers Seat!
Okay, so you know I am going to give you a chance to try this out yourself right? But instead of one winner, 25 of you will get a chance to win a Schick Intuition Pure Nourishment razor AND provide your very own review! Just a line or two will do!
Once you receive your razor, give it a try for a few days and then drop me a line with your thoughts. I'll put your name in for a draw to win a $50 Visa gift card! (a chance of 1 in 25 of winning!)
Ready to Play Reviewer for a Day? The first 25 people who enter below will receive the  Schick Intuition Pure Nourishment razor!
(Canada addresses only)
Schick® will use your personal information in accordance with its Privacy Policy and as detailed in applicable contest rules.