We are still working our way through our Autumn bounty, can you believe it? I decided to play around with an apple/zucchini combo to kill two birds with one stone and came up with this Apple Zucchini Bread. It's not an overly sweet bread, so my boys who expect chocolate chips in even their banana bread weren't big fans, but it 's a nice fall bread that would go well with a cup of coffee, tea or cider! The recipe makes two loafs, which I like, because I just wrap one up to freeze for another time.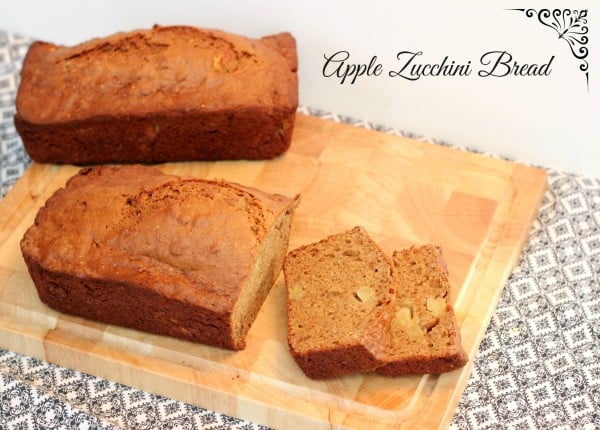 Apple Zucchini Bread
Ingredients
4 eggs
1 cup white sugar
1 cup brown sugar
½ cup applesauce
1 tsp vanilla extract
2 cups all purpose flour
1/1/2 cups whole wheat flour
1½ tsp baking soda
½ tsp salt
1 Tbs ground flax
2½ tsp ground cinnamon
½ cup walnuts (optional)
1 cup grated zucchini
2 cups grated apple
Instructions
Preheat oven to 350 degrees F
Grease 2 - 9x5 inch loaf pans
In a large bowl, combine eggs, white sugar, brown sugar, applesauce and vanilla until well blended.
In a separate bowl, combine flours, baking soda, salt, ground flax and cinnamon.
Stir flour mixture into egg mixture. Fold in walnuts, zucchini, and apple.
Pour into prepared pans
Bake for one hour or until top is browned and springs back when touched in center.
Let cool in pans for about 10 minutes before removing to a wire rack to cool completely.