Last year my middle boy started kindergarten and it was a rough year for him, he just found the whole thing a little overwhelming and anxiety crept in. Most mornings he cried and screamed that he didn't want to go to school, but once he got there he seemed to do okay. It was hard on all of us. Mornings were hectic and stressful and the whole family suffered for it. 
My youngest was eager to start school, he would have gladly taken his older brothers place and there were days that one stood in the driveway crying that he didn't want to go and the other was crying because he wanted to go and wasn't allowed. sigh……. something needed to change.
When it came time to enroll our youngest into school I approached the staff about putting the boys it the same classroom, our school always has a JK/SK split so it was possible. The principal said they leave it up to the parents to decide and they would agree to whatever we asked for. It was a tough decision, my husband and I talked about the different options at length. We didn't want our middle guy to depend on his brother too much, knowing that it was important for him to learn to tackle school on his own, but at such a young age, we thought the comfort of having  a sibling nearby might be helpful for him. In the end, I asked the school to put the brothers into the same room.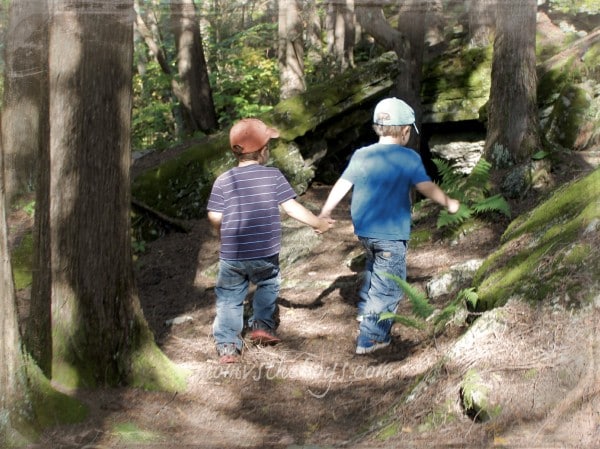 As it turns out, it was the perfect solution! Both brothers started school in the Fall with excitement and smiles and never looked back! The anxiety we saw last year is gone and we have a happy, healthy boy! He took on his roll of  'Older Brother' seriously and loved helping his little bro navigate his start to school. They stuck close together for a couple of weeks, but now do their own thing and have their own friends in the class. It's working!
Their relationship has turned, from brothers to friends in the last few months and they've really formed a nice bond. While they have always been close because they are brothers, they really are more than that now and nothing made this more evident than a hiking adventure we took earlier this Fall. There was a rare sighting in the woods that day! There they were headed through the forest holding hands! My heart melted, I love the idea of them spending this year growing together. 
Sometimes it's a comfort to go hand in hand.