Marinated Carrots are the perfect holiday dinner time-saver because you can make these a day or two ahead.
Marinated Carrots is a recipe that both my mom and my mother in law has been making for years! Not being a very popular recipe, I was super surprised to find that my husband's family included Marinated Carrots in all of their festive meals as well! Match made in heaven? I think so!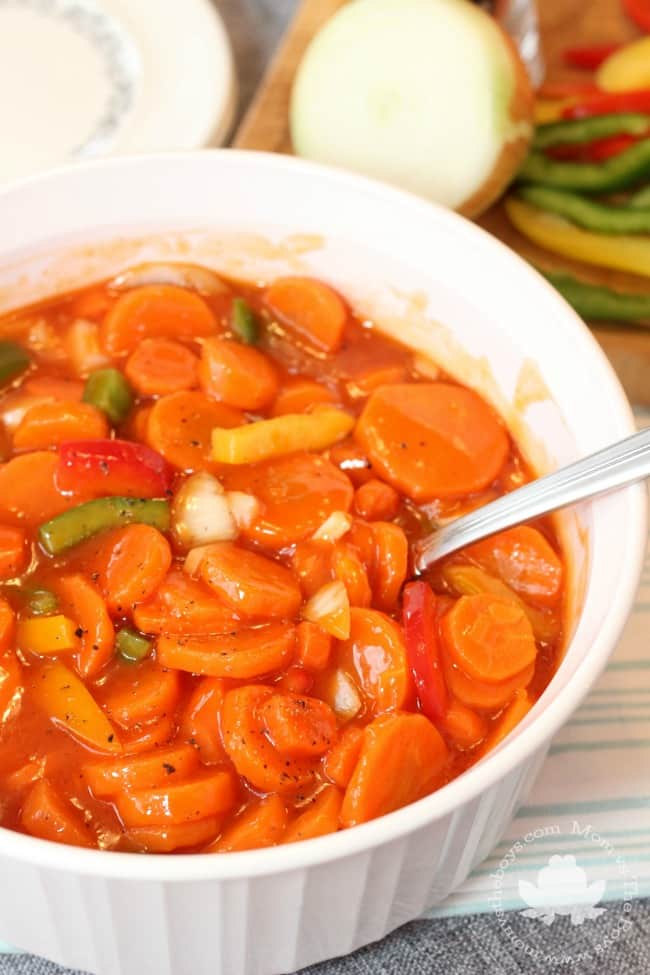 I've had a few friends turn up their noses when they heard this dish is served cold, don't be fooled! It's actually the perfect balance to a hot and heavy meal like a turkey dinner.
But that's not even the beauty of it! The best part is that this veggie dish is made ahead of time, even a couple days if you like and then you know that you have one part of the meal done and out of the way for all the heavy lifting that goes on during the holiday meal prep!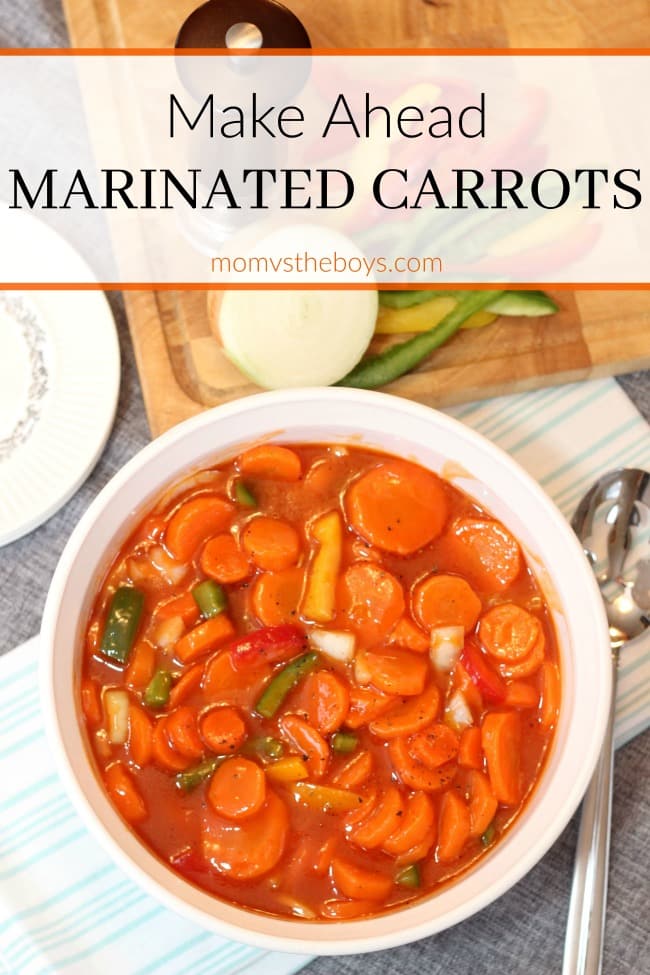 Marinated Carrots
Marinated Carrots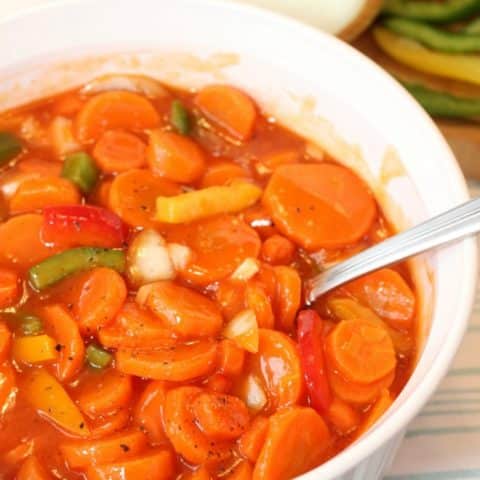 A perfect companion to a holiday feast! This dish can be kept in the fridge for up to a week, so go ahead and make it a couple of days ahead.

Prep Time 20 minutes

Total Time 20 minutes
Ingredients
2 - 3 lbs raw carrots, peeled and chopped
1/2 large onion cut into strips
1 green pepper cut into chunks
10 oz can of tomato soup
1/2 cup oil
3/4 cup white sugar
1/2 cup white vinegar
1 tsp salt
1/2 tsp pepper
1 tsp mustard
1 Tbsp ketchup
Instructions
Place the carrots in a large saucepan with enough water to cover. Bring to a boil, and cook until nearly done. Drain, and transfer to a large bowl.

Add onion and green pepper strips to the same bowl.

While carrots are cooking, mix tomato soup, oil, vinegar, sugar, salt, pepper, mustard and ketchup together in a medium sized bowl.

Pour mixture over top of vegetables and mix well. Cover and refrigerate overnight.
Nutrition Information:
Yield:
10
Serving Size:
1
Amount Per Serving: Calories: 290Total Fat: 12gSaturated Fat: 1gTrans Fat: 0gUnsaturated Fat: 10gCholesterol: 0mgSodium: 499mgCarbohydrates: 45gFiber: 8gSugar: 30gProtein: 3g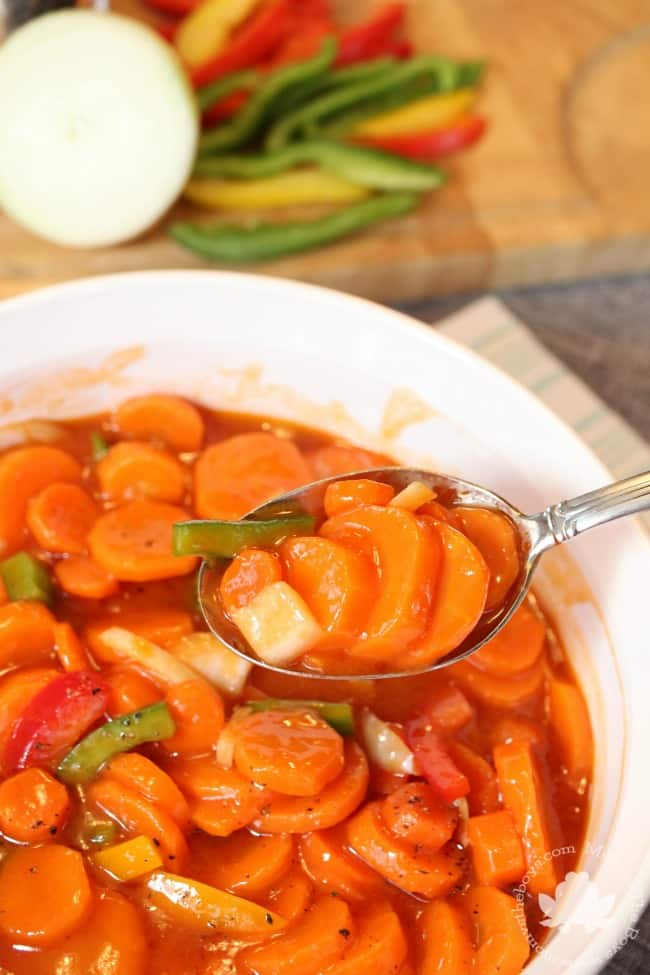 We serve our marinated carrots recipe when we have turkey dinners during the holidays like Christmas, Easter and Thanksgiving. It's a tradition and part of the holiday meal, but this because this recipe is served cold and feeds a crowd, it's also a great option for bringing along to summer potlucks, picnics and barbecues as well. Knowing that you can prepare this dish the day before, leaves the day of the event wide open for getting the family ready to go and on the road to your destination.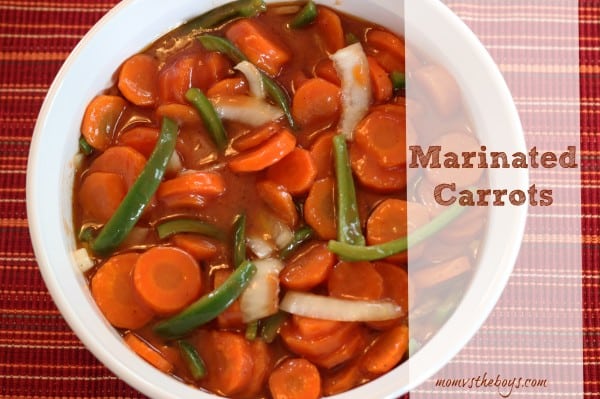 Did you make this recipe? Please give it a star rating and leave a comment below!
For another favourite carrot recipe, try these Balsamic Honey Glazed Oven Roasted Carrots or if you are looking for another holiday side dish idea, try these Gluten-Free Cauliflower Ranch Potatoes
Pin this side dish recipe for later!