Last week, Enough Said was released on DVD and BluRay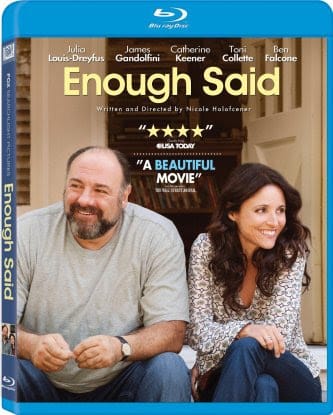 A story of finding love again…
Divorced mom Eva (Louis-Dreyfus) may be falling for Albert (Gandolfini), a sweet, funny, like-minded divorcé. But as their relationship blossoms, Eva befriends Marianne (Keener), who's always complaining about her ex-husband. When Eva realizes that Albert is the target of Marianne's rants, she begins to question her own perceptions about first impressions and second chances.
Special Features
Second Takes –Blu-ray exclusive
Promotional Featurettes
Theatrical Trailer
Our Thoughts
I liked this movie, I didn't love it, but I liked it. It was slow paced with lots of dialogue so it really wasn't for my husband but he made it to the end with me! lol While I liked each character individually, I just didn't think there was enough chemistry or ease with eachother, at times it even felt awkward. In all fairness, there is a certain amount of awkwardness in all new relationships though. I've always been a fan of Julia Louis-Dreyfus for her spunkiness, I just didn't see a lot of it shine through in this role. 
The movie is dedicated to 'Jim', who is actually the lead actor James Gandolfini.  I was sad to learn that he passed away in June of last year and thought the tribute to him was touching.
America's Next Top Model
ANTM fans should note a hunky model sighting on one of my all time favourites of the ANTM cast. Who did my wandering eyes spy in a line up behind the main characters as they waited to get into a restaurant? Cycle 20's Don Benjamin! I did a quick internet search to see if I was right and came up empty handed so I went straight to the source and asked him myself!

So there you have it, keep your eyes peeled for some quick eye candy! 😉
'nuff said