Celebrate a beer lovers birthday with a Beer Can Cake for a fun gift idea!
If someone were to describe my Dad they would be hard pressed to come up with anything other than '50's Beer' and the 'New York Yankees'. While neither are traditional words to describe a person, they truly are perfect for my Dad. He's well known for both, having been a die hard fan for as long as he can remember. And when my Dad is passionate about something, he pretty loyal, just ask my Mom 😉
So with his 65th birthday fast approaching, I tried to toss some ideas around with Mom. This is not a man who is easy to shop for, he literally both wants and needs nothing. I remembered back to a gift idea I had seen on pinterest (love you pinterest!) some months back on a cake made of Miller Lite beer cans. I knew I could easily take this concept and run with it, customizing it to my Dad's milestone birthday. Here's my version made specially for our Pops!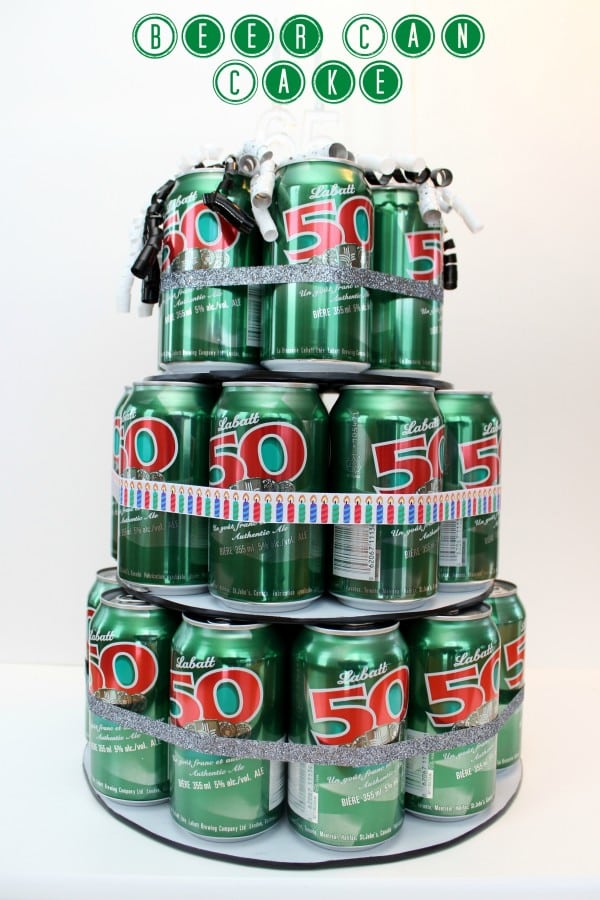 BEER CAN CAKE
What You'll Need
Sturdy Cardboard
30 Cans of Beer (your favourite brand)
Ribbon (any width in a coordinating pattern or colour)
Glue Gun
Paint (any colour)
Heavy tape (electrical, duct, hockey)
Special Cake Topper
Let's Start!
Cut your cardboard into an 8″, 10″ and 12″ inch circle. Paint 2 coats of paint on each circle, allowing time to dry between coats – I chose a silver colour. The edges of the cardboard won't look very nice, so to tidy them up I used black electrical tape. Just run this along the edge of the cardboard, all the way around and trim. The results looked pretty cool and still 'manly', it almost had a leather-like look to it.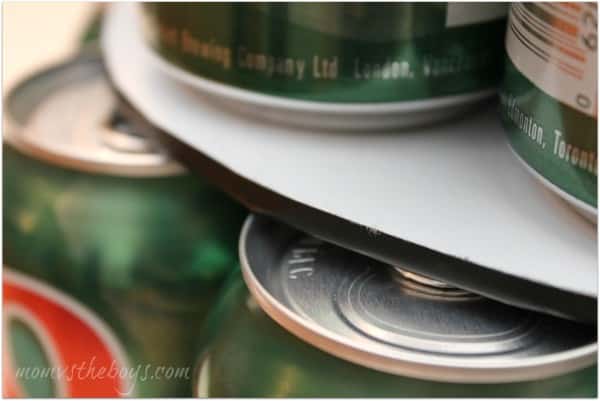 Okay time to stack 'em
Start with the 12″ circle and place 11 beers along the outer edge, with 3 cans in the middle. Place the 10″ circle on top of the first layer and add 9 more cans along the edge of that circle. The final 8″ inch circle of cardboard is next with the remaining 6 beers along the edge and 1 for the middle.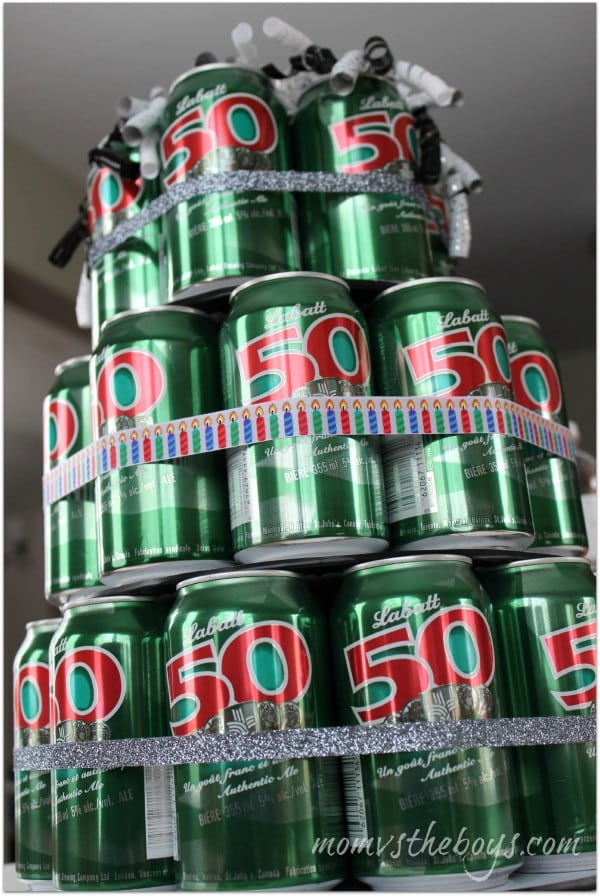 Dress it up!
Measure your coordinating ribbon for each level and secure with a dab of glue from a hot glue gun. I found this to be enough to hold everything together and I travelled 3 hours in a van with it. However, if you are worried about the ribbon slipping, you can easily secure the ribbon directly to the cans at random points around the cake.
I choose a festive birthday candle design for the middle layer and a super sparkly silver ribbon for the other two layers. For the top of the cake I purchased some curly ribbon in a black/white/silver colour combo and a flashing 6 and 5 candle holder from a party store. With the cans all marked with a '50' on them, this would make a really fun 50th Birthday Cake!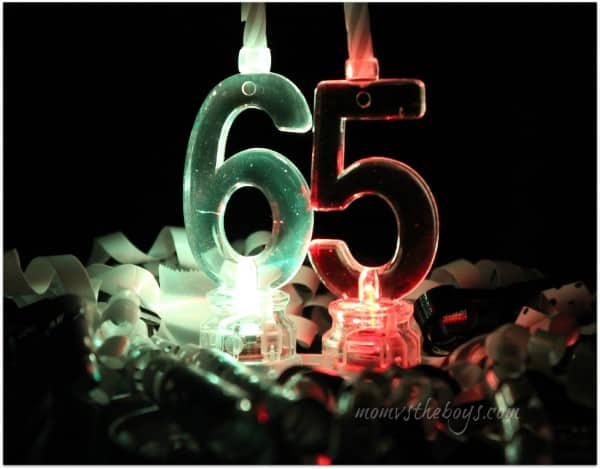 Be warned that the Beer Can Cake will be very heavy, that's 30 cans of brew on there! Best to leave it on a table and have the birthday boy come to it, or slip something underneath to support the weight if you are presenting it to them.
So there ya go! Make your favourite beer lover a cake you know they will love!
Happy 65th Birthday Pops! We love you!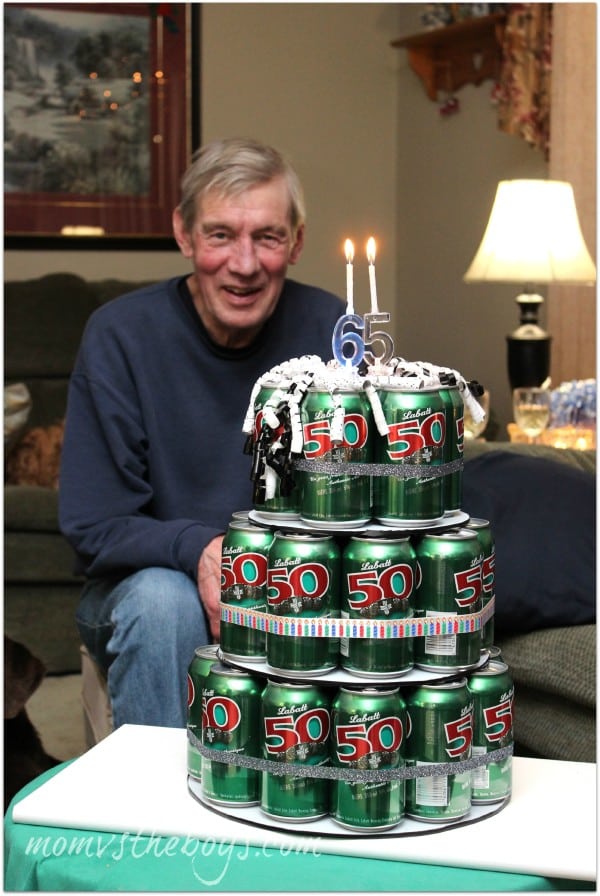 Beer Can Cake Christmas Tree Adaptation
While building this cake up over the holidays, I couldn't help but notice that the green and red of the 50 cans looked pretty darn festive and the tower resembled a tree. By pulling out one of the middle cans on a layer and adding it to the very top, you could easily adapt this beer can cake to look like a Christmas tree and just change up the decorations to suite the holidays instead.
Find these Beer Themed Party Items Online
The following links are affiliate links which helps to bring a small commission to our page at no extra cost to you.
If the birthday boy is a beer lover, check out these fun items to make the day that much more special!
A Cold One, For the Old One Personalized Card
If you can read this, bring me a beer socks
Beer Mug & Bottle Cookie Cutters
Drinks Well With Others Beer Can Coozie
Pin For Later!